'Outlander' Season 4 Premiere Date Revealed: When Will Claire and Jamie's Adventures Continue?
Outlander Season 4 will premiere on Sunday, November 4, Starz announced Thursday.
"Our #ThursdayThoughts are the same as our thoughts every other day of the week: #Outlander November 4, #Outlander November 4 and #Outlander November 4," the show's official account tweeted.
The television series is based on Diana Gabaldon's eight-book Outlander series. The 13 episodes of the new season will follow the events of the fourth book, Drums of Autumn, and continue Claire (Caitriona Balfe) and Jamie Fraser's (Sam Heughan) romance and adventures in colonial America.
The series follows Claire, who traveled from the 20th century to the 18th century, where she met Jamie. According to the official description for Season 4, "they must negotiate a tenuous loyalty to the current British ruling class, despite Claire's knowledge of the American Revolution to come. Along the way, the Frasers cross paths with notorious pirate and smuggler Stephen Bonnet (Ed Speleers) in a fateful meeting that will come back to haunt the Fraser family."
Season 4 will also check in with Brianna Randall (Sophie Skelton), Claire and Jamie's daughter, and Roger Wakefield (Richard Rankin), a historian who helped Claire look for Jamie in the past. When they look for evidence of Claire and Jamie's reunion in the 18th century, "a shocking discovery makes both of them consider following in Claire's footsteps," reads the synopsis.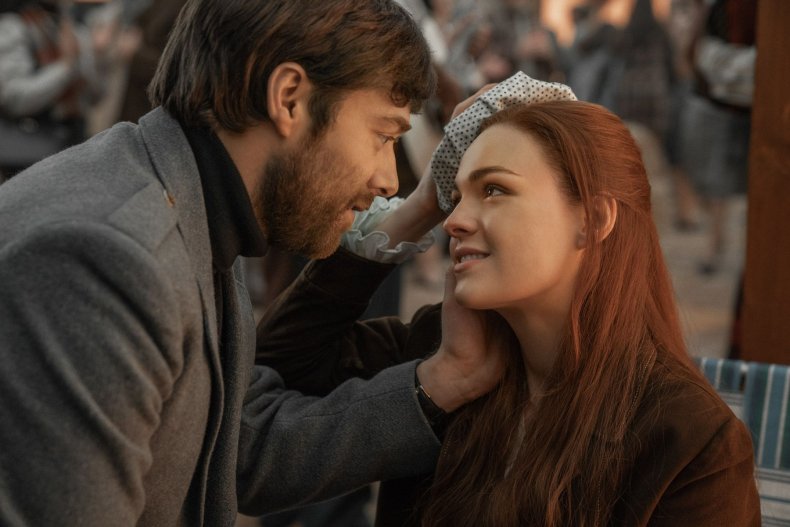 Starz released a trailer (above) teasing what's next for Claire and Jamie in July. In it, Claire wants them "to make a home together," and Jamie tells her they can "start anew" in North Carolina. They arrive at River Run, where they meet his aunt, Jocasta (Maria Doyle Kennedy). Claire finds a skull with silver fillings, "something that won't be invented for another hundred years," she tells Jamie and wonders, "What if it was a warning from the future?"
The fourth season will also include a wolf hybrid, Rollo, introduced in the fourth book of the series, and Entertainment Weekly posted photos of the dog, played by two Northern Inuit puppies, and Ian Murray (John Bell) Tuesday. "Rollo and Young Ian met on the docks in North Carolina, when Young Ian won the dog in a card game, and a life-long bond was formed between them, meaning that Rollo became a member of the ever-growing Fraser family," Gabaldon said to EW in 2017.
Outlander has already been renewed for Seasons 5 and 6, covering the fifth and sixth books of the series, The Fiery Cross and A Breath of Snow and Ashes. "Fans can rest assured their beloved Claire and Jamie will be back facing new challenges, adversaries and adventures in seasons five and six as we delve into American history and continue the story of the Frasers as they settle in the New World," Starz President and CEO Chris Albrecht said in a statement in a press release in May.
Outlander Season 4 premieres on Sunday, November 4 at 8 p.m. ET on Starz.