'Outlander' Season 6 Ending Explained: It's Going To Be A Long Wait
Let the droughtlander begin! Outlander Season 6 has come to a seriously dramatic end after eight episodes of tension, murder, and a forever looming war.
Titled "I Am Not Alone", Episode 8 saw Claire Fraser (played by Caitriona Balfe) falsely arrested by Richard Brown (Chris Larkin) and his men for the murder of Malva Christie (Jessica Reynolds) and her unborn child. But, despite one of the most nerve-racking episodes of Season 6, packed full of action and undeniable love between Jamie and Claire, audiences never found out Claire's fate or who actually killed Malva Christie.
There is no doubt it is going to be a long wait for Season 7 which is currently in production. In the meantime, Newsweek has everything you need to know about the ending of Outlander Season 6.
What Happened at the End of Outlander Season 6?
The Frasers vs. Richard Brown
The finale kicked off with a nice little throwback to a 1960s diner which becomes of huge importance later down the line. Flashing back to the present day, A.K.A Fraser's Ridge in the 1790s, Jamie Fraser (Sam Heughan) is facing off against Richard Brown and his men, who have arrived to arrest Claire for the murder of Malva Christie and her unborn baby.
Of course, Jamie does not go down without a fight and it seems like Jamie and especially Claire have been prepared for this moment for a pretty long time. Claire even shot a man inside her home and stood outside the property, firing a large shotgun at Brown's men. Ezra, the man she shot, later died and it seriously does not help her case.
An epic battle between the Frasers and Richard Brown's men then broke out, eventually ending with Brown flying a white flag for a ceasefire declaring he only wanted to take Claire to trial in Salisbury.
Despite his cry for peace, Brown's men had surrounded Claire and Jamie's home well into the evening and they feared the building they hold so close would be burned down at any moment.
As they awaited their fate, Claire told Jamie of her dreams of her last meal before her death. It would be the cheeseburger, fries and a coke from the diner audiences saw at the very beginning of the episode, potentially foreshadowing what was to come.
Roger's A Father!
Before digging into what happens next for Claire and Jamie Fraser, another big mystery in the Outlander series was finally addressed, which will for sure be to the delight of the fans of Roger (Richard Rankin) and Brianna (Sophie Skelton).
On their travels, Brianna's son Jemmy is discovered to have lice and after shaving his head, Brianna and Roger realize he has the same, identical birth mark on his head as Roger which Roger casually explained is hereditary.
Finally, after several seasons of doubt, Roger is confirmed to be Jemmy's father. In an adorable move, Roger also got his hair cut, so say goodbye to those luscious locks, Roger fans.
The Frasers Head For Trial
Hiram Crombie (Antony Byrne) arrived on the scene with an army of fisherfolk, wanting to talk to Claire and Jamie and who happens to be in the crowd? Allan Christie (Alexander Vlahos), Malva Christie's unnerving older brother who, to nobody's surprise, called out for Jamie Fraser to stand trial instead.
Tom Christie then arrived looking disheveled, with an offer to accompany Claire and Jamie Fraser to the courthouse the following morning to ensure no more "evil" could occur. It is a bold move from a man who despised them so strongly...Is Tom to be trusted?
On the way to the courthouse, the Frasers receive the news that the judge in Salisbury had quit his position and the circuit court will not try the case, so they have to head much further towards Wilmington, much to Brown's men's frustration. And of course, in a bid to put the nail in Claire's coffin, Brown managed to get the rumors going on the way to Wilmington that Claire is guilty, without any doubt, which triggers a near riot on their journey, with Claire and Jamie almost being stoned to death.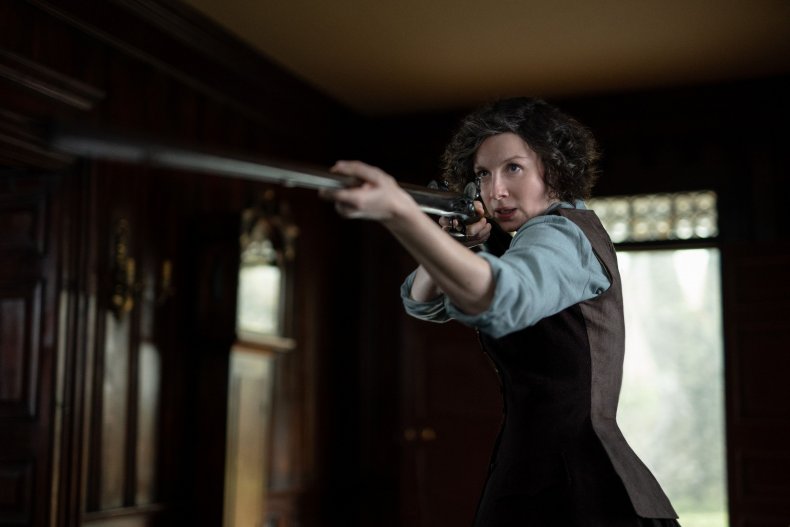 Thankfully, Young Ian (John Bell) had managed to rally the troops and they were secretly following the Frasers, Brown, and his men on their way to Wilmington but unfortunately, they were not close by enough when Brown had his men brutally separate Claire and Jamie, with the intention of sending Jamie back to Scotland and Claire to Wilmington to be tried alone.
Tom Christie was there though to accompany and protect Claire. He was able to offer the word that Jamie is still alive and he could not possibly let his death happen. He also described Claire as "righteous", but the whole conversation left Claire doubting whether to trust him at his word—after all, she is accused of killing his daughter. Why has Tom Christie suddenly gone soft?
While Jamie is awaiting his boat to Edinburgh against his will, thankfully Young Ian and his army of men appear, bow and arrow in hand, striking down Jamie's captors one by one.
And in a sweet, full-circle moment, Chief Bird (Glen Gould) of the Cherokee tribe appears with the British guns Jamie secured for him at the beginning of season 6, shooting Jamie's captor dead.
He then told a relieved Jamie: "I told you, I would fight with you, Bear killer." Awwww.
And just like that Outlander Season 6 came to an end. Will Claire be tried for murder? What does Tom Christie want? And most importantly of all, who killed Malva Christie? These are all big questions that must be answered in the upcoming seventh season, especially the latter, we've waited long enough.
Outlander Season 6 is streaming on Starz now.