'Outlander' Season 6, Episode 7 Recap: Fear the Living, Not the Dead
The finale of Outlander Season 6 is fast approaching but first, after a mini droughtlander, fans finally got to see Episode 7 on their screens.
Titled "Sticks and Stones," Episode 7 begins with a flashback to Malva Christie (played by Jessica Reynolds) telling a church congregation at Fraser's Ridge that the devil visited her in the form of a man she trusted and took her innocence. Audiences know she was alluding to Jamie Fraser (Sam Heughan) as the baby's father, but we also know that is not true, not even in the slightest.
Flash-forward to the present day and Outlander Season 6, Episode 7 picks up from the shocking ending of Episode 6, which saw a murdered Malva lying in the field outside the Frasers' home.
A blood-stained Claire, who made desperate attempts to save Malva and her unborn baby, stood next to Jamie Fraser, opposite Malva's grieving father Tom Christie (Mark Lewis Jones), and her brother, Allan Christie (Alexander Vlahos) who instantly suspected Claire to be his sister's killer.
There is a lot to unpack from Episode 7 and a whole load of reputations on the line as Fraser's Ridge struggles to come to terms with a gruesome murder of a young woman and unborn child.
Newsweek has a full recap of Outlander Season 6, Episode 7 below.
What Happened in 'Outlander' Season 6, Episode 7?
Instantly, the Christies were quick to suspect Claire murdered Malva, which is not unexpected. They really seem to hate the Frasers. However, Tom was more worried about where to bury his "whore" of a daughter and "illegitimate son." In his eyes, and presumably God's...there is no place for "sinners" in a church graveyard.
Thankfully, Jamie is there to step in, declaring Malva will be buried on his ground at his own ridge. One win for the Frasers... so far.
Claire is not only dealing with the trauma of her kidnapping ordeal in Season 5 but now, with everything that has happened to Malva and the voice of her kidnapper Lionel Brown (Ned Dennehy) in her head, Claire is convinced her she was the one to kill Malva.
To make matters worse, Jamie and Claire are still dealing with the rumors Jamie was the father of Malva Christie and the judgment of the people living on Fraser's Ridge is getting a little too much for Claire, who is continuing to self-medicate her PTSD with ether.
In Episode 7, she eventually comes clean to Jamie about using ether, particularly the moment she used it to avoid speaking to Malva, whom she thought she saw heading for her house on the day she died.
As it turns out, it was not Malva storming to the Frasers' house on the day she died, it was Lizzie (Caitlin O'Ryan), who had some pretty big news to share.
Turns out, Lizzie is pregnant and but she does not know which one of the twin Beardsley brothers is the father. She later shares with Claire she had sex with them both the one evening and this occurred several times after that. But, after an enlightening conversation and female pleasure, Lizzie knows she has to decide which Beardsley to marry, otherwise, her reputation would be tarnished.
In fact, Jamie fears so much for Lizzie's reputation being ruined and what people on the ridge would say about her, he forces the Beardsley brothers to pick a straw. The one with the shortest straw, is to wed Lizzie.
And just like that, Lizzie and Keziah Beardsley (Paul Gorman) are husband and wife, and Claire is motivated to put her ether, away.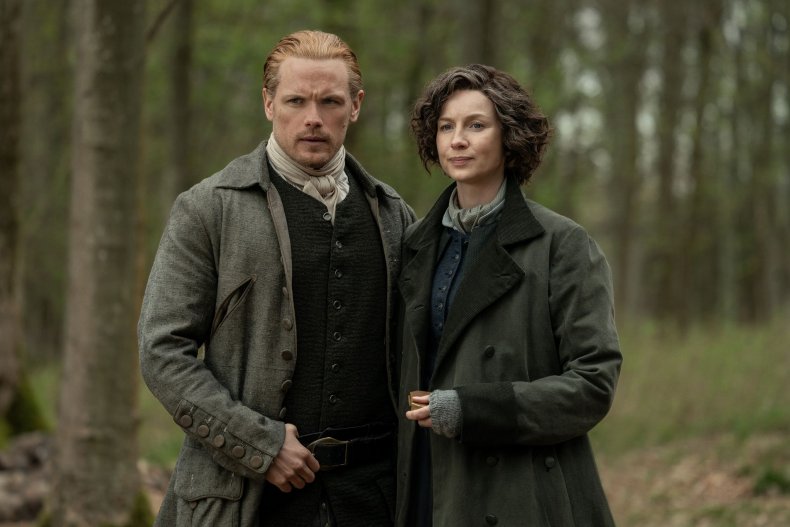 Not only that, Claire decides to come clean to Jamie about her mental health struggles and her visions of Lionel Brown, constantly taunting her. She talks about the difficulties of living in the past and the present, the loss of her husband Frank, the attack on Brianna (Sophie Skelton),Roger (Richard Rankin) being sold to slavery, and all of the other big Outlander events over the years.
In a heartbreaking scene, Claire insists everything bad that has happened in the lives of her loved ones was because of her "selfishness" to stay in the past and, ultimately, change everything.
Thankfully, Jamie is there to reassure Claire that without all of the pain suffered, there is so much good in the world. "Without you, the whole world crumbles to dust," he confesses.
After all, as he once said "It's the living we should fear, not the dead" and he would be right by Claire's side to protect her every step of the way.
Just as Outlander Season 6, Episode 7 comes to an end, Lizzie makes the bold choice to go against Jamie's word.
Despite Jamie instructing Josiah Beardsley (Paul Gorman) to leave Fraser's Ridge as his brother, Keziah is to marry Lizzie, the trio turns up at Roger Mackenzie's house and asks him to officiate Lizzie and Josiah's wedding.
Now, Lizzie is not only handfast to Keziah as witnessed by Jamie and Claire, but now to Josiah. Outlander's first throuple can live happily ever after...for now.
In other happy news, Roger is set to be the new minister at Fraser's Ridge but one huge thing still lingers: Who killed Malva Christie?
Not only that, in the final seconds of the episode, Richard Brown (Chris Larkin) and his men arrived at Fraser's Ridge to arrest Claire for the murder of Malva Christie.
Outlander concludes Sunday, May 1 on Starz.