The 5 Questions That Need to be Answered in the 'Outlander' Season 6 Finale
Outlander fans, you better prepare yourself for another long droughtlander. Yes, Season 6 will end on Sunday, May 1 and loyal fans may not be used to having a short eight-episode season.
Now, with just one episode left, there are a few things that we need answers to in the finale. From the big question of who killed Malva Christie (played by Jessica Reynolds) to will the Americana Revolution break out?
Speaking to Newsweek, Outlander star Sam Heughan teased a "fantastic finale."
He added: "Jamie Payne, the director came back and he shot a really dark and exciting episode."
Of course, fans of the books will know exactly what is coming, but for those who are new to the world of Outlander, Newsweek has the full list of questions below.
The 5 Questions That Need to be Answered in the Outlander Season 6 Finale
1. Who Killed Malva Christie?
Unfortunately, who killed Malva Christie and her unborn baby was not revealed in Outlander Season 6, Episode 7.
As far as the residents of Fraser's Ridge are concerned, either a killer is on the loose, or Claire Fraser (Caitriona Balfe) stabbed them to death. After all, it does appear Claire would have a motive after rumors began to spread that Jamie (Sam Heughan) was the father.
Audiences watching already know Claire had nothing to do with Malva's death, so who did?
Was it her father Tom Christie (Mark Lewis Jones)? He seemed pretty dismissive and insensitive to his own daughter's death, calling her a "whore" and protesting Jamie's insistence on giving her a proper burial.
What about her brother Allan Christie (Alexander Vlahos)? He was never very pleasant about his sister and was very determined to pin the blame on the innocent Frasers. Also, the way he reacted when Claire picked up Malva's baby's coffin was justified but a little odd for a person like Allan.
Malva also had many lovers, most notably Young Ian (John Bell) and Obadiah Henderson (Euan Bennet). Did they maybe kill her for their own benefit?
On the other hand, did Malva or a member of her family have any enemies who would want to do this to her, or is there simply just murder on the loose on Fraser's Ridge?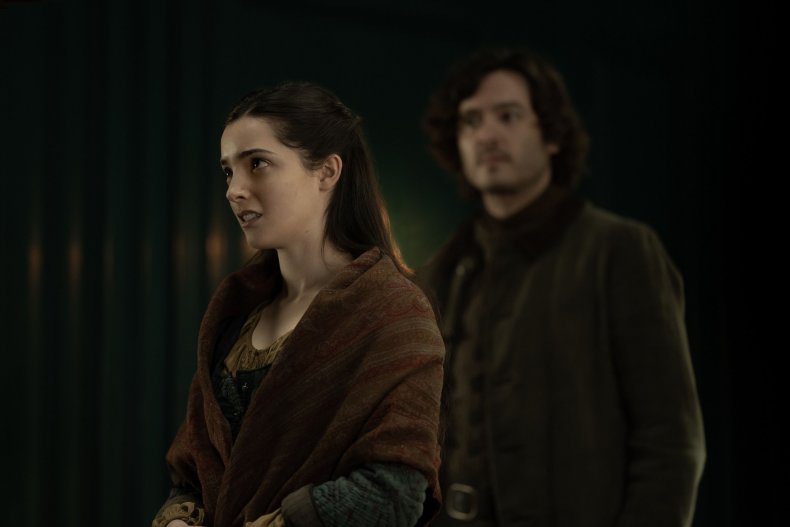 2. Will Claire Survive Her Arrest?
Don't panic, it is very unlikely Claire will die, considering Caitriona Balfe is currently filming Season 7 of the show at the moment.
But that is not to say her arrest for Malva's arrest will not be a near-death experience for her, considering the punishment for murder back in the 18th century was death by hanging.
Claire has had a pretty tough time throughout Outlander Season 6 and has been relying on ether to numb the pain.
In Episode 7, she eventually came clean to Jamie about her inner torment, particularly the visions of her captor Lionel Brown (Ned Dennehy) alongside her fear if she had not been so selfish and stayed in the past, none of the terrible events she had witnessed would have occurred.
Now, Claire has found herself falsely accused of murder and it might just take its toll.
If the trailer for Episode 8 is anything to go by, the people of Fraser's Ridge want justice.
3. What Will Happen To Outlander's Throuple?
Lizzie Wemyss (Caitlin O'Ryan) has found herself in a spot of bother. Considering how much she was hanging around with the Beardsleys, maybe we should have seen it coming.
It turns out Lizzie had a little late-night rendezvous with not one, but both Beardsley twins—and it was so good, they kept their little three-way romance going.
Of course, Lizzie fell pregnant and in a unique turn of events, she does not know which one of the brothers is the father.
Lizzie, Josiah and Keziah seem to have a pretty good setup going and appear genuinely happy. She wants to be with them both but Jamie is having absolutely none of it and forces her to marry one of them to protect her reputation.
Unable to decide, straws were drawn and Keziah picked the shortest, meaning he would marry Lizzie as soon as a priest became available. However, in a sneaky move, Lizzie and the Beardesleys visited Roger Mackenzie (Richard Rankin) and asked him to wed Lizzie and Josiah, which he did.
As the episode came to an end, Jamie, Claire, Roger, and Brianna learned of Lizzie and the Beardsley's scheme, so what will happen next to Outlander's hottest throuple?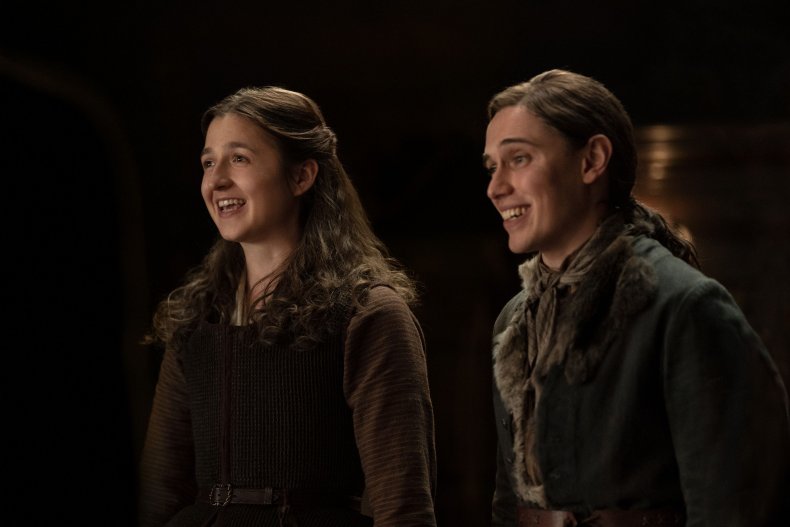 4. Who Was The Whistling Prisoner?
Back in Episode 5 of Outlander, as Claire and Jamie headed home from their semi-awkward encounter with Aunt Jocasta (Shauna MacDonald), Claire heard an unknown man whistling the tune of "Colonel Bogey March".
The song comes from the 20th century and as seen by the expression on Claire's face, she knew the mysterious man was from the future.
But who was he? Claire did not know and audiences were teased with a quick glimpse at his silhouette. He sure resembled Wendigo Donner (Brennan Martin), one of Lionel Brown's men. This would be particularly interesting, considering Claire had crossed paths with him before.
With things not going so well for Claire (cough cough she is a prisoner cough cough), will things go from bad to worse if Wendigo show's up?
5. Will The American Revolution Finally Begin?
For the past two seasons of Outlander, every second has been leading up to the outbreak of the American Revolution. It has been constantly hinted about and at the start of Season 7, Jamie was even serving as an Indian agent.
So, will the American Revolution finally break out at the end of Season 6, or will it be held off until Season 7?
Luckily, Season 7 is on the cards so fans will find out soon.
Outlander Season 6 concludes Sunday, May 1 on Starz.