'Outlander' Season 6 Release Date, Cast, Trailer, Plot—Everything You Need to Know
Finally. The droughtlander is almost over, Outlander Season 6 finally has a release date. It has been a long 18 months since Jamie Fraser (played by Sam Heughan) and Claire Fraser (Caitriona Balfe) have graced our screens and fans have been itching to know what will happen next after the events of Season 5.
The Season 5 finale saw the evil Lionel Brown (Ned Dennehy) killed by Marsali Fraser (Lauren Lyle), eventually leading Lionel's brother Richard (Chris Larkin) swearing to avenge his deceased brother, setting Season 6 up for an all-out war against the Frasers. However, a conflict with the Browns is not the only problem the Frasers will be facing, that is for sure.
Newsweek has everything you need to know about Outlander Season 6, including release date, cast, trailer, plot, and more.
When Is 'Outlander' Season 6 Out?
Outlander fans can now rejoice the sixth season of the romantic historical drama has been given a release date and the good news is, there isn't much longer to wait.
Season 6 of Outlander will premiere on Sunday, March 6, 2022, at 9:00 p.m. ET on all Starz platforms.
If you are not subscribed to Starz Network, you can sign up to Starz's streaming service, Starzplay now from $8.99 in the U.S. and £4.99 in the U.K. to watch the upcoming season of Outlander.
The happy news was announced by Outlander author Diana Gabaldon at the book launch event of Go Tell the Bees that I Am Gone, the ninth installment in the Outlander series.
Sam Heughan shared the news on Twitter, alongside an official first-look photo at Season 6.
Co-star Caitriona Balfe posted the same photo, showing Jamie, Claire, Roger (played by Richard Rankin), Brianna (Sophie Skelton), and Young Ian Murray (John Bell) with the caption: "So what are you doing March 6th...???? @Outlander_STARZ"
Season 6 will have just eight episodes compared to the standard 12 or 13.
Who Stars in 'Outlander' Season 6?
Irish actress Caitriona Balfe and Scottish actor Sam Heughan are back as Claire and Jamie Fraser in Outlander Season 6.
They are joined by Sophie Skelton as Brianna "Bree" Randall, Claire's daughter from the future, and Richard Rankin as Roger Wakefield, Brianna's husband.
Also returning for Season 6 is David Berry as Lord John Grey, John Bell as Ian Fraser Murray, César Domboy as Claudel "Fergus" Fraser, and Lauren Lyle as Marsali MacKimmie Fraser.
Maria Doyle Kennedy will be back as Jocasta MacKenzie Cameron in Season 6. Joining Kennedy is Colin McFarlane as Ulysses and Caitlin O'Ryan as Lizzie Wemyss.
Gangs in London's Mark Lewis Jones will take on the role of patriarch Tom Christie, alongside Versailles star Alexander Vlahos as his son Allan Christie and My Left Nut's Jessica Reynolds as his daughter, Malva Christie.
The Frasers cause chaos with their arrival at Fraser's Ridge, especially when Malva claims Jamie is the father of her child.
What Will Happen in 'Outlander' Season 6?
Outlander Season 6 is based on the sixth novel in Diana Gabaldon's Outlander series, A Breath of Snow and Ashes.
In Season 6, Jamie and Claire will face the American Revolution head-on. They will be forced to defend their home on the land granted to them by the Crown from external forces and enemies within their community.
Jamie will find himself torn between his loyalty to the British Crown and his family's freedom (once again).
In Season 6 of Outlander sticks close to A Breath of Snow and Ashes, Claire's nursing skills will begin to raise suspicions of witchcraft and even murder.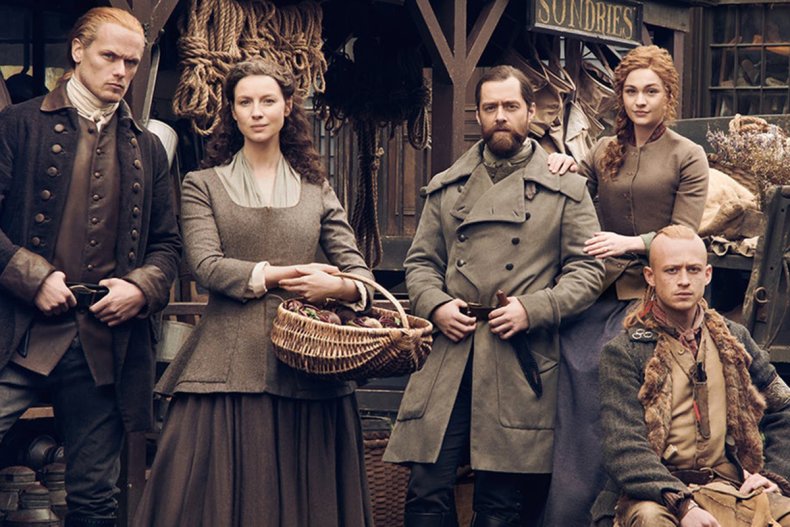 Outlander fans already know the Frasers will meet the Christie family in the sixth season, a family who poses a huge threat to the Frasers and Claire and Jamie's relationship.
The synopsis for the upcoming season teases: "For the Frasers and their immediate family, 'home' is more than simply a site in which they live, it is the place where they are laying the foundations for the rest of their lives. If Season 4 asked 'What is home?' and Season 5 asked, 'What are you willing to do to protect your home?' then Season 6 explores what happens when there is disharmony and division among the inhabitants of the home you've created—when you become an outsider or an 'outlander,' so to speak, marginalized and rejected in your own home."
The good news is Outlander has already been given the green light for Season 7, so fans can sleep easy knowing Jamie and Claire's love story is not over.
Is There a Trailer for 'Outlander' Season 6?
For now, there is a short teaser trailer for Outlander Season 6.
Set to the backdrop of the official Outlander theme song "The Skye Boat Song," the trailer begins with the Fraser family and friends looking as close and as happy as ever.
Their bubble of happiness is burst when the early days of the American Revolution begin to set in, starting with a sign being pinned up at Fraser's Ridge urging residents to "refuse British goods."
Jamie is then visited by revolutionaries and members of the British military, but just who's side is he on?
The trailer comes to an end with Claire saying: "It's starting. A storm, the war, it's almost here."
Outlander Season 6 premieres Sunday, March 22 at 8 p.m. ET on Starz.