Outlook for Bitcoin Bright Despite Stumbles; Wind Power Moves Ahead of Hydro in U.S.
CryptoCorner
Despite dipping below $30,000 for the first time since January, Bitcoin's long-term outlook appears strong.
China's decision to clamp down on Bitcoin mining operations jolted the market and the threat of increased regulation remains, but the crypto's fundamentals remain solid – in so far as it has fundamentals.
"Despite the near-term volatility and recent headlines from China, we think ultimately the changes leave Bitcoin in a healthier and more resilient place," Greg Cipolaro, head of research at New York Digital Investment Group, said in a report. "As always, short-term price movements are difficult to predict, but we see no changes for the long-term fundamental case for Bitcoin."
After a prolonged swoon, Bitcoin had climbed about $40,000 before news of China's decision to close mining operations sent prices spiraling downward.
The crypto has traded within a narrow range since climbing above $30,000 and another surge doesn't appear likely anytime soon.
While many retail investors sold in an apparent attempt to limit loss during the downturn, it appears many large investors continue to hold Bitcoin as a long-term bet on future price appreciation.
"Despite the market volatility on June 22nd, exchanges showed a net outflow of Bitcoins," Cipolaro said. "This should be viewed as a positive as it indicates coins being purchased and withdrawn from exchanges to be held in wallets and custodial services."
Despite the crypto's price drop, there doesn't appear to be a stampede to buy.
Traders are "very defensively positioned," the NYDIG analyst said.
While sharp, the recent downturn is only the fifth most severe correction on a percentage basis, NYDIG figures show. The deepest plunge occurred between June and November 2011 when Bitcoin fell from $39.91 to $2, a decline of 93.7%.
The third steepest drop occurred in between December 2017 and December 2018 when Bitcoin skidded from $19,891.99 to $3,128.89, a drop of 84.3%.
The current downdraft occurred between April and June. Bitcoin fell from $64,899.00 to $28,800, a decline of 55.6%.
The market rallied in the past and reached new highs, but Cipolaro said that "there are no assurances that similar patterns will repeat."
Before China's crackdown, there were an estimated 900,000 to 1.1 million Bitcoin mining "rigs" with a replacement cost of $4.5 billion to $6 billion, the analyst said.
China's action has temporarily cut the hash rate, but hasn't threatened the integrity of the blockchain.
"It is important to note that even though the network hash rate is down, it is likely temporary as mining rigs are redistributed," Cipolaro said. "There is a significant opportunity to bring Bitcoin mining to greener energy grids, like North America."
"Hash rate" is a measure of how many calculations per second are performed to maintain Bitcoin's worldwide network.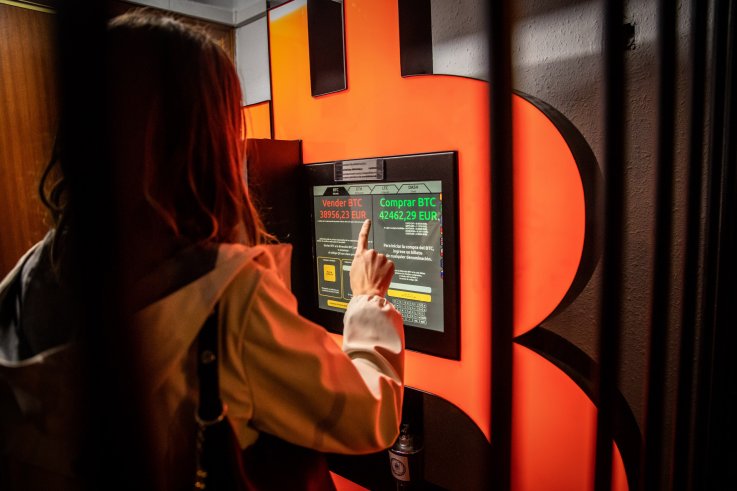 "Despite the market volatility on June 22nd, exchanges showed a net outflow of Bitcoins," Greg Cipolaro, head of research at New York Digital Investment Group, said in a research report. "This should be viewed as a positive as it indicates coins being purchased and withdrawn from exchanges to be held in wallets and custodial services." In this photo, a customer uses a Bitcoin ATM in Barcelona, Spain on Feb. 23, 2021
Angel Garcia/Bloomberg/Getty
But the market for Bitcoin remains, as evidenced by major investors such as MicroStrategy and Tesla. Major Wall Street firms make Bitcoin available to select investors and Bank of New York Mellon, the nation's oldest bank, provides secure custodial services.
It appears the crypto is here to stay—manic price swings and all.
In mid-day trading Thursday, Bitcoin changed hands at $33,884.56, up 1.85% in the last 24 hours and up 18.26% for the year. The 24-hour range is $32,348.28 to $34,545.92 The all-time high is $64,829.14. The current market cap is $635.04 billion, CoinDesk reported.
MarketPulse
The capacity to generate electricity from wind in the U.S. has increased nearly threefold in the last nine years, yielding 118.3 gigawatts at the end of 2020 as compared to 40.1 gigawatts in 2011, data compiled by the U.S. Energy Information Administration (EIA) show.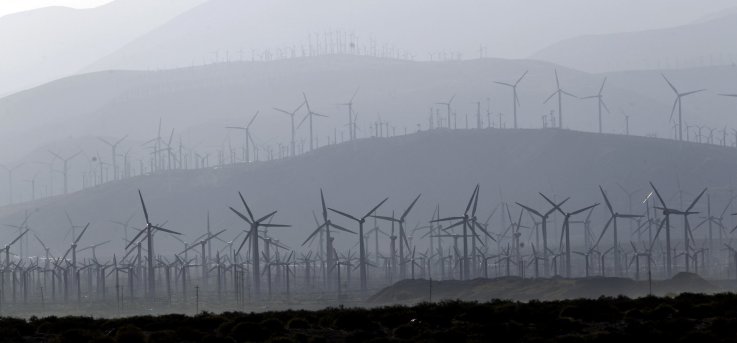 Wind-turbine generators in Desert Hot Springs, California, in 2011.
Reuters
Wind power has moved ahead of hydro power for the first time, accounting for 7.1% of the U.S. electrical supply, as compared to 7% for hydro. Solar accounts for just 1.7%.
Steam turbines continue to provide most of the power supply, while coal-fired plants account for the largest share (23.3%) followed by nuclear (19.6%), natural gas (2.6%) and biomass (2.2%).
Most of the wind generating capacity is located in Texas and the Midwest.
In early 2011, the Texas region had 9.4 gigawatts of wind capacity. Capacity had grown to 27.9 gigawatts by the end of 2020. Midwest wind capacity more than tripled, increasing from 8.6 gigawatts in 2011 to 26.9 gigawatts in 2020 EIA said.
The Northwest had wind capacity similar to Texas and the Midwest in 2011, but installed less new wind capacity (8.6 gigawatts) between 2011 and 2020 than those regions.
California built utility-scale turbines early, and added 3.0 GW capacity between 2011 and 2020 and now accounts for 4% of the national growth in wind capacity. But growth in California is slower than other regions.
In the Northeast, the Block Island wind farm off Rhode Island's coast is the best known. There are no wind farms in the deep south and only one plant in eastern Tennessee.
A gigawatt is one billion watts. A laptop uses about 50 to 100 watts an hour depending on the model. In 2019, the U.S. imported about 59.05 terawatts, most of it from Canada. A terawatt is one trillion watts.
Engineers look for sites where the wind speed is at least 9 miles per hour for small turbines and 13 mph for utility-scale turbines.
"Favorable sites include the tops of smooth, rounded hills, open plains and water, and mountain gaps that funnel and intensify wind," the EIA said in a report. "Wind resources are generally more favorable for electricity generation at higher elevations above the earth's surface. Large wind turbines are placed on towers that range from about 500 feet to as much as 900 feet tall."
China leads the world in total world wind generation capacity with 29% in 2019 followed by the U.S. (21%), Germany (9%), India (5%) and the United Kingdom (5%), EIA said.
Prior to 1879, direct current (DC) electricity was used in arc lights for outdoor illumination.
Nikola Tesla pioneered the use of alternating current (AC). His work cut the cost of transmitting electricity over long distances and made it possible to extend electrical service into homes, offices and factories.
The planned increase in electric vehicles raises a basic question: Where will the power come from to charge the batteries?
The U.S. now has about 1.5 million electric vehicles on the road.
The Pacific Northwest National Laboratory in Richland, Washington said the current grid has the capacity to handle 24 million electric vehicles through 2028, or about 9% of current light-duty vehicles.
But the grid must be upgraded to meet demand above that level.
Expansion of electric fleets face regional problems, especially in California, where last year's heat wave caused rolling blackouts.
"Bottlenecks due to new (electric vehicle) charging appeared the most in areas of California, including Los Angeles, which plans to go all-electric with its city fleet by 2030," researchers at the national lab said in a report. "The pinch came from the growth of fast-charging cars and commercial fleets of electric trucks. These vehicles can draw 400 amps through a circuit for as long as 45 minutes, instead of the 15 to 20 amps pulled over 6 to 8 hours by most (electric vehicles) today."
Meanwhile, the price of West Texas Intermediate Crude, the guide for U.S. prices, and Brent Crude, the benchmark for world prices, are near or above recent highs as the world economy restarts after the COVID-19 lockdowns and demand soars.
Investors have bid up the stocks of major oil companies, including Occidental Petroleum, ExxonMobil, ConocoPhillips and Chevron.