Outrage After Al Jazeera Journalists Sentenced to Prison: 'Defies Logic, Sense and Any Semblance of Justice'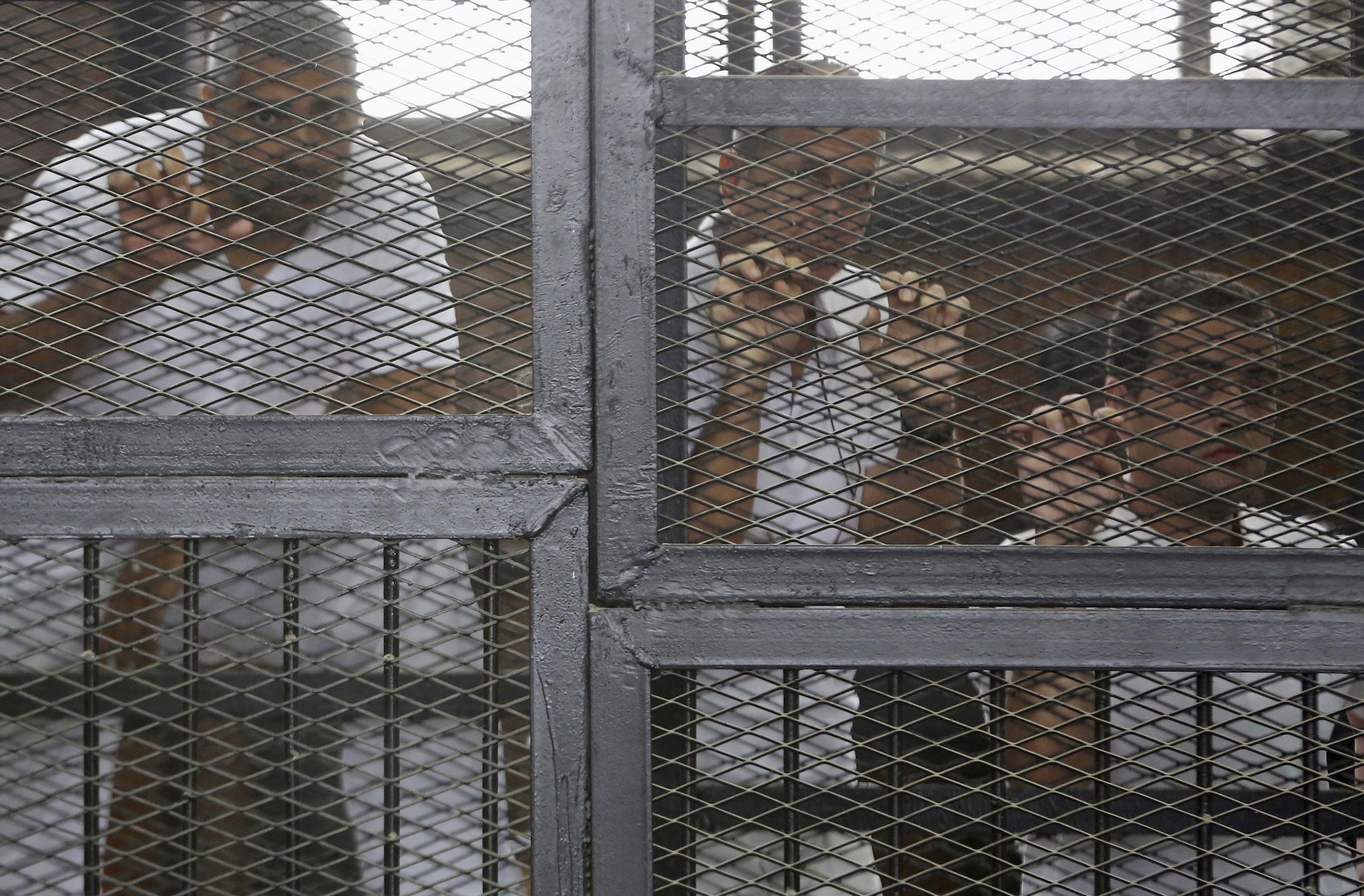 Al Jazeera English journalists Peter Greste, Mohammed Fahmy, and Baher Mohamed were sentenced on Monday to seven years in Egyptian prison for accusations of reporting false news and supporting the Muslim Brotherhood. Mohamed was sentenced to an additional three years for possession of a single bullet, according to The New York Times.
Evidence presented in court against the three journalists included family photos of ski vacations, and an award-winning BBC documentary Greste once filmed in Somalia, according to Buzzfeed.
The judge also convicted three other journalists who were not present, handing down 10-year sentences to British journalists Sue Turton and Dominic Kane, and the Dutch journalist Rena Netjes.
Netjes never worked for Al Jazeera but was reportedly charged because she met with Fahmy, one of the convicted Al Jazeera journalists, in a Marriott hotel to discuss coverage of the Sinai region. Egyptian officials notified the Dutch Embassy before the Egyptian police could arrest her, allowing her to leave Egypt.
Kate Benyon-Tinker, a BBC Middle East producer, tweeted from the emotional scene at the trial:
British journalist Louisa Loveluck took this video of the three journalists in cages in the court:
Al Jazeera English Managing Director Al Anstey released a statement following the convictions, calling the verdict defiant of "logic, sense and any semblance of justice."
"Today three colleagues and friends were sentenced, and will continue behind bars for doing a brilliant job of being great journalists. 'Guilty' of covering stories with great skill and integrity. 'Guilty' of defending people's right to know what is going on in their world," Anstey wrote. "There is only one sensible outcome now. For the verdict to be overturned, and justice to be recognized by Egypt. We must keep our voice loud to call for an end to their detention. Alongside us is a worldwide solidarity, a global call for their release and a demand for basic freedoms to be respected. The authorities in Egypt need to take responsibility for their actions and be held to account by the global community."
Journalists expressed their outrage at the convictions.
BBC Middle East Editor Jeremy Bowen:
Al Jazeera English journalist Anita McNaught:
U.K. Channel 4 News anchor Jon Snow:
British Foreign Secretary William Hague urged Egypt to "review" the "unacceptable sentences":
Egyptian authorities released Al Jazeera journalist Abdullah Elshamy last week due to his poor health. Elshamy was present at the court on Monday.