Outrage After Court Deputies Forced to Get COVID-19 Vaccine Ahead of Enforcing Evictions
Deputies who work in local courts in New Orleans will now have to get the COVID-19 vaccine.
On Monday, Constable Edwin M. Shorty Jr. of Algiers, Louisiana mandated all deputies with the First and Second City Courts of New Orleans to be vaccinated. The move comes as cases are rising in the U.S. regarding the Delta variant.
"All full-time and reserve deputies must meet this vaccination mandate by August 16," the constable said.
"Officials said vaccination rates among law enforcement entities are high, but it has not been mandatory in the past," the constable continued.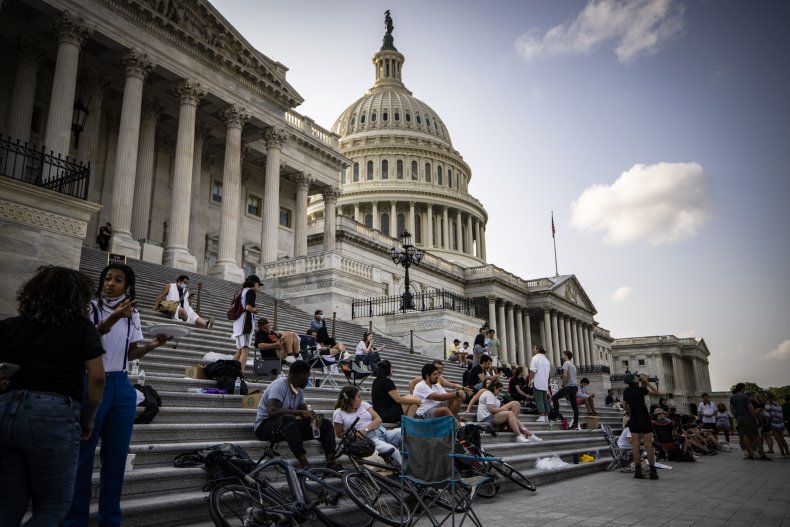 "The mandate will ensure SCC deputies are not leaving the public at risk when performing duties of the department and ensuring their personal safety."
This mandate also includes the use of personal protective equipment in conjunction with continued social distancing practices at each court. This move comes as First and Second courts are gearing up to deal with eviction cases that are the result of the federal moratorium expiring on July 31.
Once the vaccination mandate was announced, many people took to Twitter to voice their opinion about the new measures.
One Twitter user said, "I imagine the sort of people who sign up to evict people during a pandemic are probably not also the sort of people who will readily take a vaccine."
Another user said, "Gotta stay safe when you're busy making people homeless."
In September 2020, the Centers for Disease Control and Prevention created a moratorium that prevented landlords nationwide from evicting tenants from their residences, regardless if they could pay their monthly rental fees. As mentioned above, the moratorium expired on July 31 which could potentially leave millions of Americans homeless in the coming weeks.
On Thursday, the Biden administration challenged the Supreme Court's decision on the moratorium by requesting an extension, but the new legislation would've had to pass prior to the August recess.
U.S. Representative Cori Bush, a Democrat from Missouri, has been at the forefront of the federal moratorium issue. Since the moratorium's expiration, she's slept at the steps of the Capitol Building to garner support from Congress for an extension.
"We have an eviction emergency, and so that has to be the focus, making sure people are not forced out of their homes right now," she said to NBC Washington.
Other people have joined in alongside Bush, who plans to camp outside until the moratorium is in place again.
"Congress needs to get over here and get their act together and work to extend the moratorium as soon as possible. And I'm really thankful that Cori Bush is out here organizing this," participant Maria Skibniewska said via NBC Washington.