Outrage in MAGA World as McConnell Blinks on Debt Ceiling
After Republican Senate Minority Leader Mitch McConnell offered Democrats a short-term suspension of the U.S. debt ceiling to avoid a national default and government shutdown, Republican former President Donald Trump criticized McConnell.
"Looks like Mitch McConnell is folding to the Democrats, again," Trump wrote in a statement Wednesday evening. "He's got all of the cards with the debt ceiling, it's time to play the hand. Don't let them destroy our Country!"
McConnell had said via Twitter earlier in the day, "We will also allow Democrats to use normal procedures to pass an emergency debt limit extension at a fixed dollar amount to cover current spending levels into December."
Democrats have expressed interest in taking McConnell's deal, though its specific details remain unclear.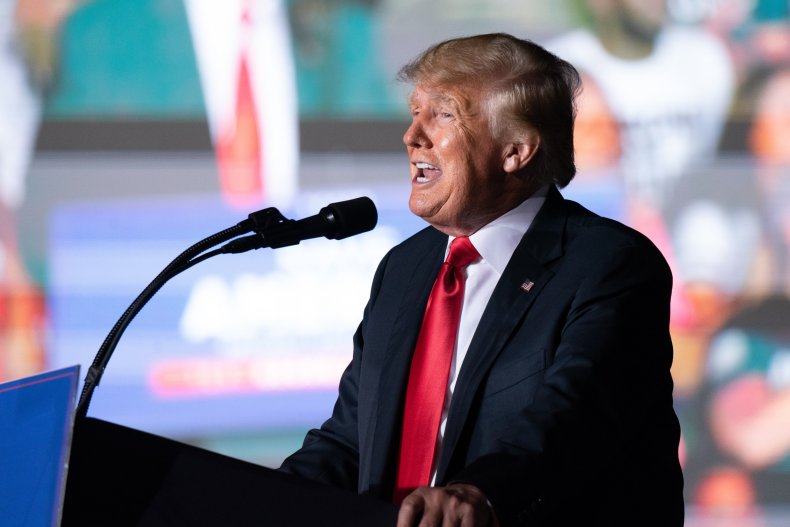 McConnell's offer could give Democrats more time to negotiate with Republicans on raising the debt ceiling, something congressional Republicans have unanimously refused to do. Without McConnell's offer, the government was expected to default on its debt by October 18.
His offer could also give Democrats more time to independently raise the debt ceiling through reconciliation. Reconciliation is a congressional maneuver that would allow Senate Democrats to raise the ceiling with a simple majority vote rather than with the 60 bipartisan votes normally needed to bypass a filibuster.
As of Wednesday evening, Republican Congress members on Twitter remained mostly silent on McConnell's offer.
However, Trump's criticism of McConnell's offer is just his latest against the Republican congressional leader.
Trump called McConnell a "dumb son of a bitch" and a "stone-cold loser" during an April 10 speech to the Republican National Committee (RNC) at his Mar-a-Lago resort in Palm Beach, Florida.
When asked about Trump's name-calling, McConnell responded, "What I'm concentrating on is the future."
McConnell said he hadn't spoken with Trump since around the January 6 Capitol riots. He has told advisors that he plans to never speak to him again, according to The Washington Post. Trump has said he has no interest in speaking to McConnell either.
McConnell didn't vote against Trump in his second impeachment trial in the Senate. In that trial, Trump stood accused of inciting the riots by baselessly repeating that the 2020 election was "stolen" from him through an unprecedented nationwide conspiracy of voter fraud.
However, McConnell did say that Trump was "practically and morally responsible for provoking" the Capitol riots. In response, Trump called him a "dour, sullen and unsmiling political hack."
Trump's past statements have also cautioned congressional Republicans against supporting the Democrats' infrastructure bill.
Newsweek contacted McConnell's office for comment.