Outrage Over Senator's Mispronunciation of Kamala Harris' Name Hits Inadvertent Target: Perdue Chicken
Following Georgia Republican Senator David Perdue's mispronunciation of Democratic vice-presidential candidate Kamala Harris' name during a Trump rally on Friday, the outrage is hitting an unlikely target: Perdue Chicken.
The Perdue Chicken Twitter account addressed concerns over the lawmaker's remarks in over a dozen tweets on Saturday morning, assuring critics that the senator is in no way affiliated with the brand.
"Hi there, Julie. I can assure you that David Perdue has no affiliation with the Perdue brand," reads the most recent tweet from Perdue Chicken, attributed to a person named Eliza.
Users have been consistently tweeting their disapproval of the senator's mispronunciation of Harris' name. During his closing remarks at the Friday rally, Senator Perdue referred to the vice-presidential candidate (who also represents California in the U.S. Senate) as "KAH'-mah-lah? Kah-MAH'-lah? Kamala-mala-mala? I don't know. Whatever."
Criticism from social media users and political figures, including Senator Perdue's Democratic opponent Jon Ossoff, called out his mispronunciation as racially insensitive and pointed out that the senator has worked with Harris for three years.
One Twitter user responded to the Perdue brand, thanking them for clarifying and noting that it's "an unfortunate name association."
Both Republicans and Democrats have mispronounced Harris' name in the past, including President Donald Trump, even after supporters have repeatedly stated that the mispronunciation is racially insensitive. Twitter users were quick to point out that Democratic presidential nominee Joe Biden has mispronounced his running mate's name in the past.
However, others noted that the repeated mispronunciation by Senator Perdue followed by laughs in the audience during Friday's rally adds a mocking and racist element to the incident.
Harris, who is the first Black and first South Asian-American woman on a national party ticket, explains in her biography The Truths We Hold that her name is pronounced "comma-la."
Democratic Senatorial Campaign Committee spokesperson Helen Kalla called Senator Perdue's actions "disgusting," and referenced his campaign's advertising against Ossoff, which was recently taken down following accusations that it promoted anti-Semitism.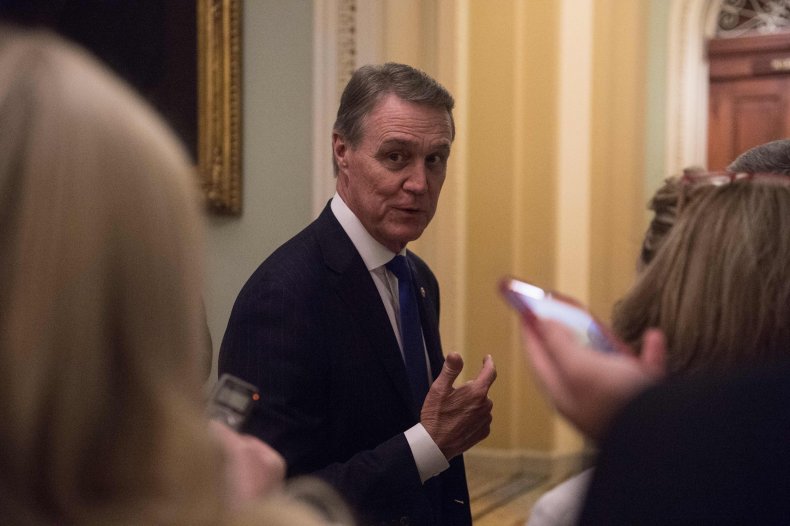 "Senator David Perdue has served in the Senate alongside Vice Presidential nominee and Senator Kamala Harris since 2017. He knows her name and he knows how to say it," she wrote in a statement on Friday. "His disgusting performance today is nothing more than a desperate dog whistle from a losing politician who was already caught running anti-Semitic ads against Jon Ossoff."
"Perdue has shown he lacks the dignity and respect that Georgians deserve from their U.S. senator, and he must immediately apologize," Kalla added.
Newsweek reached out to the company Perdue Farms for comment, but did not receive a response in time for publication.