'Outrageous': Republicans Blasted for Alerting Only GOP Side About COVID Cases in Minnesota Senate
The Minnesota Senate GOP is facing serious criticism after failing to alert the Democratic-Farmer-Labor Party (DFL) of a COVID-19 outbreak ahead of a special session on Thursday.
Only Republican state senators were given a memo saying that various GOP lawmakers and their staff had tested positive for the virus, leaving their DFL colleagues in the dark.
"It is outrageous and completely unacceptable that Senate DFLers were not notified of the recent COVID-19 outbreak among Senate Republicans prior to Thursday's floor session," DFL Senate Minority Leader Susan Kent said in a statement. "This lack of transparency is a blatant disregard for the health and safety of others: our DFL and nonpartisan staff, members, and the communities we go home to."
In the memo, Craig Sondag, the Senate Republican chief of staff, instructed all GOP staffers to work from home during Thursday's special session, reported the Star Tribune Saturday.
The memo did not include the names of the infected individuals for privacy reasons. But according to an internal email obtained by Minnesota Public Radio, which first reported the story, multiple COVID-19 cases have been identified among GOP lawmakers and their staff.
At least two state senators, Dave Senjem and Paul Anderson, have confirmed they tested positive for the virus. It is believed that Senjem contracted the virus during a caucus party on November 5.
Senate spokeswoman Rachel Aplikowski said that no one from the Republican caucus who attended Thursday's session posed a risk of spreading the virus, stating that masks and social distancing were implemented, and that many members on both sides of the aisle utilized remote voting.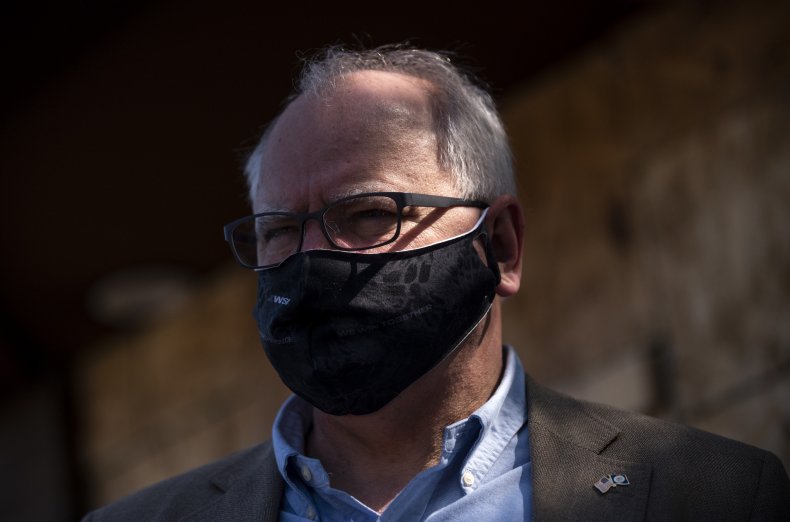 But on Saturday, Democratic Governor Tim Walz tweeted his condemnation of the GOP's decision, stating that "COVID-19 doesn't operate along party lines, and neither can we."
"I do not understand why Senate Republicans chose to share positive cases only with members of their own party, putting staff and other senators at risk. We must put aside our differences and look out for our neighbors. At the end of the day, we're all Minnesotans."
Newsweek reached out to the Senate Republican Caucus for additional comment.
On Saturday, Minnesota health officials reported a record daily high of new positive cases, with 8,703 people testing positive for the virus. The state also experienced its deadliest week, with 35 new deaths on Saturday, a number twice as high as it was two weeks ago.
"For Minnesota, it's a very challenging time right now," Walz told reporters Friday.