Authorities planning to deport a Honduran construction worker who raised the alarm about building dangers in a New Orleans hotel before it collapsed and killed three people have been condemned for removing a vital witness in the case.
Delmer Joel Ramírez Palma, who has lived in New Orleans for 18 years, reported numerous safety concerns such as asymmetrical building measurements and uncured concrete too weak to support the building's weight to King Company before the 18-storey Hard Rock Hotel collapsed on October 12.
Two days later, after giving an interview to a Spanish-language news outlet about the collapse, Palma was arrested while on a fishing trip with his family.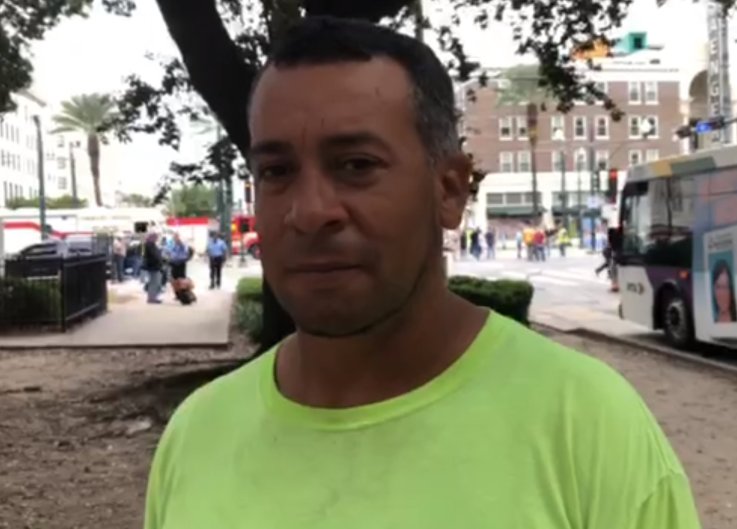 Delmer Joel Ramírez Palma, who has lived in New Orleans for 18 years, will be deported on November 25, 2019.
Jambalaya News Louisiana
Lawyers for Palma have now confirmed he will be deported on Monday and they have hit out at the decision that came in the midst of the investigations being carried out by the U.S. government's Occupational Safety and Health Administration (Osha) and the New Orleans police department.
Daryl Gray, a lawyer representing Palma and four other workers in a civil suit against King Company, told The Guardian the move was "contrary to seeking justice."
"One agency is investigating this tragic collapse and then another government agency is moving material witnesses out of the country," he said.
The sentiment was echoed by the New Orleans Workers' Center for Racial Justice—an advocacy group which called for the halt of Palma's deportation.
"ICE's arrest of Delmer Joel Ramirez Palma undermines the investigation into the cause of the collapse, sends a chilling signal to workers at dangerous worksites everywhere and puts workers of all immigration statuses in danger," the group said in a statement.
"Every agency and elected official charged with keeping New Orleans workers safe must stand up to ICE and ensure that this rogue agency does not target Joel or any other impacted workers.
"ICE cannot be allowed to deport a key victim-witness to an ongoing investigation into a tragedy of huge significance to this entire city."
The building, which was under construction at the corner of Rampart Street and Canal Street at the edge of the city's historic French Quarter, collapsed shortly after 9 a.m.
Alongside the three killed, 20 others were taken to hospital with a range of injuries.
Two men remain missing inside the building and their bodies have yet to be retrieved as officials plan on using explosive charges to implode what is left of the structure on Monday.
Palma said he only survived the collapse because he swung from a rope from the ninth floor to the sixth.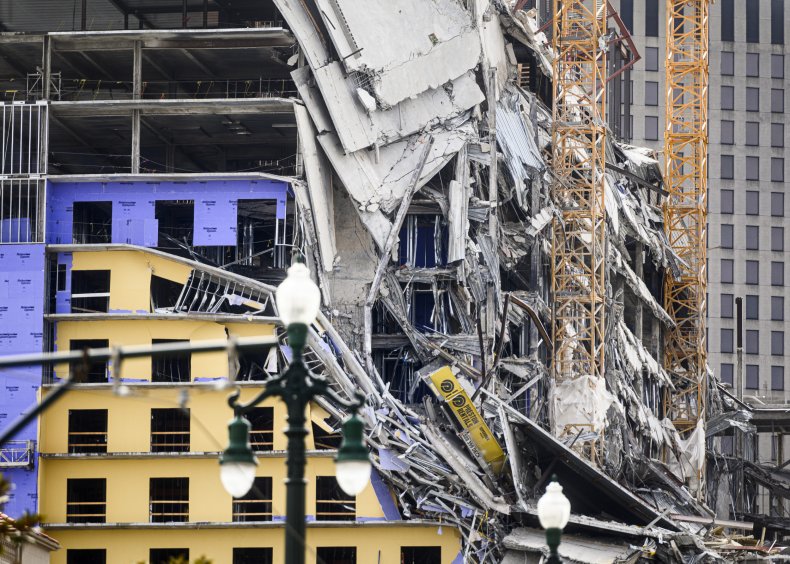 An ICE official denied the allegation that the agency was attempting to deport a witness, stating that there was "no factual basis" for the claims and that Palma was already facing a deportation order.
A spokesperson for the agency told the New Orleans Advocate: "When individuals stand up and make these sorts of claims that are patently false, it does spread fear in those communities. It spreads misinformation."
Newsweek has contacted Osha and the New Orleans Police Department for comment.