'Outriders' Console-PC Crossplay Guide: How to Play With Friends on PS4, PS5 and Xbox
Outriders update 1.05 has made its way to PC, PS4 and PS5, and will soon be out on Xbox. Once the patch is fully deployed, Outriders will finally support full crossplay between all main platforms on which the game is available.
Crossplay was segmented to console and PC ecosystems at launch, but now the entire player base will be able to experience People Can Fly's new looter shooter together. In this brief guide, we'll explain how to get the job done.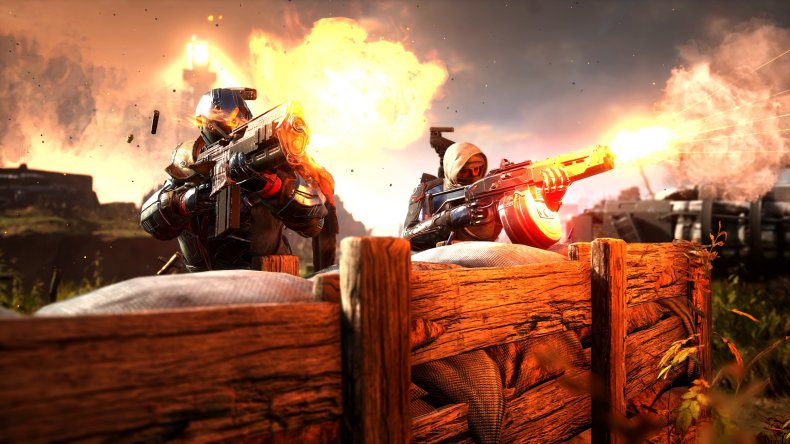 How to enable full crossplay in Outriders
Once the game's latest update is fully installed, crossplay between console and PC should be an option. To make use of it, press the designated button to open the options menu at the lobby screen. In the gameplay tab, make sure the toggle to "enable crossplay" is switched to "on."
Next, press the "play with friends" button on the right-hand side of the lobby screen. In the bottom-left corner of that menu, you should see a section for "crossplay game codes." If you want to be the host of your game, click the button to "generate your game code." You'll be presented with an eight-digit code that you can then share with friends playing on other platforms. They can enter the code by selecting the "join a game using code" option in the Play With Friends menu, as long as they also have crossplay enabled.
If you need an additional visual aid, watch the video above courtesy of Ordinary Sense on YouTube.
What are the limitations of Outriders crossplay?
While console and PC players can now enjoy Outriders crossplay, the feature does have some limitations. We've listed answers to some of the most common questions about the feature below.
Outriders crossplay does not support voice chat between platforms. You'll need to use an external chat service or app to talk to friends playing on other platforms.
There isn't full cross-progression in Outriders. Players can't switch between PlayStation and Xbox or PC at will while keeping their character data intact.
It is possible, however, to transfer saves within the same console family. So, progress can be transferred between PS4 and PS5 as well as Xbox One and Xbox Series X|S. In other words, the cross-progression is partial and not quite as limitless as live service multiplayer games like Fortnite or Destiny 2.
That's all you need to know about console-PC crossplay in Outriders.
Outriders is available now on PS5, PS4, Xbox Series X|S, Xbox One, PC and Stadia.
Have you tried crossplay in Outriders yet? What do you think of the feature so far? Tell us in the comments section!