'Outriders' HUD Missing Bug: How to Fix the Crosshair Glitch on PS4, Xbox and PC
Outriders has experienced a good amount of success in the hours since its launch, but not everything about People Can Fly's looter shooter is perfect on day one. Beyond the expected server issues, players have also encountered a strange bug in which their character's entire HUD disappears. In this brief guide, we'll detail the official workaround to fix the problem until an update resolves it entirely.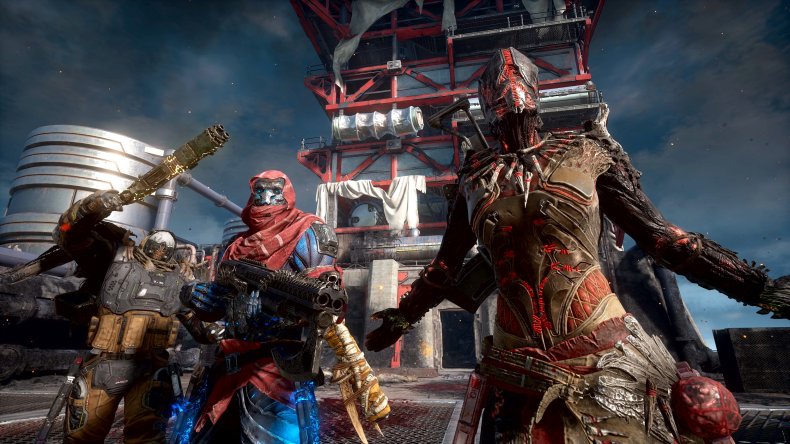 What is the no HUD/crosshair glitch in Outriders?
In gaming, the HUD stands for heads-up display. For shooters like Outriders, this includes the finer graphical elements around the screen, such as your character's health bar, minimap, abilities and quest markers. Perhaps most critically, the crosshair for your weapon is part of this, too.
When this glitch is active, your screen shows what's in front of you without any of those extremely helpful visual aids. There's no disruption in the on-screen gameplay per se—it's just very difficult to tell precisely what's going on when you can't pinpoint your squad's location, where you're shooting and how much health you've got left. Especially if you're about to start a particularly difficult mission objective, these elements shouldn't be off unless you specifically want them to be.
How to fix the no HUD glitch in Outriders
While this glitch seems to be one of Outriders' most prevalent post-launch bugs across all platforms, the game's developers at People Can Fly have confirmed via an official Known Issues Reddit thread that they're well aware of it. The studio says the problem will be permanently fixed via a patch in the future, but there is a workaround that will solve it for the time being.
As detailed in this video from Legacy Gaming on YouTube, start by opening your game menu, selecting "Options" and scrolling over to the HUD tab. Next, set every value in the list of options to either "Off" or "Hide." The HUD Scale Value setting can be left alone. Once that's done, exit the Options menu, then go back into it and turn everything back on.
Your HUD still won't appear after this step, so open the game menu one more time and select "Return to Lobby." Confirm it if necessary. Once you're back at the lobby, press the button to "Continue Game." When everything loads back in, all your missing HUD elements should be back where you left them. People Can Fly also added that disabling NVIDIA Ansel on PC may alleviate these problems further if the above workaround still doesn't remedy them. All told, this is a pretty simple fix for a very frustrating post-launch glitch.
Outriders is available now on PS5, PS4, Xbox Series X|S, Xbox One, PC and Stadia.
Are you enjoying Outriders so far? Have you encountered the no HUD or no crosshair glitch yet? Tell us in the comments section!