How 'Outside In' Director Lynn Shelton Humanizes the Ex-con Experience
Outside In, the new movie from director Lynn Shelton (Laggies, Humpday), opens at the end of a harrowing chapter in Chris' (Jay Duplass) life: his release from prison after 20 years, thanks in large part to the dogged legal fight waged by activists, especially his former high school English teacher, Carol (Edie Falco). But Outside In isn't an analysis of the American prison and parole system. The film offers up no statistics. At one point, Carol gestures toward 80 pounds of boxes comprising the legal work that won Chris an early release —the bureaucracy visually overwhelms, but remains vague.
Instead, Outside In is an uncommonly intimate romantic drama (our review). Over 20 years, their relationship developing mostly via letters, Chris has fallen in love with Carol. "They're dealing with each other in the flesh and it's caused this complete earthquake in both of their lives. And so they've woken up things in each other," Shelton told Newsweek. "Their connection is real, but what do they do with it?"
Outside In captures its two poles, the colossal American prison system and the closeness of a relationship entering new emotional territory, in the space between Chris and Carol. "We wanted to explore what reentry after prison is like. But for me, it wasn't what the film is about," Shelton said. "It was more that I wanted you to feel the oppressiveness; the sense that he's free, but he's not really free yet, and how the entire deck is stacked against you in every way, from getting hired to people's impression of you."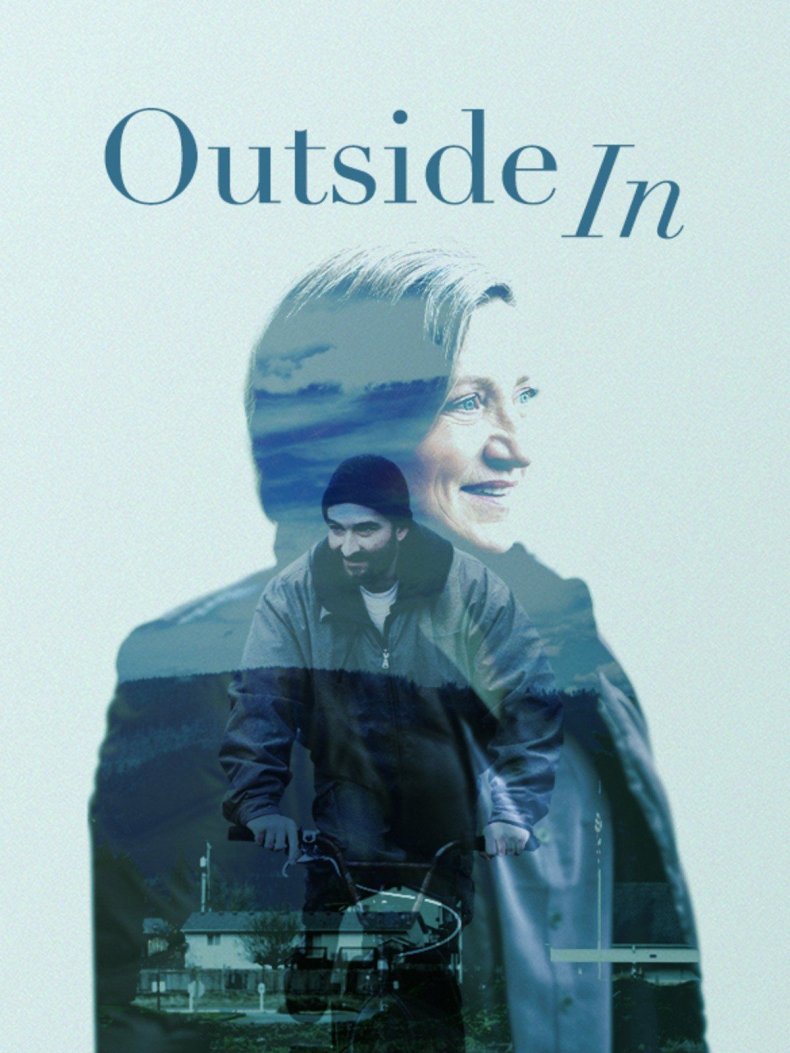 That immensity hangs over Chris as Outside In puts him in otherwise banal situations, now loaded with danger. When something as simple as having a beer can be an existential risk for Chris, moments like his parking lot confrontation with Carol's husband take on an extra layer of menace and tension. But more than Chris' possible reimprisonment, Shelton leans into the tiny details that define the ex-con experience.
Shelton describes one scene, where Chris submits to a urine test. "There's an officer watching him — because you have to be watched so you're not sneaking in innocent pee —and the look on the guy's face, there's no words, the look on the guy's face staring at him is so intense and so filled, it feels like you can read all kinds of judgment on his face," she said.
The meticulous particularity of Outside In's story extends to its setting, a small, economically depressed, Washington state town, surrounded by clear-cut forests. "I remember seeing Hell or High Water and feeling like I've been to East Texas," Shelton said, also citing Five Easy Pieces and McCabe & Mrs. Miller as inspirations. "I wanted this film to have that. To feel like you've taken a trip to upper Washington state in the middle of fall."
The detailed, hyper-local approach humanizes a man whose story would otherwise be about his crime, but also produced surprising side effects as Shelton worked to tune Outside In for audiences. "I knew as a writer that the character would have the world stacked against him, in terms of everybody in a small town having all of these preconceptions about his character. What hadn't occurred to me, idiotically, was that the theater audiences would have these exact same prejudices. So we would have these feedback screenings in rough edit. And there was one in particular, this one audience, who was just terrified of him. They thought that he was dangerous," Shelton said. "We had to go through with a fine-toothed comb every shot of him that could be potentially misinterpreted as stalker-y, or sketchy, because there were takes where his intensity of feeling sometimes came off as darkness."
Those same prejudices affect a vast, underseen and underserved portion of our country. More than 2.3 million people in the United States are in prison (the world's highest incarceration rate), but another 4.8 million are on either parole or probation, at perpetual risk of being sent back to prison for violating any one of a long list of transgressions, such as changing residence without permission, failing to find employment, missing an appointment with a parole officer, staying out past a curfew, drinking alcohol or failing to pay " supervision fees." In 2017, The Marshall Project found more than 61,000 people returned to prison for minor parole violations.
Outside In is about the specificity of Chris and Carol's relationship, but within that framework it contains an implicit call to extend the same empathy to the millions of other Americans entangled in the prison, parole and probation systems.