'Outside In' Review: America's Prison Problem Looms Large in Love Story
Dark possibilities loom over Outside In, not because the gentle drama lingers on them, but because they're tied to an outside context: the United States prison system.
Chris (Jay Duplass) is just out of prison and his only real connection in the larger world is his former English teacher, Carol (Edie Falco). He pursues an intimacy with her that she's not ready to handle, particularly with the demands of raising a teenage daughter while also holding together a crumbling marriage. Outside In stays tight on that personal drama, as Carol and Chris navigate a relationship no longer held apart by walls and barbed wire. Outside In is not a drama about the prison system or a "just when I thought I was out" crime drama, but the danger of being crushed under that suffocating, uniquely American, context lends an otherwise sweet, romantic drama an excruciating, delicate poignancy.
Free from prison after 20 years, Chris is dropped straight into a house party and a new, disorienting world. "No one drinks 7 Up anymore," his brother tells him. And that's before he has to figure out cell phones. But even worse than a changed world is his social alienation. The people he knew wish him well, but there's no mistaking their distance—Chris has become a foreign object. Even for the people closest to him, like his brother Ted (Ben Schwartz), Chris is as much a reminder of how they failed him as he is a person. Sleeping in his brother's garage, detached from his family, Chris only feels close to Carol, his former English teacher who secured his release as part of an End Mandatory Minimums campaign.
We hear little about Chris' crime or his time in prison. He was with friends who robbed and killed, but seemed to have had no awareness of what was about to transpire. But Outside In is most concerned with Chris living in his new now. His time in prison is relegated to 80 pounds of case file boxes in Carol's living room, as far behind him as the garage full of old stuff and the teenage BMX bike that becomes his only way to get around.
Duplass plays Chris open, raw and unbalanced against Falco's Carol, a woman compromising with her own cautiousness, her eyes and sentiments probing and retreating in minute-to-minute uncertainty—the duo build landscapes between them just as evocative as Outside In's rainy, timber town regionalism. Chris pursues Carol directly. He's sweet, awkward and pushes a little too hard. Just as his life outside of prison exists in a state of constant precarity (where even drinking a beer feels like an existential gamble), Chris' relationship with Carol teeters, especially when he strikes up a friendship with Carol's daughter, Hildy (Kaitlyn Dever).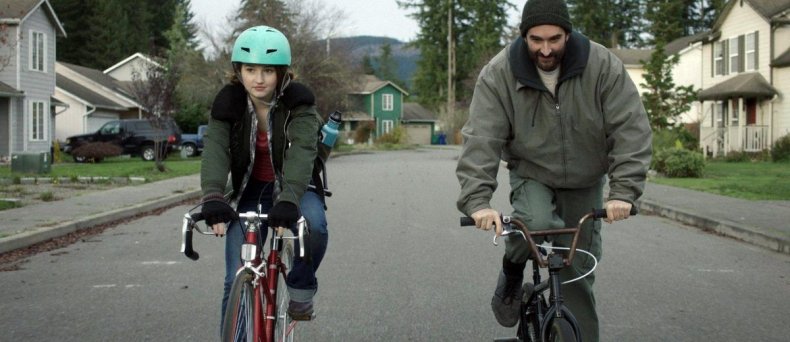 Director Lynn Shelton brings a high empathic bar to Outside In, then dares the audience to clear it. Chris is a walking red flag, not just as an ex-con, but as an emotionally needy person who wants a relational intimacy Carol and her family are not equipped to bear. But we begin to trust the depth of their relationship, in part by accepting the complexity built between two people over the unseen years prior to the movie's opening. Even setting aside her boorish and distant husband—who earns our instant loathing with the single line "Maybe now I can get my wife back", especially because it's exactly the kind of sentiment many of us would voice—Carol never considered the life Chris imagines with her. It seems to dawn on her almost by accident (with Falco's perfectly communicating expressiveness) when a fellow teacher jokes about how hot it is to have a former student crushing on her.
Though Outside In portrays Chris' relationships with Carol and Hildie as mutually fulfilling—Chris gives Carol reason to break from her stagnant relationships and, as a boy never allowed to grow up in the world, relates to Hildie as a peer—it's not an unthinking romance. Outside In doesn't end with a backlit kiss or with the fulfillment of a dream come to pass, but instead brings its characters to an acceptance of relational complexity. This becomes one of its greatest strengths as a drama, portraying characters who come to understand each other better but never accepting a pat resolution of the frictions between them.
"A lot of guys get out and think they're free," a parole officer tells Chris, "But you're not free yet, not by a long shot." Early in Outside In, the warning feels ominous. As Hildie climbs in through windows for her guerrilla art projects, our skin crawls for Chris, suddenly confronted with yet another parole violation that could send him back to prison. But the looming presence of outside forces sink as interior sentiments surface. When Chris and Carol finally go on a date, it's alive with new possibilities; Chris undermining the risks they're taking by bringing along wigs, mocking both the dangers of infidelity and parole. Not everything in their lives went according to plan, but as Chris and Carol explore what each can offer the other, Outside In pushes back against the bleak possibilities looming over them.
Outside In opens in theaters March 30, with a streaming release to follow April 3.