Over 100 Alaska Residents Didn't Receive Primary Ballots Because State Didn't Know Anyone Lived in Remote Village
Election officials backing out of the job, supplies failing to reach a village in time, and the government's ignorance that people were living in a part of the state created a perfect storm that prevented some Alaska residents from voting in August's primary election.
The integrity of next month's presidential election is a top concern for both President Donald Trump's and former Vice President Joe Biden's campaigns. Most of that concern has been over having the proper resources for people to vote by mail and ensuring an accurate count of registered voters' ballots. But in Alaska, the issue during the primary was that some residents weren't even given ballots to vote in person.
Alaska's August 18 primary election came and went without any of the estimated 130 residents in the newly constructed village of Mertarvik receiving a ballot. Gail Fenumiai, director of the state's Division of Elections, told KYUK the department learned that people were living in Mertarvik for the first time in August, about a week or so before the election.
The first families from Newtok, a village on the Ninglick River in Alaska, moved to Mertarvik, about a 25-minute boat ride away, in October 2019 to start anew. Newtok was home to about 380 people, National Geographic reported, but thawing permafrost and erosion caused the land around people's homes to sink, forcing them to tear down their houses out of fear of collapse. There was also an increased risk of flooding.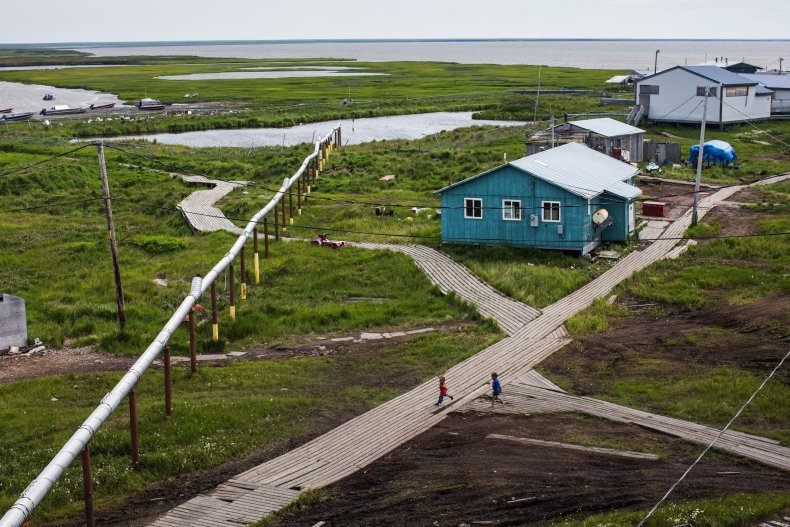 People had been planning for the move since at least 1994, the year Lisa Charles' grandparents told her about preparations to relocate as pioneers. Charles told Alaska Public Radio in 2019 that it felt as if it was "never going to happen," because of continual delays. But more than 20 years later, they finally moved.
For the time being, residents still inhabit the two villages, Newtok and Mertarvik, and the families closest to the erosion and flooding were given priority to move.
"If only there was no erosion, no flood, no permafrost melting, we would still be over there," Charles told Alaska Public Radio. "But we'll get used to it. We'll get used to living here."
Relocating an entire village to another area requires an estimated $100 million, according to Alaska Public Radio, and local officials had to coordinate with "dozens" of agencies.
Given that Newtok worked with the Alaska Department of Commerce on the project to move people to Mertarvik, Newtok Tribal Administrator Andrew John told KYUK the Division of Elections should have known people were living in the area. But it's "no secret" that departments in Alaska's government "don't communicate effectively," he said.
Fenumiai told Newsweek that the Division of Elections partners with communities to ensure people have opportunities to vote in person regardless of where they live and noted that on the Division of Community & Regional Affairs community listing, the population is listed as zero. Along with all Alaskans having the opportunity to make use of an absentee ballot, Fenumiai said the Division of Elections is looking for people to serve as an absentee voting official in Mertarvik and a polling place in Newtok. She encouraged people who plan to vote absentee by mail to submit their application as soon as possible.
"The Division of Elections' mission is to ensure public confidence in the electoral process by administering voter registration and elections with the highest level of professional standards, integrity, security, accuracy and fairness," Fenumiai said. "We take this mission very seriously and want to assure voters that we are working diligently to put on a safe election where all voters can cast their vote—whether absentee by mail, absentee in-person, early voting, or at the polling place on Election Day."
Fenumiai secured two voting officials to work on the election in June, but by the first week of August, one was missing in action and the other quit, creating a race to hire new voting officials, one of whom was Martha Simon. To give Mertarvik residents a chance to vote, the Division of Elections sent ballots and supplies from Nome to Newtok on August 11, with the intention that one of the officials would bring them to the neighboring village. But John said the supplies "never came" because of a delay in shipping.
Simon printed out sample ballots to offer in-person voting, and she told Alaska Public Radio that they did what they could to spread the word about coming to Newtok to vote. But in the end, only 17 Newtok residents voted in the primary.
This article has been updated to include comment from Gail Fenumiai, director of Alaska's Division of Elections.