Over 100 Progressive Groups Urge Dianne Feinstein to Support Abolishing Filibuster
A coalition of more than 100 progressive advocacy, civic, environmental and labor groups in California has urged Senator Dianne Feinstein to support abolishing the filibuster in order to pass a sweeping Democratic voting rights bill through the Senate.
In an open letter signed by 101 groups that represent over 288,000 of Feinstein's constituents, the progressives asked the California lawmaker to "publicly acknowledge that our democracy is in danger."
"We also ask that you publicly affirm that you will do everything in your power to help pass the For the People Act and the John Lewis Voting Rights Advancement Act through all means possible, including, if necessary, through abolishing, reforming, or providing an exception to the Senate filibuster," they wrote.
The Senate is scheduled to hold a test vote Tuesday on the For the People Act, but the bill isn't expected to pass as no Senate Republicans have expressed interest in voting for it and Democrats need 60 votes to circumvent GOP filibuster. One lone Senate Democrat, Joe Manchin of West Virginia, has indicated that he could vote against the updated measure.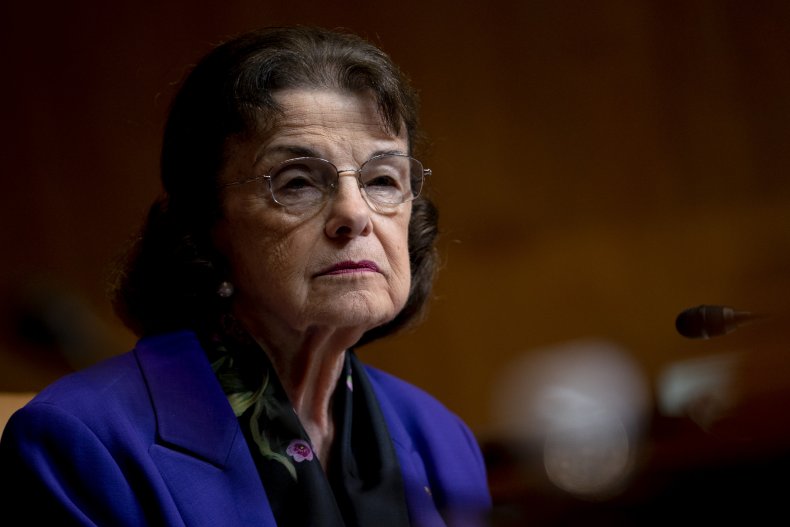 Manchin and fellow moderate Senator Kyrsten Sinema have both expressed opposition to amending the filibuster in order to push through the bill.
The progressive groups argued that the filibuster rule "is not written in the Constitution" and "exists to sabotage Senate proceedings, not to ensure democracy."
"The notion that it promotes bipartisanship only applies when both parties are vested in an outcome that benefits our country and its people," they wrote in the letter. "As uncomfortable as they may be to confront, the obstructionist and antidemocratic actions of the GOP make clear that democracy itself is subordinate to their desire to obtain and hold power."
Feinstein recently faced progressive ire, with some calling for her resignation after she pushed back against nixing the filibuster and those who believed that democracy was in jeopardy. "If democracy were in jeopardy, I would want to protect it," Feinstein told Forbes on June 10. "I don't see it being in jeopardy right now."
Republicans across 48 states have introduced hundreds of bills to restrict voting. Critics allege that GOP members are attempting to make participating in elections harder for Democratic voters. The For the People Act would implement uniform voting laws throughout the country.
Earlier this month, House Speaker Nancy Pelosi told her Democratic colleagues in the lower chamber that "sadly, the clock is ticking on our democracy with respect to the sanctity of the vote."
Newsweek reached out to Feinstein's office for comment. This story will be updated with any response.