Over 100 Russian Servicemen Quit, Refusing to Fight Ukraine: Anti-War Group
Over 100 Russian servicemen from Buryatia have returned home after refusing to fight Vladimir Putin's war in Ukraine, according to an anti-war group.
A plane with 150 servicemen who terminated their contracts with Russia's defense ministry landed in the Russian republic near the Russia-Mongolia border over the weekend, the founder of the anti-war Free Buryatia Foundation said on Saturday.
The Free Buryatia Foundation is an anti-war initiative formed by ethnic Buryats. Founder Alexandra Garmazhapova said on Ukrainian television that their wives made a video appeal last month to the head of Buryatia with a request for their husbands, who were serving with the Russian armed forces, to return home after they attempted to terminate their contracts.
"Today, a plane with about 150 servicemen has finally landed in Buryatia. These are military personnel who terminated the contract with the Ministry of Defense," Garmazhapova said.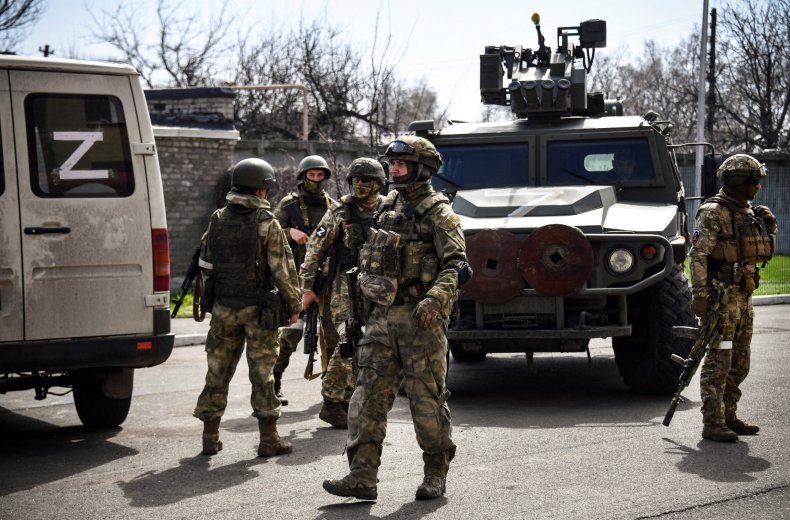 Before their return, they were detained in a camp for several days in Ukraine's eastern ac region and were threatened with lawsuits, according to the Free Buryatia Foundation.
"You made the right choice: you saved your lives and the lives of others!" Garmazhapova wrote in a Facebook post on Monday, addressing the servicemen who quit Russia's war in Ukraine, which began on February 24.
Newsweek previously reported that Andrei Rinchino, legal head of the Free Buryatia Foundation, told Russian independent media outlet MediaZona that 17 servicemen who entered into short-term contracts with Russia's defense ministry were locked up after they refused to continue to participate in the war, and attempted to terminate their contracts.
Pavel Luzin, a Russian military expert, told The Guardian in March that it is becoming clear that many the soldiers who are dying in Putin's war against neighboring Ukraine are from the poorer "ethnic minority" republics like Buryatia, Kalmykia and Dagestan.
Men from these regions can largely be found in the lower ranks of Russia's army, Luzin said. Buryatia is one of Russia's most impoverished regions.
Garmazhapova told iNews last month that "the Kremlin is using impoverished Buryats as cannon fodder." She said a total of 500 soldiers have applied to the Free Buryatia Foundation for help to terminate their contracts with Russia's Ministry of Defense, with many not allowed to return home.
Rinchino told MediaZona that one of the soldiers told him they attempted to terminate their contracts as they no longer wanted to fight in Putin's war. Some of them were then returned to Russia, while others were detained in Luhansk, he said.
Some of those who have been detained had expired contracts, according to Rinchino.
"They take advantage of the illiteracy of the fighters," the lawyer said. "Firstly, they say that your contract is automatically renewed. Secondly, you are told that you will begin a new contract, that this is all according to the law, that this is how it should be."
"Nobody knows the law," he added.
It isn't clear if the soldiers described by Rinchino are still detained in the Luhansk region.
Newsweek reached out to Russia's foreign ministry and the Free Buryatia Foundation for comment.