Over 100 Schools Across America Have Confederate Names—Will They Be Changed?
More than 100 schools across the U.S. are named after Confederate icons—and calls are growing for them to be renamed amid the ongoing protests against systemic racism.
Lecia Brooks, a spokesperson for the Southern Poverty Law Center (SPLC) told Newsweek that activists have been working to rename schools and remove symbols of the Confederacy for years.
Brooks said some states, such as Alabama, have enacted laws that make the process difficult.
"Ever since the Charleston Church shooting, local activists have been trying to remove these oppressive symbols of white supremacy, but many southern states enacted laws to keep them in place," she said, referring to the massacre of nine black worshippers in South Carolina by white supremacist Dylann Roof.
"However, over a relatively short period, largely influenced by the recent killings of unarmed black people by police and vigilantes, the people forced removals in places once thought impossible."
As protests against police brutality and racism continue to rock the nation, several Confederate monuments have either been toppled, defaced or removed by authorities in recent days.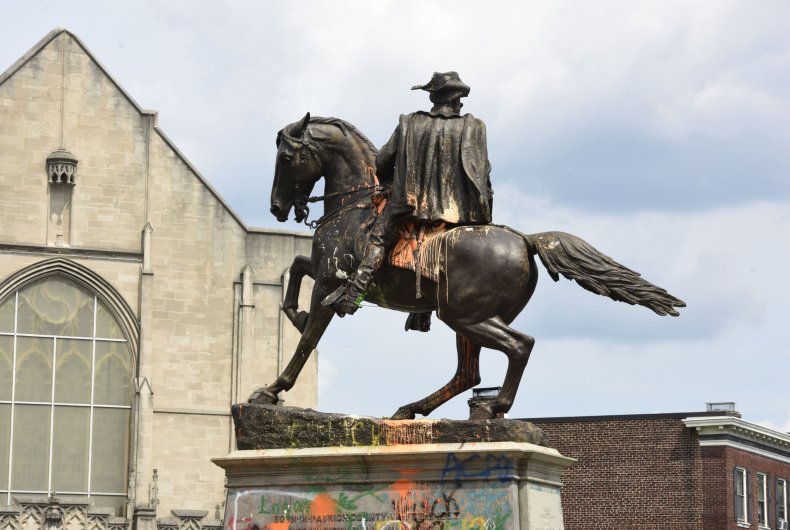 A number of petitions have also been launched in recent weeks calling for schools named after men who fought to preserve slavery in America to be renamed.
Amerika Blair, Marche Johnson and Khadidah Stone—graduates of Robert E. Lee High School in Montgomery, Alabama—are urging the Montgomery Public Schools Board to rename the school, along with two others named after Confederate President Jefferson Davis and Confederate soldier Sidney Lanier.
A large percentage of the students at the three public schools are African American, according to a petition that has amassed more than 20,000 signatures since June 3.
"Knowing that those students have to walk past and celebrate a man basically who did not believe in their basic humanity is very insulting," Blair said. "The name should be changed."
Noting that previous campaigns to rename the school failed, Blair added: "I want to make it clear we're going to press this until it's finished."
Last week, a statue of Lee that stood in front of the high school was toppled by protesters. It has since been put in storage.
In a meeting on Tuesday, Clare Weil, the president of the school board, said that while she objects to the way the statue was removed, she has no intention of it ever being returned to its pedestal.
Weil also said she was offended by the names of the schools named after Confederate figures—but the process of renaming them is far from straight-forward.
"I am personally offended by these names and the intent behind them when they were named. It is long past time for these changes to happen," she said during the meeting.
But the Alabama Memorial Preservation Act prohibits the renaming of any monuments or buildings that are more than 40 years old without legislative approval.
It has created a committee to handle waivers, but since the law was passed in 2017, none have ever been submitted.
Jannah Bailey, a member of the school board, has inquired about the process and was informed that the actual waiver had not yet been created.
The committee is now in the process of developing forms and guidance, but the rules won't be approved until a meeting takes place in July.
An application deadline for waivers would reportedly be set for August, but won't be considered by the committee until its October meeting.
Cost is also a factor when it comes to the renaming of a school as it means things such as school signs alterations and sport jerseys need to be bought.
According to an Education Week report from 2018, school officials in Virginia said the price tag to rename a school named after Confederate Gen. James Ewell Brown Stuart would cost about $368,000.
The school district ended up raising more than $75,000 in donations to cover the cost.
Despite the hurdles, petitions are continuing to spring up. One that launched on Wednesday is demanding four elementary schools in Abilene, Texas, change their names.
"As hard as it may be to believe, four Abilene schools are named for leaders of the Confederacy," the petition says. "While it was never appropriate for schools to be named after men who are best known for betraying the United States of America, our community and the current leaders of Abilene Independent School District have an opportunity to right this wrong immediately."
It notes that it wasn't a coincidence that the schools were built and named just before the city's public schools were integrated.
"A less-than-subtle message was being sent by honoring those specific men at that specific moment in our history: These schools aren't meant for you.
"This message is still being communicated today, implicitly promoting a commitment to white supremacy over black equality."
The petition urged the Abilene Independent School District to rename the schools to "honor those who have promoted the values to which our community now aspires."
Brooks told Newsweek that there are currently more than 113 K-12 schools named after generals and leaders associated with the Confederacy.
Thirty-nine of those are named after Lee. So far 15 schools named after him have had his name taken down.
The names of 42 Confederate icons have been removed from schools over thee years—including a college in Brewton, Alabama that was named after Davis, the SPLC said.
The SPLC tracks symbols that celebrate the Confederacy on public land, including schools, government buildings and parks—almost 1,800 of them dotted across the country.
"While the effort to remove Confederate iconography may be a surprise to many, activists have never stopped fighting to remove these dehumanizing symbols of white supremacy from their public spaces," Brooks added.
"The protests around the killing of George Floyd and the extrajudicial killings of unarmed Black people in this country have made clear the structures that uphold white supremacy, energizing the movement to end antiblack racism in this country."