Over 1,000 Arrested in Moscow Election Protest
Chanting slogans like "Putin is a thief" and "We love Russia. They love money," protesters marched through Moscow again Saturday as they have almost every Saturday this month.
The marchers were headed toward the City Hall at Tverskaya 13, but many never made it there, as riot police armed with billy clubs, dogs and pepper spray blocked streets and rounded up protesters.
For the second week in a row, thousands of people took to the streets to protest the local election commission's exclusion of opposition candidates from running in Moscow's local elections on September 8.
By 10 p.m. local time, 1,007 people had been arrested, according to Russian watchdog organization OVD.
Moscow City Council members are responsible for the largest municipal budget in the Russian Federation. They serve five year terms, and all 45 council seats are up for grabs this fall.
The election commission required hopeful candidates to gather at least 5,000 signatures, complete with signees addresses, in order to qualify for the ballot.
Opponents of the new rule pointed out that the task was made more difficult by the fact that those who provided their information would be added to a national database of opposition supporters.
Furthermore, the election commission disqualified a number of opposition candidates who did manage to get the required signatures, citing incomplete or illegible information.
At present, Putin's United Russia party controls the City Council.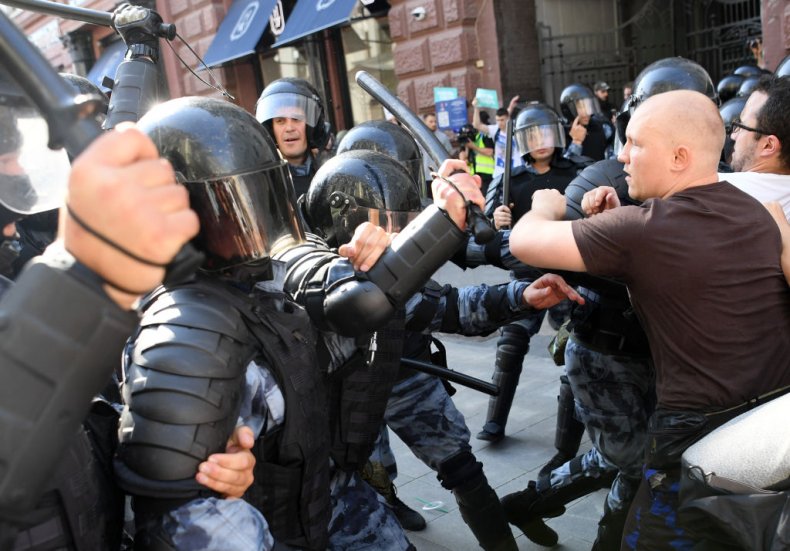 Last weekend, protests drew a crowd of 20,000, but this Saturday's unauthorized gathering was much smaller, with Moscow police estimating 3,500 people turned out.
Moscow Mayor Sergei Sobyanin, a United Russia party member and former Deputy Prime Minister under Putin, referred to the protests as a "security threat" and vowed to maintain order within the city.
The protest was called by opposition activist Aleksei A. Navalny, who ran for mayor in 2013 and president in 2018. Both campaigns were impeded by criminal charges brought against him by the government.
Navalny was arrested while out jogging on Wednesday and is currently serving a 30-day sentence for his role in organizing the demonstration.
Meanwhile, many of the would-be opposition candidates, including Ilya Yashin and Lyubov Sobol, were also detained in the days leading up to the protest.
Approximately 200 candidates have been registered for the election, almost all of whom support Putin and United Russia, according to reporting by The New York Times.
Videos of violent clashes between riot police and unarmed protesters made the rounds on Twitter. In one, a young couple holds each other as an officer stands over them with his stick, as arrests continued late into the evening.