Over 1,000 Gallons of Fuel Stolen From Family-Owned Gas Station: Manager
More than 1,000 gallons of fuel were stolen from underground tanks over the course of three days, a family-owned gas station said.
Jerry Thayil, manager of the southwest Houston gas station Fuqua Express, told KPRC-TV that he initially became suspicious while going over the inventory. As he began investigating, Thayil noticed that a dark van parked over the station's underground gas storage tanks on multiple occasions.
The theft comes amid ongoing economic sanctions against Russia and inflation that have caused gas prices in the U.S. to soar to historic levels. The average price for a gallon of diesel fuel in Texas is currently $4.96, according to AAA, up from $3.61 a month ago.
Based on the footage and the missing inventory, the thieves appeared to have stolen roughly 360 gallons of diesel fuel each day for three days, totaling about 1,080 gallons and costing the station thousands in revenue. Thayil estimated the total cost of the stolen fuel to be "about $5,000," and noted that they were hit on days when the station was paying "a real premium on the diesel fuel."
"At first we were like, I wonder what he's doing there because we didn't see anyone get out of the vehicle, but then we realized there's probably a trap door inside the vehicle and he's pumping like that," Thayil told KPRC.Thayil said that he noticed the van on Friday, seemingly attempting to rob the tanks for the fourth time. He ran out to confront them, as was observed by KPRC on surveillance footage, but the van sped away.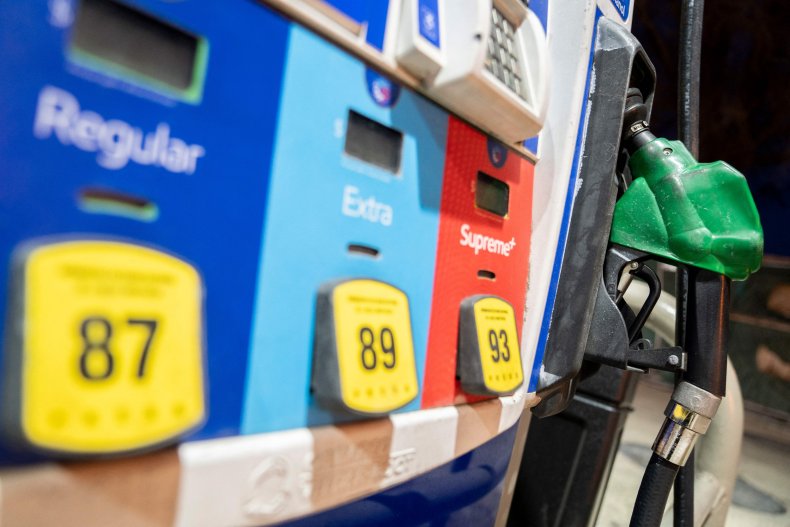 Thayil also suspects that there might be a second vehicle involved.
"The lookout and the van that is pumping the fuel out, they come at the same time," Thayil told KTRK-TV. "The van drives on top of the fuel tank and that's all you see. Nobody comes out, so they have a trapped door inside their vehicle which is crazy. They have to have another man inside [the vehicle] to open our fuel tank, stick a hose in there."
A police report has been filed with the Houston Police Department (HPD), which reported to the scene following the Friday incident.
Newsweek reached out to HPD for comment but did not hear back in time for publication.
"We have bills to pay, we got employees that count on us, that need that money," he added. "I just hope that whoever did this, sees this story and either [turns] themselves in or just stops doing it."
Since the thefts began, Fuqua Express has added new locks to its underground storage tanks. Thayil also said that he is working on sharing the surveillance footage with the public.