TC Energy, the company that was set to build the Keystone XL oil pipeline from Canada to the U.S, will be cutting over 1,000 construction jobs after President Joe Biden revoked the project's permit on Wednesday.
In an email sent to employees, the company said it will be eliminating jobs and halting the pipeline's construction in the upcoming weeks, Politico reported.
"Over 1,000 positions will be eliminated in the coming weeks, the majority of these unionized workers representing the building trades," Keystone XL chief Richard Prior wrote in the message.
Biden's decision to nix the controversial project in one of his first acts as president follows years of opposition from progressives, environmentalists and indigenous groups.
If constructed, the pipeline would have shipped 830,000 barrels per day of carbon-heavy oil from Alberta, Canada, to Nebraska. Opponents of the project have long considered its creation to be a setback for the United States' transition to cleaner energy.
For over a decade, the pipeline faced legal challenges and economic setbacks based on which administration held office in the White House. The project first lost its permit under President Barrack Obama, but regained it in 2017 under President Donald Trump.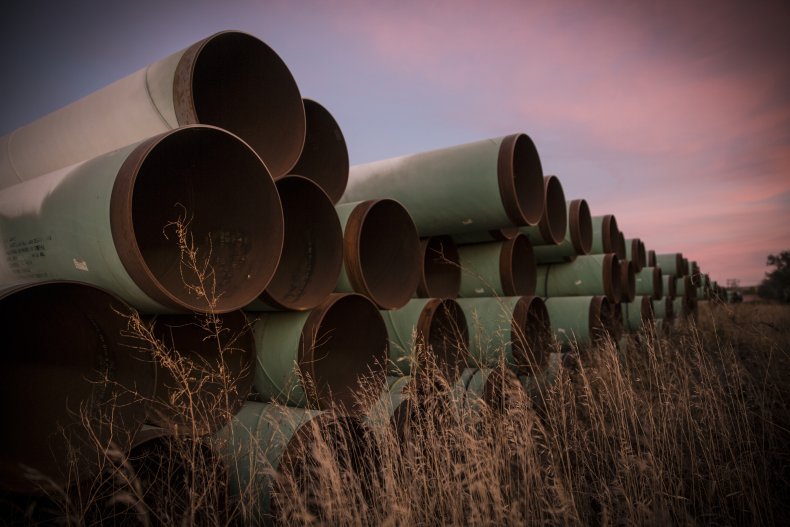 In May, policy director Stef Feldman told Politico that Biden supported Obama's decision to delay the project in 2015 and that he would "proudly stand in the Roosevelt Room again as president and stop it for good by rescinding the Keystone XL pipeline permit."
But supporters of the pipeline have long argued that it would create jobs, aid local economies and remain the safest way to transport fuel.
On Wednesday, TC Energy issued a statement saying they were "disappointed" in Biden's desire to halt the project.
"The pipeline would transport much needed energy in an environmentally responsible way while enhancing North American energy security," the company said.
"[Revoking the permit] would directly lead to the layoff of thousands of union workers and negatively impact ground-breaking industry commitments to use new renewable energy as well as historic equity partnerships with Indigenous communities," they added.
Construction of the pipeline was already well underway in Canada and the international border crossing was complete. Unlike Biden, Prime Minister Justin Trudeau had long been a proponent of the project, arguing that it would help reduce reliance on foreign oil imports and boost the economy.
"While we welcome the President's commitment to fight climate change, we are disappointed but acknowledge the President's decision to fulfill his election campaign promise on Keystone XL," Trudeau said in a statement on Wednesday.
Newsweek reached out to TC Energy for comment but did not hear back in time for publication.