Over $12 Million Worth of Meth, Fentanyl Hidden in Household Items Seized by Customs
U.S. Customs and Border Protection officials recently seized over $12 million worth of methamphetamine and fentanyl that was hidden within a shipment of household items at a border checkpoint in California.
According to a press release from Customs and Border Protection (CBP), the seizure occurred on August 5 at around 5:24 p.m local time when officers at the Otay Mesa Commercial Facility in California stopped a tractor-trailer that was "hauling a shipment of plastic household articles"
"During the inspection, a CBP officer referred the driver along with the shipment for an intensive examination," CBP said in the press release.
While conducting the intensive examination, CBP officers used an imaging system at the port, which they said was similar to an X-ray machine, and discovered "anomalies" in the truck's trailer, according to the press release.
CBP officers then continued their examination of the trailer and used a canine team, which provided them with "indication there were narcotics inside of the trailer."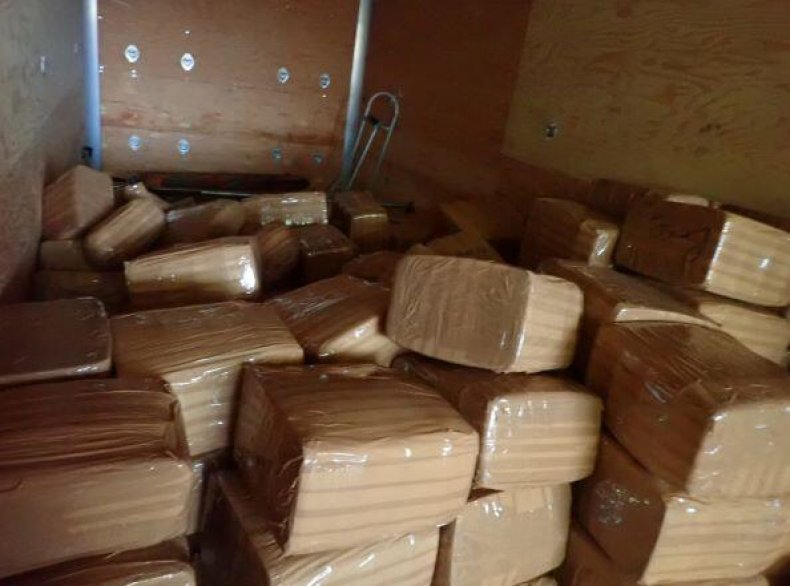 After the canine team alerted officers that there were narcotics inside the trailer, they searched the cargo and found 414 packages of methamphetamine and fentanyl hidden within the household items.
CBP officers said in the press release that the 414 packages contained approximately 5,528 pounds of methamphetamine and 127 pounds of fentanyl powder. According to the press release, the combined weight of the narcotics was over two tons and CBP officers estimated that they were worth around $12,990,749.
"This is the largest methamphetamine drug smuggling seizure along the southwest border, to date," the press release said.
After officials discovered the drugs, they arrested the driver of the tractor-trailer who was identified as a 53-year-old Mexican male. The driver was arrested for alleged narcotic smuggling attempt, CBP officials said.
CBP officers then turned the driver over to U.S. Immigration and Customs Enforcement (ICE), Homeland Security Investigations (HSI) and he is currently facing federal charges. The driver was transported to Metropolitan Correctional Center (MCC) in San Diego.
"This amount of fentanyl and methamphetamine is enough to ruin countless lives and fund transnational criminal organizations," CBP Director of Field Operations in San Diego, Pete Flores, said in the press release.
Flores continued, "I'm proud of our officers' efforts at all Ports of Entry within the San Diego Field Office to intercept this and all smuggling attempts."
According to CBP data, from October to June, over 140,000 pounds of methamphetamine and more than 8,000 pounds of fentanyl have been seized by customs officials.
Newsweek reached out to CBP for further comment but did not receive a response in time for publication.