Over 12,000 Christians Sign Petition Condemning Trump's 'Corruption and Hatred' Ahead of Election Day
Well over 12,000 Christians have signed an online petition condemning President Donald Trump and his administration's "corruption and hatred" just ahead of Election Day on Tuesday.
As of Monday morning, more than 12,700 Christians had signed the petition titled "Christians voting against Trump." The petition was launched by Faithful America, which describes itself as the largest online community of Christians working for social justice.
"Our values and our votes are proof that Donald Trump and the religious right do not represent all Christians—this election season, or ever," the petition says. "As Christians, we reject this administration's corruption and hatred. We will never vote for Donald Trump and Mike Pence."
It goes on to outline Faithful America's hope that under different leadership, the U.S. will reunite separated immigrant families, support refugees, preserve the Affordable Care Act (known commonly as Obamacare), protect LGBTQ rights, end racial injustice, defend democracy, help the poor and heal the planet. "We are voting for love, dignity, and social justice—not Donald Trump," it says.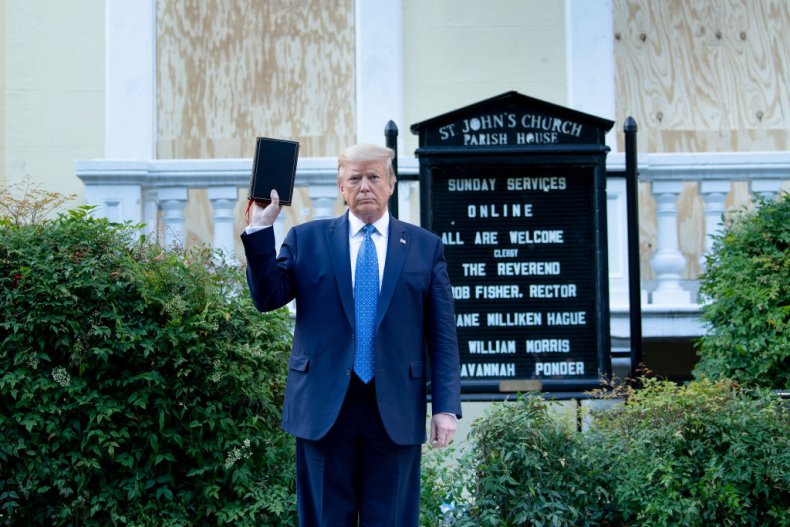 Faithful America's campaign director Nathan Empsall, an Episcopal priest, said that "members take Jesus's teachings seriously" in a press release emailed to Newsweek. Empsall suggested that Trump views the Bible "as just another political prop."
"Jesus's mother Mary sang that God tears down the powerful and lifts up the poor and lowly. This election, grassroots Christians will likewise reject Donald Trump's deadly narcissism and corrupt power grabs," Empsall said. "We're looking forward to a better future, turning the page on this hateful administration by voting to advance the Gospel's values of love, justice, dignity and empathy."
In additional comments to Newsweek, Empsall said that "there are many Christians who held their noses and voted for Trump in 2016, believing the office would tame his worst impulses. Four years later, they've seen that Trump's hateful selfishness isn't just an excess of the campaign trail but a signature of his approach to government."
"Equally important is the number of mainline Protestants and Catholics who did not vote in 2016, but who are now turning out for Joe Biden and Kamala Harris. They tell us they're motivated to vote this time not only by Donald Trump's deadly failures surrounding COVID-19, but also by his refusal to condemn white supremacy as the evil that it is," he said.
Volunteers with Faithful America have sent some 1.75 million text messages to organize progressive Christian voters in the key battleground states of Arizona, Michigan, Florida, Pennsylvania and Wisconsin. Additionally, almost 300 clergy members pledged with the organization to give sermons demanding that every ballot be counted if Trump and his supporters attempt to disenfranchise voters or discredit the results.
"From Trump's failure to condemn white supremacy to his never-ending attacks on the religious faith of anyone who questions him—even Mitt Romney and Billy Graham's Christianity Today—the president has constantly tried to divide Americans along religious and racial lines," Empsall said in the press release.
Polling conducted by Pew Research Center from September 30 to October 5 showed that majorities of white Christians back Trump over Democratic presidential nominee Joe Biden. The incumbent president is strongly favored by white evangelical Protestants, with a margin of 78 percent to just 17 percent. Among white non-evangelical Protestants, 53 percent favor Trump while 43 percent favor Biden. The results are similar among white Catholics, with 52 percent backing the Republican incumbent and 44 percent supporting the Democratic candidate.
Hispanic Catholics strongly favor Biden, as do Black Protestants. Among Hispanic Catholics, just 26 percent support Trump compared to 67 percent who back Biden. Fully 90 percent of Black Protestants back the former vice president and just 9 percent support the president. Overall, without dividing the Christians groups by race, 54 percent of Protestants back Trump and just 41 percent support Biden. Meanwhile, Catholics favor Biden by a margin of 51 percent to 44 percent.
Throughout his presidency, Trump has leaned on the support of white evangelicals. His administration has taken a strong stance against abortion and fought legal protections for the LGBTQ community—two issues that many within the faith community care about deeply. Exit polls from 2016 showed that about 80 percent of white evangelicals backed the president—nearly identical to the level of support the Pew Research poll shows he has just ahead of Election Day.
"As Christians, we are called to love God and love our neighbor with everything we do, including on Election Day. That means using our ballots to stand for the values Jesus taught: Love, justice, dignity, and empathy—basic Christian values that Donald Trump regards as weakness," Empsall told Newsweek.
This article has been updated with additional comments from Nathan Empsall.