Over 130 People Arrested Around Minneapolis During Protests, Looting As Mayor Imposes City Curfew
Law enforcement authorities in Minneapolis announced the arrest of 132 individuals during protests on Wednesday night.
Minneapolis has been the scene of demonstrations since the May death of George Floyd, who died while in the custody of Minneapolis police officers. Demonstrations on Wednesday night begin after an individual who was wanted for murder shot himself in front of a local mall before police on the scene could apprehend him.
Rumors began to spread online that the man had been killed by Minneapolis police. In the ensuing protests, businesses inside and near the mall were damaged or looted. Hennepin County Sheriff David Hutchinson said the unrest would "simply not be tolerated."
"My staff and I fully support the right to protest peacefully and assemble lawfully," said Hennepin County Sheriff David Hutchinson on Thursday. "Our deputies and staff will continue to do all we can to ensure demonstrators have a safe environment to voice their concerns. But violence and looting will simply not be tolerated. We will not sit back and let criminal activity occur without consequences. We will make lawful arrests to ensure the safety and security of our citizens and our cities."
Minneapolis Mayor Jacob Frey told reporters Thursday that Wednesday's violent demonstrations were not directed against police brutality or racism.
"Every person in every neighborhood in our entire city deserves to feel safe," Frey said. "What transpired yesterday does not bring us closer to safety. It does not bring us closer to advancing racial justice in the way we all want."
Frey declared a curfew for Minneapolis which was expected to last from 8:00 p.m. until 6:00 a.m. on Friday.
Newsweek reached out to Mayor Frey's office for comment.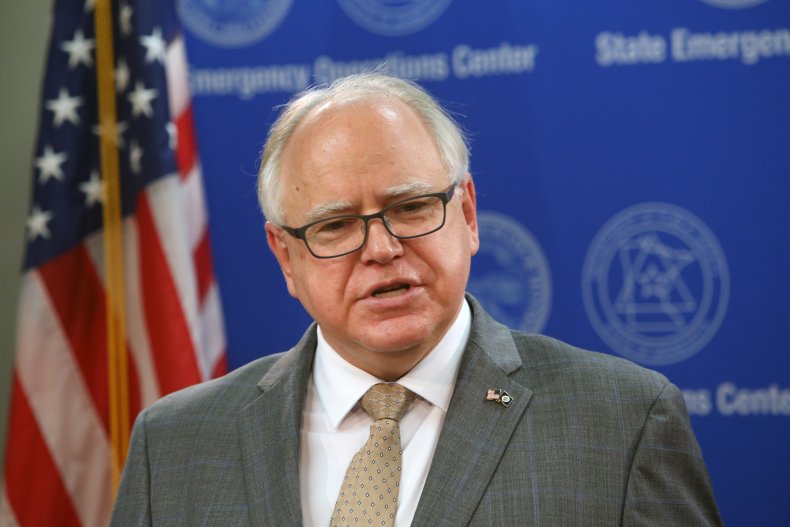 Minnesota Governor Tim Walz acknowledged that Minneapolis was still healing from Floyd's death. "The sense of unrest and the sense of unease is still permeating," Walz said during a Thursday press conference.
"We have the opportunity to either be defined by what happened to George Floyd and these continued acts or we can be defined on how we respond to them," Walz said.
Approximately 300 National Guard troops have been prepared to act in a support role to local law enforcement should rioting occur again on Thursday, as well as 250 members of the Wisconsin State Patrol.
Minneapolis police initially attempted to prevent civil unrest by posting a video of the last moments of the individual outside the mall. After "feedback from the community," read a Thursday tweet from Minneapolis police, the video was taken down.
Many observers and Minneapolis residents viewed the Minneapolis Police Department's handling of the George Floyd protests as inappropriate. Police used less than lethal weapons against demonstrators, who set buildings on fire and looted businesses.
In June, the Minneapolis City Council voted to dismantle the police department and redirect funds to underserved committees. That proposal was delayed in August by the Minneapolis Charter Commission, meaning the proposal will not be on the ballot in the upcoming November elections.
City Council President Lisa Bender said in an August tweet that the decision by the Charter Commission was "disappointing and creates barriers to change but it will not stop our work to re-imagine public safety."