Over 1400 Pounds of Meth Seized from Drug Ring Masterminded from Prison
Orlando's Wesh 2 News reports that several arrests were made after more than 1,400 pounds of methamphetamine was seized in an investigation known to Polk County officials as "Operation Dirty Water."
In a Thursday press conference, Polk County Sheriff Grady Judd told the public that the operation was "the largest methamphetamine seizure in the history of the Polk County Sheriff's Office."
He went on to explain that the "largest seizure" included 1,342 pounds of liquid meth— which was being transported across state lines in buckets — as well as 63 kilos of crystal meth, 25 pounds of THC edibles and 2,544 Xanax pills. The street value for all these drugs is roughly $54 million.
The drugs seized were part of a greater operation known as "Operation Dirty Water," with ties to the Juarez drug cartel.
The investigation began on January 8, when the sheriff's office received a package from Ontario with the previously mentioned Xanax pills. The package was initially intended for a Polk County woman named Amber Cayson; however, the drugs were intercepted by the police as a "controlled delivery" and subsequent arrest were conducted in Cayson's home, according to the press statement.
On March 13, Jennifer Meers of Stone Mountain, GA delivered 26 pounds of meth to an undercover agent in Polk County. Meers, who had been released from federal prison in January, was under a five-year probationary period when she delivered the meth to the undercover agent.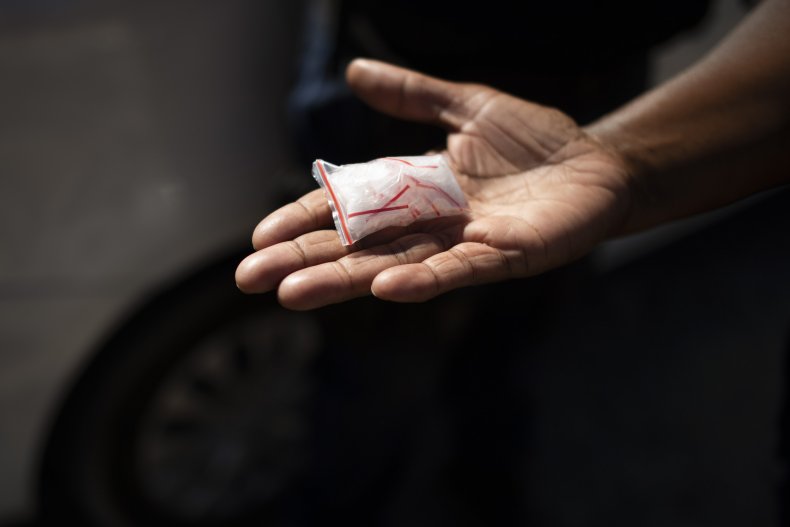 "That 10 years in federal prison didn't slow her down at all," said Sheriff Judd of Meers. "The fact that...she wasn't supposed to leave Georgia didn't make a difference at all."
On March 29, Meers arranged for another delivery, this time in Georgia and for 35 pounds of meth. A day later, she was arrested for both deliveries.
The police had a simple question: where did this woman, who had spent the last ten years serving time in federal prison, receive more than 50 pounds of meth? They quickly found their answer: Isidoro Palacios, a man with known ties to the Juarez cartel, according to the statement.
So, on April 5, Homeland Security (HSI) and the local police agencies executed search warrants for both of Palacios's Georgia homes. These warrants led to not only the seizure of another 77 pounds of methamphetamine but also the break up of a cockfighting ring.
Several other arrests were made in connection to the drug ring, including the arrest of Luis Ornelas-Martinez, who was in possession of 1,342 pounds of liquid meth.
Police revealed that Brian Stanton, 37, was the "mastermind" behind the operation. What's most shocking about this revelation is the fact that Stanton is currently serving time in the United States Penitentiary, Atlanta.
"This is not a horrible fairytale, it's the truth," said Sheriff Judd in the conference. "This guy organized and set up all of this operation from home sweet home: the federal penitentiary in Atlanta, GA."
Fox 13 reports: "Several law enforcement officers were involved in Operation Dirty Water, including those within the Haines City Police Department, U.S. Border Patrol, and other federal and Georgia agencies."