Over 1.5 Million People Have Recovered From Coronavirus Around the World
As cases of a new coronavirus climbed to more than 4.2 million on Wednesday, more than 1.5 million people were deemed to have recovered, according to a tracker maintained by Johns Hopkins University.
Officials suspect the number of people who have recovered is higher than has been reported, as people with mild cases or those who were asymptomatic weren't ever tested. It's also possible recovered cases are "substantially lower" than the actual number because the Johns Hopkins' tracker pulls information for outside of China from estimates based on local media reports and available state and local reporting.
The Centers for Disease Control and Prevention (CDC) is declaring people recovered based on one of two strategies: symptom-based and test-based. Under the symptom-based strategy, recovery is defined as a "resolution of fever without the use of fever-reducing medications and improvement in respiratory symptoms." If using the test-based strategy, the person should have negative results from tests conducted on at least two consecutive respiratory specimens within 24 hours.
An asymptomatic person who tested positive can also discontinue their isolation if they've gone 10 days without symptoms since their first positive test.
With 1,370,016 cases, America's had the largest outbreak worldwide and it's also had the highest number of recoveries with 230,287 people.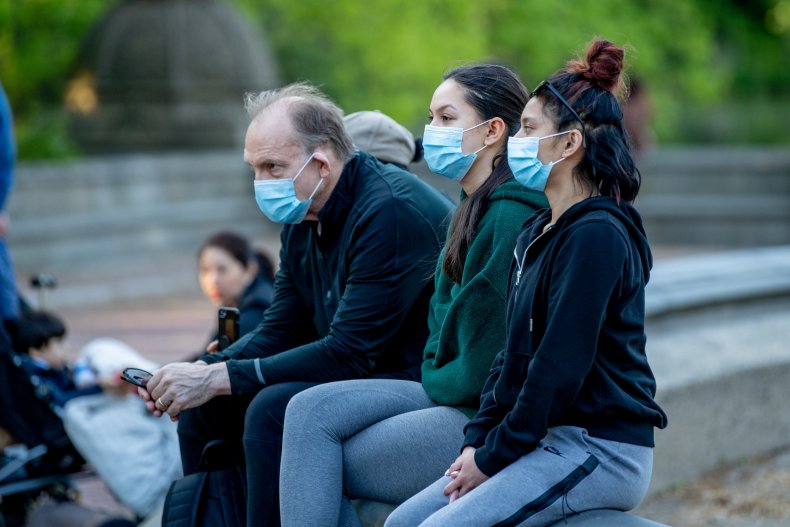 On a state-level basis, the Johns Hopkins tracker pulled information from the COVID Tracking Project, a volunteer organization The Atlantic launched. There's no single definition for how states are defining "recovered cases" and in Utah, it's estimated by subtracting deaths from case counts whose first positive test result was reported at least 21 days ago. In Rhode Island and New York, recovered numbers are calculated by looking at people who were discharged from the hospital.
Since the outset of the virus, officials have believed that most people who become infected will be able to recover without medical intervention. Officials' real concerns have been focused on vulnerable populations, including those over 65 and people with underlying health conditions. Recoveries haven't reached the 80 percent officials expect to see–partially due to who is being tested and how recoveries are being reported–but data has shown the majority of deaths worldwide involved vulnerable populations.
In Germany, the country with the second-highest number of recoveries, people over the age of 70 account for more than 80 percent of the countries deaths, according to the Robert Koch Institute. To slow the spread of the virus, protect vulnerable populations and prevent the health care system from collapsing, the country went into lockdown in March. On May 6, Chancellor Angela Merkel said it achieved its goal and gave shops the go-ahead to reopen as long as they implement proper hygiene measures.
Spain, the country with the third most recoveries, is also starting to reopen after the outbreak claimed 26,290 lives and infected 228,030 people. In its first phase, small businesses could open for counter service and appointments and restaurants could reopen for delivery. As long as there isn't a spike in infections, restaurants, bars and hotels will be able to open on May 18 at 30 percent capacity with outdoor sitting only. In a best-case scenario, Prime Minister Pedro Sánchez said all restrictions could be lifted by the end of June.
Although countries and local governments are starting to ease restrictions, officials in America and from the World Health Organization (WHO) warned that life wouldn't go back to normal until a vaccine or treatment was discovered. It'll likely be 2021 before a vaccine is administered to people on a widespread basis, but it's possible treatment could be around the corner after remdesivir studies yielded positive results.
Gilead, the company behind the drug, donated 1.5 million vials that are being distributed to American hospitals in areas that "need it the most," according to White House press secretary Kayleigh McEnany.