Over 15 Times as Many People Have Already Voted in 2020 Election Compared With Same Time in 2016
More than 15 times as many Americans have already voted in the 2020 election, when compared with this time in 2016.
According to the U.S. Elections project, whose data is compiled by Michael McDonald, a political science professor at the University of Florida, at least 21,825,770 voters have already cast their ballots in the 2020 election.
The U.S. Elections Project is based on 40 states that have already released early voting data, indicating that the number of ballots already cast does not account for the entire U.S. McDonald notes in the election project that "more states will be added as state reports become available."
Comparatively, 1.4 million Americans cast their ballots by October 16, 2016, according to previous early voting data compiled by McDonald, showing that over 15 times the amount of Americans have already cast their ballot in 2020 when set side by side to the same date in 2016.
According to the U.S. Elections Project, over 2.4 million Texans have already cast their ballots for the 2020 election, the most among all states that have released early voting data. Following behind Texas is California, with over 2.3 million ballots cast and Florida, with over 2.2 million.
Michigan, New Jersey, Virginia and Georgia all have reported over 1 million ballots cast, while the remaining 37 states have reported data below 1 million.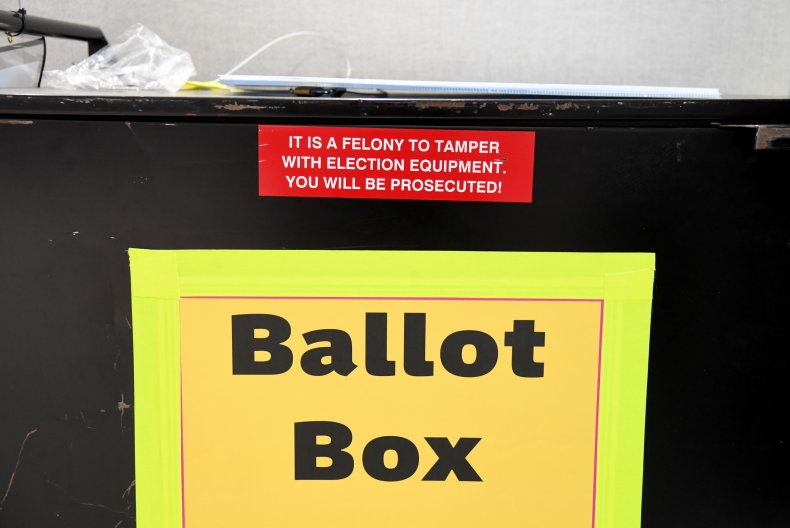 Ten other states, including, New York, Connecticut, Louisiana, Arkansas, Missouri, Idaho, Oregon, Washington, Delaware and Hawaii have not reported any early voting data and are not included in the election tracker.
McDonald's election tracker also shows 15 states that have reported mail-in ballot data among political party preference. These states include California, Colorado, Florida, Iowa, Kansas, Kentucky, Maryland, Maine, North Carolina, Nebraska, New Jersey, Nevada, Oklahoma, Pennsylvania and South Dakota.
According to this data, over 5.1 million Democrats and 2.2 million Republicans have already returned their mail-in ballots. The data also shows that Democrats have requested roughly 10 million more mail-in ballots across the 15 states than Republicans. Overall, more than 51 million mail-in ballots have been requested and over 9.3 million have already been returned.
While McDonald's election tracker shows more ballots being cast for the 2020 election than for the same time in 2016, the data also shows that, "Nationally, voters have cast 15.7% of the total votes counted in the 2016 general election."
Several national polls show Democratic candidate Joe Biden ahead of President Donald Trump with just 18 days left till the November 3 election. Real Clear Politics average of several nationally conducted polls show the former vice president ahead by 8.9 points.
Newsweek reached out to McDonald for comment but did not receive a response in time for publication.