Over 1,500 Arab-Israeli Citizens Arrested in Gaza Protests
Over 1,550 Arab-Israeli citizens were arrested over the past two weeks during the violent conflict between Israel and the Palestinians, officials said Monday, according to Turkey's Daily Sabah.
Israeli police said they will continue to apprehend those suspected of "riots" and "bring them to justice." They added that "the campaign is a direct continuation of police activity in the past two weeks and more than 1,550 suspects have been arrested while about 150 indictments have been filed," the Daily Sabah said.
The Arab territories in Israel were the site of numerous protests against Israel's military attacks on Palestinians in the Gaza Strip and East Jerusalem. The protests also responded to attacks against Arab-Israeli citizens by the police and right-wing Israelis, said the Daily Sabah, a pro-Turkish-government newspaper.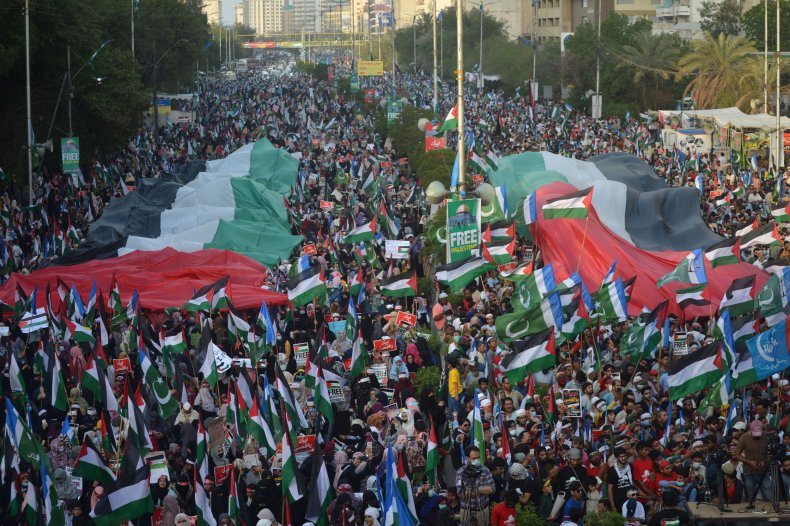 Earlier this month, tensions escalated across Palestinian territories following an Israeli court verdict to evict Palestinian families from their homes in the Sheikh Jarrah neighborhood, located in East Jerusalem, in favor of Israeli settlement groups. The situation turned violent after Israeli security forces fired rubber bullets and stun grenades at Palestinian worshippers at the Al-Aqsa mosque in Jerusalem.
Israel announced a cease-fire last Thursday that ended 11 days of violence in the Gaza Strip the killed hundreds and cause widespread damage.
The Gaza Health Ministry said at least 230 Palestinians were killed, including 65 children, and 1,710 injured since the fighting began May 10, according to the Associated Press. Twelve people in Israel, including a 5-year-old boy and 16-year-old girl, were killed, the AP said.
Protests and arrests also broke out in other countries. Last week, pro-Israeli and pro-Palestinian demonstrators took to Manhattan's Times Square, where more than two dozen were arrested and two people were hospitalized, according to The New York Times.
The protests started on Thursday afternoon after Israel and Hamas had agreed to the cease-fire. By Friday afternoon, 27 people had been arrested on charges including unlawful assembly and disorderly conduct, police said.
Several videos were posted of the violence during the protests. One depicted a man being beaten by several others while lying in the street. Waseem Awawdeh, 23, was charged with several counts on Friday afternoon in connection with the beating of Joseph Borgen, 29, who is Jewish. Borgen was punched, kicked, pepper-prayed and hit with crutches, according to the Times.
"I don't know how the people who attacked me had so much hate in their hearts. I feel thankful honestly that I'm as OK as I am," Borgen told The New York Times.
On May 15, 13 people in London were arrested after protesting in support of Palestinians outside of the Israel Embassy, The Guardian reported. Nine were arrested on suspicion of violent disorder, and four were held on suspicion of breaching Health Protection Regulations related to the coronavirus.
"This time is different. This time we will not be denied any more. We are united. We have had enough of oppression," Husam Zomlot, the Palestinian ambassador to the U.K., told the crowd, according to The Guardian. "Today, we are saying enough, enough with the complicity. Thank you for standing with us."