Over 16 Million Voters Who Didn't Cast a Ballot in 2016 Have Already Voted, Signaling Record-High Turnout
With six days left until November 3, early voting figures have signaled a potential record in turnout this year as more than 16 million Americans who didn't cast a ballot in the last presidential election have already voted.
As of Wednesday, over 75 million people have cast their ballots across the country—25.6 million in-person votes and 49.4 million mail ballots, according to data maintained by ElectProject. Around 42 million mail ballots are outstanding.
A breakdown of early voting figures indicate that the influx of new voters is likely to be driven by younger Americans, encouraged to cast a ballot by Democratic turnout operations. Those that have voted include over 4 million young people between the ages of 18 and 29 that didn't cast a ballot in 2016, according to The Hill. These new young voters are among about 6 million people in that age bracket that have already voted.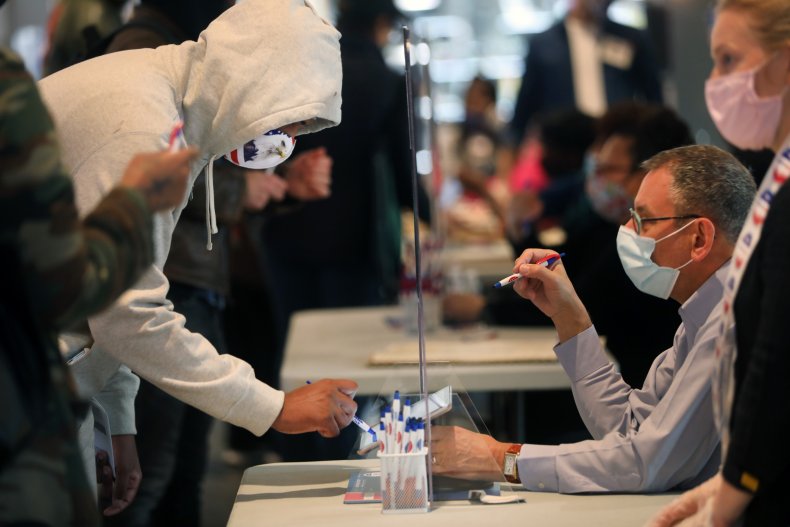 So far, early voting figures are encouraging for Democrats in battleground states where voters can register by party. Of the nearly 7 million Floridians that have already voted, 335,000 were 18-29 year olds who didn't cast a ballot in 2016. Only one quarter of this figure represents voters that are registered Republicans and half registered Democrats. Early voting in the state has already exceeded 60 percent of its total 2016 turnout figure.
One quarter—over 2 million—of the 8 million Texans that have already voted this year did not cast a ballot in 2016, according to The Hill. The bloc is largely made up of Americans under the age of 30, Hispanic and African American voters. Texas leans Republican, but its growing population of minority communities have made the state competitive in 2020. Early voting in the state has already exceeded 80 percent of its total 2016 turnout figure.
President Donald Trump has trailed Democratic nominee Joe Biden in every single nationwide poll released over the past month except one. A Rasmussen Reports poll, released Monday, showed the president 1 percentage point ahead of his Democratic opponent with 48 percent of support among likely voters. Most other polls have shown Biden with a double digit or high single digit lead. If Trump wins a second term, his party's aggressive attacks on the accuracy of polling will be validated.
Polling heavily favored 2016 Democratic candidate Hillary Clinton. When Trump won the presidency, experts shifted their methods to account for possible scenarios that were missed four years ago.
"Based on polling right now, if Trump should win the electoral college, it would be a devastating blow to the polling industry. None of the major pollsters could claim that they got it right," pollster Frank Luntz told Newsweek. "Pollsters will be forgiven if they make a mistake. But if they make two in a row, they're done."
Newsweek reached out to Trump and Biden's campaigns for comment.