Over 1,800 New Yorkers Offer to Protect Asian Americans From Hate Crimes
More than 1,800 people have reportedly volunteered to escort Asian American pedestrians in New York City amid a surge of anti-Asian attacks.
The volunteers are part of the SafeWalks initiative, which launched in January after at least five women were violently assaulted at Brooklyn's Morgan Avenue Subway Station. More recently, volunteers have offered their services in Manhattan's Chinatown neighborhood in an attempt to counter an increasing number of high-profile attacks on Asian Americans that have often focused on the elderly.
Volunteers wearing easily identifiable safety vests, some of whom speak languages like Mandarin or Cantonese, have recently been patrolling the neighborhood in 2-hour shifts, passing out flyers and offering their services to anyone who asks for help, according to WPIX.
"We're not trying to sell them anything," volunteer Owen Jiang told the outlet. "Even the way we try to present the flyer... we try to hold it outwards so it's more inviting and less aggressive, because we're really truly just doing it for them."
"If someone comes up to you at the subway and says, 'can I walk you home?' it's the last thing you want to hear," added volunteer Luke Miller. "So that's why we've been trying to be a consistent presence to show who we are to the community."
Escorted walks can also be requested using a form on the SafeWalks website. A 1-hour notice is required for "Regular SafeWalks," while a 24-hour notice is needed for those requesting accompaniment while using public transportation. The group also has a GoFundMe page to raise funds for an app to facilitate the walks.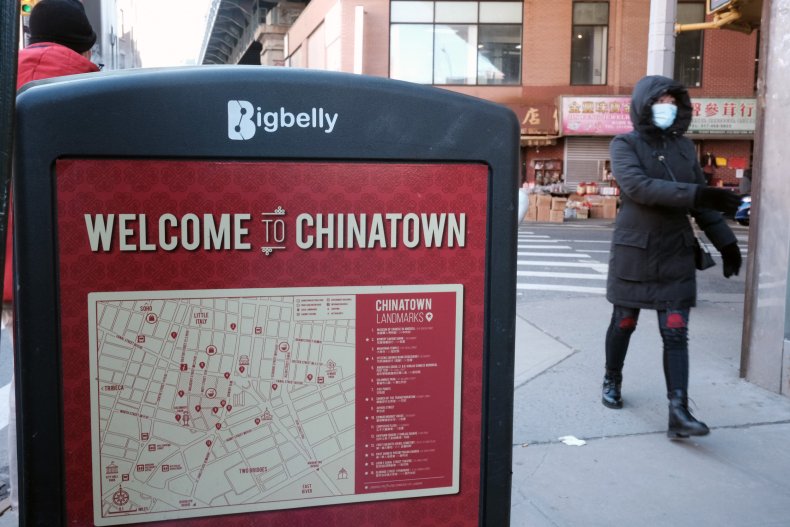 Chinatown activist Karlin Chan welcomed the SafeWalks volunteers, saying that the neighborhood "needs all the help it can get." Chan is the founder of the group Chinatown Block Watch, which also patrols the area wearing brightly-colored safety vests and began in response to a rise in attacks that came with the emergence of the COVID-19 pandemic.
"We do have incidents of harassment, verbal, as people pass through the neighborhood," Chan told PBS last year. "If we witness an incident, we will record it, document it and we will help the victim report it. We're here to tell people... we're not going to tolerate any incidents of harassment or attacks here."
New York City has seen a worrying rash of anti-Asian attacks in recent weeks. On Tuesday, a viral video showed a man brutally beating a 65-year-old Filipino woman near Times Square as a crowd of bystanders watched. Brandon Elliot, the 38-year-old suspected of carrying out the beating, was arrested and charged with assault and hate crimes on Wednesday.
A week earlier, New York City saw at least five other violent physical attacks on Asian Americans in only three days, according to The New York Times. One victim was hit in the face with a metal pipe and another was punched multiple times while taking part in a demonstration in support of Asian American victims.
Between March 19, 2020 and February 28, 2021, the Stop AAPI Hate reporting center, which monitors hate incidents against Asian Americans and Pacific Islanders in the U.S., received reports of 3,795 anti-Asian incidents. The true number of incidents is likely to be significantly higher than those reported to the group.
Newsweek reached out to SafeWalks for comment.