Over $2 Billion in California Unemployment Funds Stolen, Bank of America Reports
As jobless claims continue to rise seven months into the coronavirus pandemic, over $2 billion has been stolen from California's unemployment fund.
The Bank of America announced on Monday that the billions of dollars in unemployment benefits distributed under contract with the California Employment Development Department (EDD) have been stolen.
In a letter written to state legislators, bank officials identified 640,000 accounts with suspicious activity in the state's unemployment benefits system that should be investigated.
"Our assessment is that there is activity consistent with fraud in those accounts on the order of approximately $2 billion," the letter read.
This would make the scam the highest estimated fraud amount in the system, which has paid out $110 billion in unemployment benefits since the beginning of the pandemic.
Included in the hundreds of thousands of accounts flagged are 76,000 benefit cards that were sent out of state to non-adjacent states that seem unlikely to host out-of-work Californians.
In some cases, multiple cards were also sent to a single mailing address, Brian Putler, the bank's director of California government relations, wrote. In other instances, cards were issued to children or elderly people who are unlikely to be unemployed.
Between March and November, the Bank of America issued more than 8.2 million cards at the direction of the EDD, amounting more than $105 billion.
"The program is unfortunately riddled with billions of dollars in fraud. Criminals have found ways to steal money from the state and the debit cards of legitimate unemployment recipients," the Bank of America said in a statement sent to Newsweek.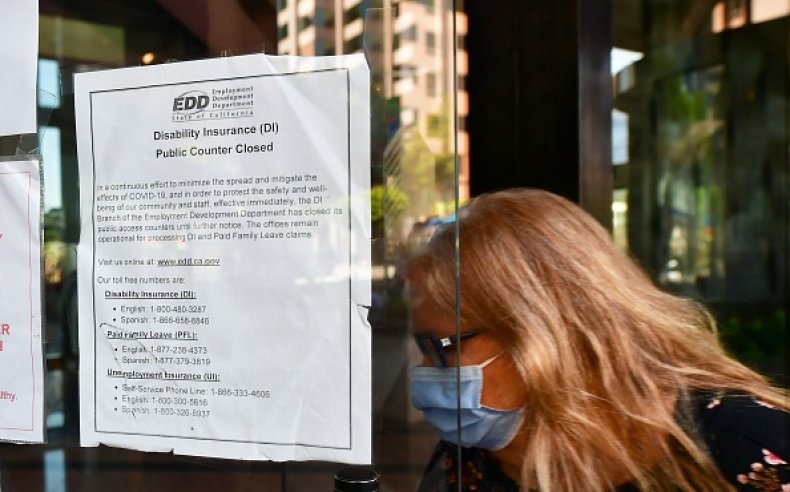 Putler said half of these debit cards are already frozen because of suspicious activity, but inaccessible funds may adversely affect Californians already legitimately struggling with employment.
In fact, Putler's letter was written in response to a letter from 59 state legislators who demanded answers from the Bank of America after they were flooded with calls from constituents who had their legitimate claims closed by the benefits system.
"Constituents report they are unable to get through to your call centers, or when they do, the issue is not resolved," the lawmakers wrote to Bank of America CEO Brian Moynihan last month.
In order to prevent further hurting jobless residents, Crystal Page, a deputy secretary for the state Labor and Workforce Development Agency, told Newsweek that the EDD would continue to send checks if the Bank of America does not unfreeze these accounts.
"We know how critically important these unemployment benefits are during this challenging time," Page said to the Los Angeles Times.
In a statement shared with Newsweek, Page said the EDD is unable to confirm the $2 billion evaluation because it is still verifying identities on certain claims.
The Bank of America said it is adding more staff to review these claims but State Assemblyman Jim Patterson said he's fed up with the ongoing problems with the EDD.
"I have never seen anything like this in the 20 years I have been in public life," Patterson told KCAL9. "Today, our first organizing day of the new legislative session, there are at least a dozen bills, probably more, by Republicans, Democrats, people on the Assembly and Senate side that are basically saying, 'Here's how you're going to get your act together, EDD, and we're gonna force it by rule of law.'"
In October, the EDD announced that the millions of backlogged claims would not be cleared until January, leaving Californians who have waited months for benefits with little recourse until the new year.
Then in November, it was revealed that the EDD had approved more than $140 million in unemployment benefits for at least 20,000 of the 35,000 inmates named in claims filed between March through August.
Update 12/09/20 12:31 p.m ET This story was updated with comments from Bank of America.
Update 12/09/20 4:12 p.m ET This story was updated with comments from Page.