Over 200 Protests Already Planned If Trump Attempts to Dispute Election Results, Prematurely Declare Victory
If President Donald Trump attempts to prematurely declare victory on Election Day or refuse to accept the results, he'll be met with swift action from a coalition of national pro-democracy organizations.
More than 200 "Count Every Vote" demonstrations—and counting—have already been planned across the country by Protect the Results, an effort launched by Stand Up America and Indivisible amid the president's ongoing attacks on mail-in voting and the electoral process.
"Our view is that we can't bury our heads in the sand," said Sean Eldridge, the founder and president of Stand Up America. "We have to be prepared if he were to try to undermine the election results or to prematurely declare victory."
Indivisible co-founder and chief campaign officer Sarah Dohl gave a similar statement.
"Should Trump declare victory before all the votes are counted or prevent the legitimate counting of votes," she said, "we will mobilize in every corner of this country to ensure voters have the last word in November."
The two progressive groups partnered in June to create the coalition, which now includes over 100 grassroots organizations, liberal and conservative advocacy groups and government watchdogs. Together, the coalition claims it has a combined membership of tens of millions of people whom Eldridge said are ready to mobilize quickly if necessary.
"I think it could take millions of Americans rising up to demand every vote is counted and to demand the ballot vote count is respected by state election officials, the electoral college and Congress," he added.
Trump has repeatedly made baseless claims that the election will be fraudulent due to the rise in the use of mail-in and absentee ballots this year—an accommodation made by nearly every state to protect public health amid the coronavirus pandemic.
"The only way we're going to lose this election is if the election is rigged," the president said during a campaign speech to supporters in Oshkosh, Wisconsin in August.
The president also spent much of the past few months not committing to providing a peaceful transition of power if he were to lose, fueling more concern that he would interfere with the process to maintain his office.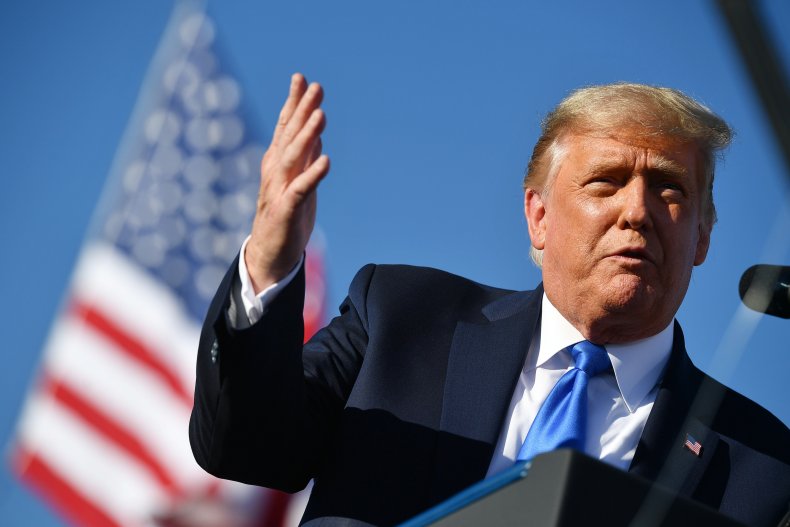 The issue came to a head during the first presidential debate between Trump and Democratic nominee Joe Biden last month. The last question of the night asked both candidates if they would condemn civil unrest as the nation waits for results after Election Day, and if they would pledge not to accept victory until the results are verified.
"I hope it's going to be a fair election," Trump said. "If it's a fair election I am 100 percent on board. But if I see tens of thousands of ballots being manipulated, I can't go along with that."
Biden responded by urging viewers not to worry about Trump's statements about the election results.
"I will accept it, and he will, too. You know why?" the former vice president said. "Because once the winner is declared once all the ballots are counted, that'll be the end of it."
Trump did finally express some firmer commitment to a peaceful transition of power during a town hall with NBC News on October 15, but did so while still casting doubt on the integrity of the election.
"They spied heavily on my campaign and they tried to take down a duly elected sitting president, and then they talk about 'will you accept a peaceful transfer?'" Trump said. "And the answer is, 'yes, I will,' but I want it to be an honest election and so does everybody else."