Over 200 Retired Senior Military Leaders Endorse Donald Trump, Criticize Biden's Record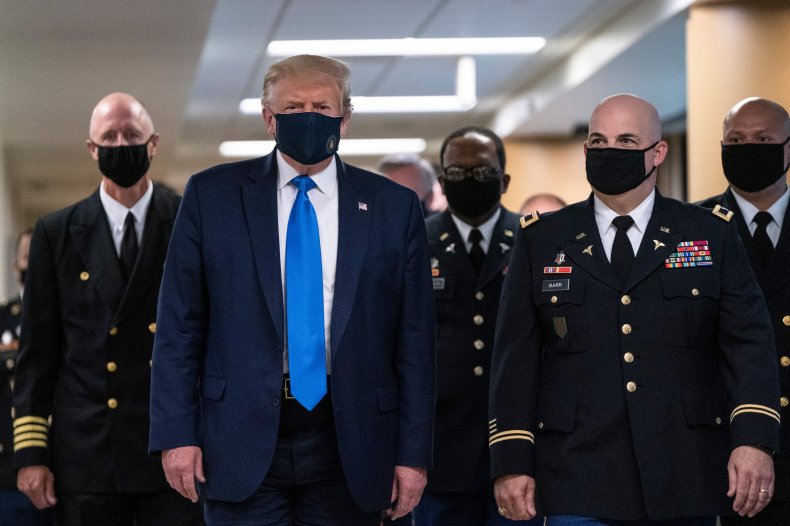 More than 200 retired senior military leaders officially endorsed Donald Trump for re-election today, citing his commitment to a "strong America" while also criticizing Joe Biden's record during the Obama administration.
"At present, our country is now confronted with enemies here and abroad, as well as a once in a century pandemic," the 235 retired military leaders wrote in an open letter on Monday. "As retired military officers, we believe that Donald J. Trump has been tested as few other presidents have and is the proven leader to confront these dangers."
The letter went on to criticize Biden and the Democratic Party for proposing cuts to the military's budget and supporting the Iran nuclear deal. The retired officials also claimed that the former vice president and his allies in Washington D.C. are opposed to border security and are antagonistic toward the police.
"It can be argued that this is the most important election since our country was founded," the retired military officers wrote. "With the Democratic Party welcoming to socialists and Marxists, our historic way of life is at stake."
The endorsement comes at a critical time for Trump amid backlash that he reportedly disparaged American soldiers killed in combat as "losers" and "suckers."
The Atlantic magazine, citing unnamed sources, first reported on September 3 that Trump referred to American Marines who died in World War I as "losers" and "suckers." The article also detailed other anecdotes of Trump making insensitive remarks about people who serve in the armed forces.
Trump has denied the report, calling it a "total lie" and a "continuation of the witch hunt" against him. But other journalists, including Fox News correspondent Jennifer Griffin, claim to have verified parts of The Atlantic's story.
Biden, whose late son Beau Biden served in the Iraq war, called Trump's alleged remarks "disgusting" if true. The former vice president added that the report was another affirmation that Trump is unfit to serve as commander-in-chief and that he has demonstrated over the years that he has "no sense of service." In 2018, Trump was criticized for canceling his appearance at a 2018 ceremony at the Aisne-Marne American Cemetery in Belleau, France, because of rain.
The Atlantic report was not the first time that Trump's been accused of making cruel comments about military members or veterans. He frequently clashed with late Republican Senator John McCain, a prison of war in the Vietnam War, calling him a "loser" and publicly attacking him even after his death.
In their endorsement on Monday, the military leaders wrote that they believe Trump is "committed to a strong America," and as president "he will continue to secure our borders, defeat our adversaries, and restore law and order domestically."