Over 2,000 Tennessee Children Test Positive For COVID In 2 Weeks As Schools Reopen In State
Thousands of school-aged children tested positive for the novel coronavirus in Tennessee over the past two weeks, coinciding with students' return to classrooms across the state.
Data updated by the Tennessee Department of Health on Tuesday showed more than 2,000 new COVID-19 cases diagnosed among young people between August 4 and August 18, with a handful of counties reporting upwards of 200 infections during the designated time period. Statistics accounted for positive cases reported in children between 5 and 18 years old. High school-aged children composed the largest fraction of Tennessee's new youth cases, making up more than half of the health department's two-week tally.
Tennessee's Davidson, Hamilton and Shelby Counties saw the most significant outbreaks affecting school-aged children since the first week of August, according to the health department's latest report. Those three counties have also confirmed the highest concentrations of COVID-19 cases in Tennessee.
Although information about virus transmission among the state's youth population provides general insights into potential risks associated with in-person learning models, the current data does not offer specific information about cases linked to individual schools. Tennessee Governor Bill Lee advocated for full transparency with regard to school-specific outbreaks earlier this month, but backpedaled slightly in comments to reporters on Tuesday.
During a news conference, Lee explained that while school districts will inform their respective communities about closures prompted by COVID-19 outbreaks, the state will refrain from publishing information about case counts linked to schools. He said the decision was rooted in protecting the identities of children, and keeping their personal details away from the public sphere.
Lee faced backlash from state residents who opposed schools reopening last month, as Tennessee continued to report an increasing number of COVID-19 cases.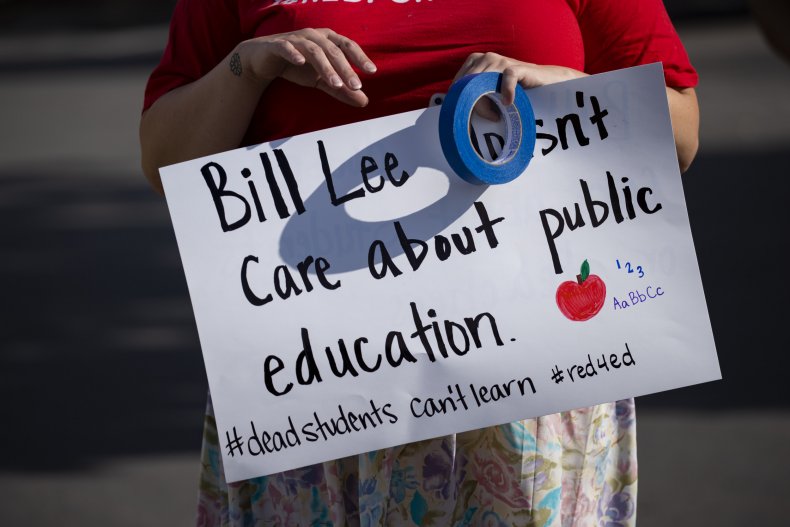 Despite a considerable spike in infections reported in June and July, most of Tennessee's school districts—more than 100 of roughly 140 statewide—allowed students to return to classrooms by the second week of August, according to The Tennessean.
Of those districts that resumed in-person learning this month, at least 97 confirmed positive cases of the novel coronavirus connected to schools after reopening, the newspaper reported last Thursday. In what is becoming a pattern among states where students returned to schools at the beginning of August, multiple Tennessee school systems suspended physical attendance options in response to virus cases.
In Hamilton County, where Chattanooga is located, education officials ordered two schools to temporarily close after they identified positive COVID-19 cases during students' first day back to classes. Nashville's public schools, in Davidson County, reopened for the 2020-21 academic year on August 4. However, the district's director, Adrienne Battle, is requiring schools to conduct classes remotely until Labor Day, at the earliest.
Almost 138,800 people have tested positive for COVID-19 across Tennessee since the pandemic began, resulting in about 2,500 deaths as of Tuesday, August 18, according to the state's health department.
Newsweek reached out to Tennessee's Department of Health and Department of Education for comments but did not receive replies in time for publication.