Over 200,000 People Sign Petition to Fire Buffalo Police Officer Who Pushed Elderly Protester to Ground
An online petition calling on the Buffalo, New York, police department to fire Officer Aaron Torgalski has surpassed 200,000 signatures.
A viral video taken by local radio station WBFO shows two Buffalo police officers pushing a 75-year-old protester, who was later hospitalized for a head injury. Torgalski has been identified as the officer who shoved the man during the Niagara Square demonstration.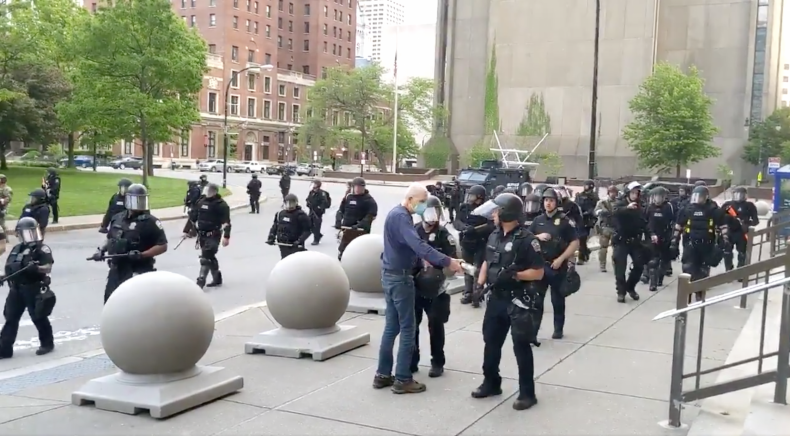 In the video, a group of riot police are seen marching down the street when the protester approaches them to talk. An officer can be heard encouraging Torgalski to use force against the demonstrator, yelling "push him back" three times.
After the protester is pushed by Torgalski and another officer, the 75-year-old man is seen stumbling backward before falling to the ground, where he immediately begins to bleed out of his ear.
One officer is seen stopping to check on the protester, but another officer pulls him away. Other officers continue to walk past the man on the ground and go on to arrest another demonstrator.
The Change.org petition alleges that the elderly protester was trying to return the officer's helmet he was carrying when he approached the police.
"Torgalski was clearly abusing his power as a police officer for NO REASON. Other officers were encouraging officer Torgalski to push him," the petition reads. "Aaron Torgalski should not be in control of our safety! This man does not deserve a badge! This man should not be allowed to hold a gun and carry out the law! Fire him! And the others involved!!!"
As of Thursday night, the two officers have been suspended without pay, according to Mayor Byron Brown.
"I was deeply disturbed by the video, as was Buffalo Police Commissioner Byron Lockwood. He directed an immediate investigation into the matter," a statement from the mayor read.
However, an earlier statement released by a police department spokesperson, which described the "skirmish involving protesters," claimed the protester had "tripped and fell."
Brown said the protester was in stable but serious condition.
"After days of peaceful protests and several meetings between myself, police leadership and members of the community, tonight's event is disheartening," Brown said. "I hope to continue to build on the progress we have achieved as we work together to address racial injustice and inequity in the city of Buffalo."
Police enforcement and protesters have clashed across the nation following the death of George Floyd, the Minneapolis man who died while in police custody. With many cities enforcing curfews to curb violence and looting, some demonstrators have been arrested for defying those orders. In addition, President Donald Trump has encouraged governors to heighten police departments' response to the property damage and violence.
The petition demands that the police officers involved in Thursday's incident be fired and calls for an end to police brutality.
Newsweek reached out to the Buffalo Police Department's Internal Affairs Division for comment but did not hear back before publication.