Over 3 Million Absentee Ballots Requested in Swing State Michigan, More Than Double Compared With 2016
More than 3 million absentee ballots have been requested in the key battleground state of Michigan, well over double the amount requested before the 2016 election.
Amid the coronavirus pandemic, requests for absentee ballots have increased substantially, as election officials have attempted to make voting safer as new virus cases surge nationwide. With online and mail-in voter registration closing on Monday in Michigan, Secretary of State Jocelyn Benson announced that more than 3 million people had already requested absentee ballots.
"To have reached this benchmark two weeks prior to the polls closing, when we know that number will continue to climb, is really remarkable," said Benson, according to The Detroit News. Michiganders can still request absentee ballots through October 30. To mail them in, they must be postmarked by November 2.
In 2016, Michigan also saw a rise in absentee voting—but the total number was below 1.3 million. That election marked an increase of more than 265,000 additional absentee ballots from 2012.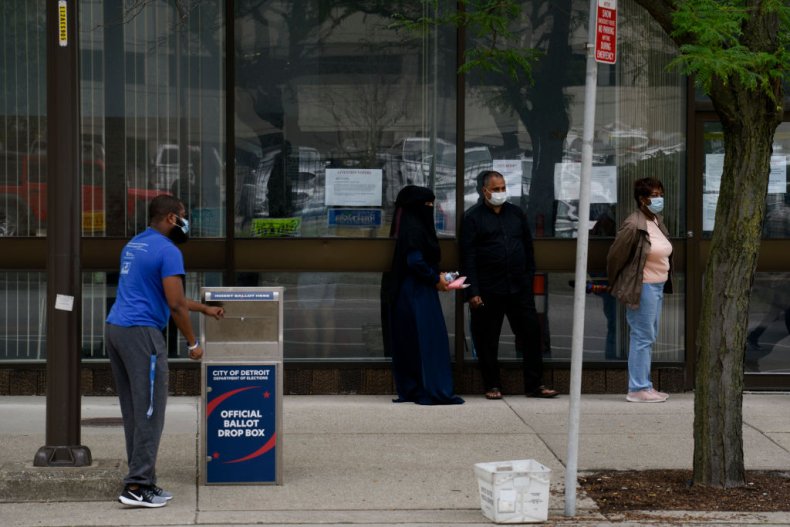 Benson's press secretary, Aneta Kiersnowski, told Newsweek in an email that Michigan had "anticipated" the higher than normal absentee voting.
"We've anticipated a record-breaking turnout in this election and have spent months equipping clerks and poll workers with the physical and financial resources they need for a secure and accurate count. As we've approached the 3 million AV request mark, we've been transparent about how long it will take to process and count ballots," Kiersnowski said.
Notably, the number of absentee ballots requested is higher than the number of Michiganders who cast ballots for President Donald Trump or Hillary Clinton in 2016. Trump, who narrowly won the state, received 2,279,543 votes, while Clinton got 2,268,839. Clinton lost the state, which had gone for the Democratic nominee in every presidential election going back to 1992, by a margin of just 0.2 percentage points.
While Republicans hope to win the state on November 3, Democrats aim to regain lost ground. Two recent October polls in Michigan—by The Hill/HarrisX and MIRS/Mitchell Research—show Joe Biden ahead of Trump by 11 percent and 10 percent, respectively. With just two weeks until Election Day, the Real Clear Politics average from polling out of Michigan shows Biden ahead by just over 7 percentage points.
Although absentee voters in Michigan can still mail in their ballots, Benson has encouraged them to submit them at official drop boxes or in person at their local clerk's office to prevent any delays or problems with the mail. Benson has previously said that she does not expect Michigan's official results until two or three days after Election Day, given the large number of absentee ballots.
Kiersnowski told Newsweek that "full results" are expected by November 6.
This story was updated October 20 at 2:55 p.m. with comments from the Michigan secretary of state's press secretary.