Over $3M in Fentanyl Found in Spare Tire, Gas Tank During Massive Drug Bust
Over $3 million worth of fentanyl was recently found hidden in the spare tire and gas tank of a vehicle, according to border officials.
In a press release, Customs and Border Protection (CBP) said that the incident occurred on Monday, July 18, at the Campo Border Patrol Station, which is located near the U.S.-Mexico border in California.
At around 3 a.m. local time, CBP officers stationed at the patrol station encountered a man driving a 2015 black GMC truck on "Interstate 8 eastbound near the Golden Acorn Casino."
---
This most recent seizure of fentanyl comes as law enforcement officials across the United States continue to work to stop shipments of the drug and warn of the dangers associated with it.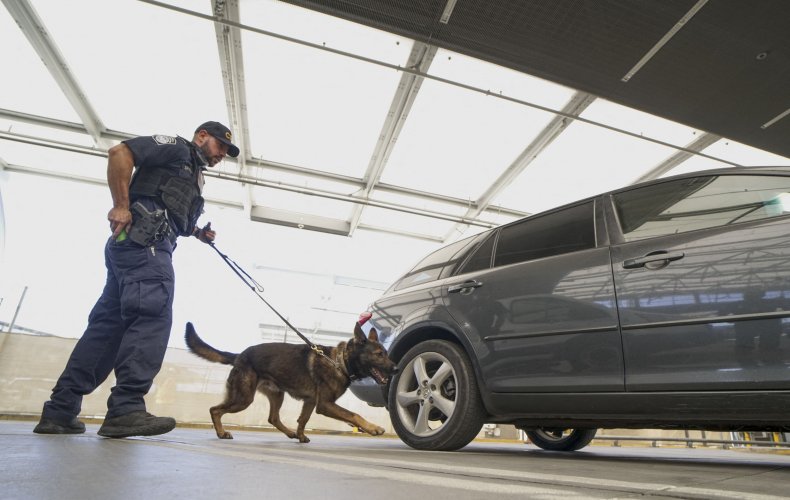 "During the vehicle stop, a Border Patrol K-9 conducted a sniff and alerted to the vehicle," CBP said in the press release.
After a K-9 alerted CBP officers to the vehicle, a secondary search was conducted. During the secondary search, CBP officers discovered "multiple bundles" hidden within the vehicle's spare tire and gas tank.
"The bundles contained a combined total of approximately 250 lbs. of pills that tested positive for fentanyl," the press release said.
According to CBP, the 250 pounds of fentanyl found hidden in the vehicle has an estimated street value of $3,679,000. Following the discovery of the narcotics, the fentanyl and the driver were turned over to Drug Enforcement Administration custody and the vehicle was seized by Border Patrol agents.
"Our agents prevented these dangerous narcotics from reaching our communities," Chief Patrol Agent Aaron Heitke said in the press release.
Heitke continued, "I am proud to say that our Border Patrol agents here in San Diego Sector are responsible for over 50% of all the fentanyl seized by the U.S. Border Patrol this fiscal year."
Earlier this month, CBP agents at the Otay Mesa Port of Entry in California made a similar seizure. Officers stationed at the port of entry encountered two men attempting to gain entry into the U.S. from Mexico and eventually discovered that they were hiding 59.08 pounds of fentanyl pills and 42.46 pounds of fentanyl powder hidden within an array of different food packages in their vehicle.
Combined, the fentanyl had an estimated street value of over $1 million, CBP said in a press release at the time.
According to data from CBP, in June alone, agents stationed across the nation's borders seized over 600 pounds of fentanyl.
Newsweek reached out to CBP for further comment.