Over 3 Million People Sign Petitions Urging U.S. Government to Declare KKK a Terrorist Group
At least two online petitions on Change.org have gained traction in calling for the Ku Klux Klan to be declared a terrorist organization, or altogether outlawing the oldest American hate group.
The petitions have drawn more than three million signatures over the last week. The first, petitioning Congress to 'Make the KKK illegal' was created on June 5 while the second, 'Change KKK status into Terrorist Organization' was set up on June 7. The second petition is directed toward the Department of Counterterrorism.
Alaina Curry, a spokesperson for Change.org, told Newsweek that since the start of the protests for George Floyd, Change.org has seen a significant increase in petitions related to the removal of Confederate flags, building name changes, statue removals and KKK-related petitions that call for them to be recognized as a terrorist group.
Curry said in by mid-May, there were only 78 petitions on Change.org related to the KKK or renaming school or buildings named after Confederate heroes. However, that number rose significantly over the last month to 1,342 petitions on those controversial subjects.
"Two of our biggest petitions calling for the KKK to be recognized as terrorist groups both rank extremely high, topping 1.5 million signatures," she said. "It has gained a lot of traction in recent days, which can contribute to the variety of other related petitions on the site."
The KKK, which emerged at the end of the U.S. Civil War in December 1865, has persecuted, terrorized, and killed thousands of African Americans and members of other ethnic groups throughout its history.
"For generations, the Ku Klux Klan has been persecuting black people. Though-out American history, they have murdered innocents, lynched thousands, and terrorized many more," the 'Change KKK status into Terrorist Organization' petition states.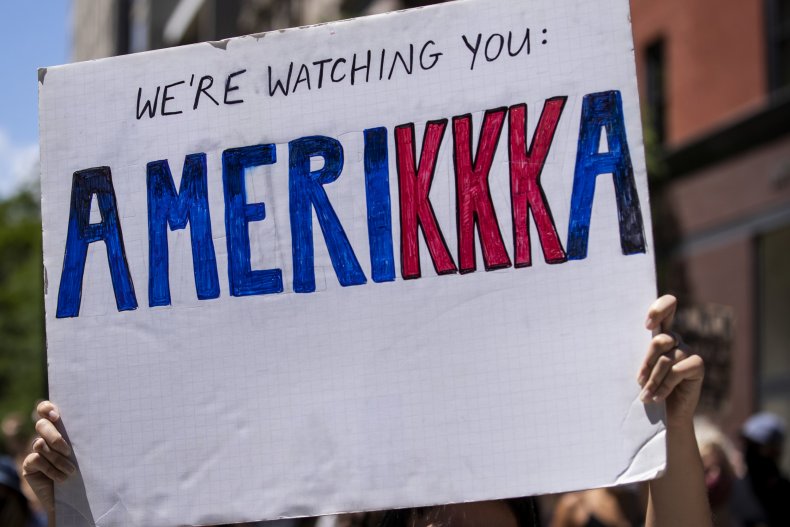 "This group has a long history of murder & intimidation of people based on color and religion," the petition states.
The petitions began gaining momentum after President Donald Trump said in a Twitter post that America would declare ANTIFA — a so-called anti-fascist group — declared a terrorist organization.
Trump followed up that tweet with another criticism of the group during a June 1 press conference, while speaking about looting violence that broke out during some protests regarding police brutality and systemic racism following Floyd's death.
"In recent days, our nation has been gripped by professional anarchists, violent mobs, arsonists, looters, criminals, rioters, Antifa, and others," Trump said at the time.
According to the U.S. Attorney General's Office, ANTIFA and other groups of agitators have instigated violence during the recent protests demanding justice for Floyd, a black man who died in police custody on May 25.
"With the rioting that is occurring in many of our cities around the country, the voices of peaceful and legitimate protests have been hijacked by violent radical elements. Groups of outside radicals and agitators are exploiting the situation to pursue their own separate, violent, and extremist agenda," Attorney General William Barr said in a May 31 press release.
According to the Southern Poverty Law Center, the KKK — the oldest and most famous of among American hate groups has a history of attacking, persecuting and intimidating African Americans, and has also targeted Jews and members of the LGBTQ community in recent years.
Despite its longstanding reign of terror, the group cannot be designated a terrorist group by under U.S. State Department guidelines because the KKK is not a foreign organization, and it doesn't threaten national security.
However, if the KKK were to be classified as a domestic terrorism group, they would fall under the jurisdiction of the FBI or the Department of Homeland Security
The Southern Poverty Law Center and the Anti Defamation League did not respond to Newsweek's request for comment by publication time.