Over 30 Dead Cats Found in Freezer at Elderly Couple's Home
Some 30 frozen cat corpses, plus 40 sick cats have been found at a residence in the city of Besançon, eastern France.
Inside a neglected home occupied by an elderly couple, a 91-year-old woman and her 77-year-old husband, authorities found "completely unsanitary" living conditions.
Complaints had been filed to the Société Protectrice des Animaux (Animal protection Society), and the morbid discovery was made on Tuesday by police.
Officials described mounds of trash, animal and human excrement, plus dozens of dead cats labeled in plastic bags and stored in the freezer. According to news outlet Selon l'Est Républicain (Republican East), the two residents had been sleeping in the kitchen.
"In the freezers, more than thirty dead cats were found,"Juliette Dupoux, Besançon departmental security commissioner, told AFP. The husband said he didn't "know what to do with the dead cats, he froze them."
Sandra Majstorovic, head of abuse investigations at the Besançon Société Protectrice des Animaux outlined that the husband suffered from a psychiatric illness named Noah's syndrome, "which is characterized by the accumulation of animals," she said.
"These people are generally in denial, they think they are doing good while, because of the accumulation, they cannot take care of their animals."
Also found at the property were between 30 and 40 unwell cats, which were undernourished and dehydrated, while some were suffering from scabies. They had not been spayed or neuted, meaning the numbers of cats had likely rapidly increased.
The Société Protectrice des Animaux is filing a complaint against the elderly couple for "mistreatment" of the animals.
Newsweek has contacted the Société Protectrice des Animaux for further comment on the recent discovery in Besançon.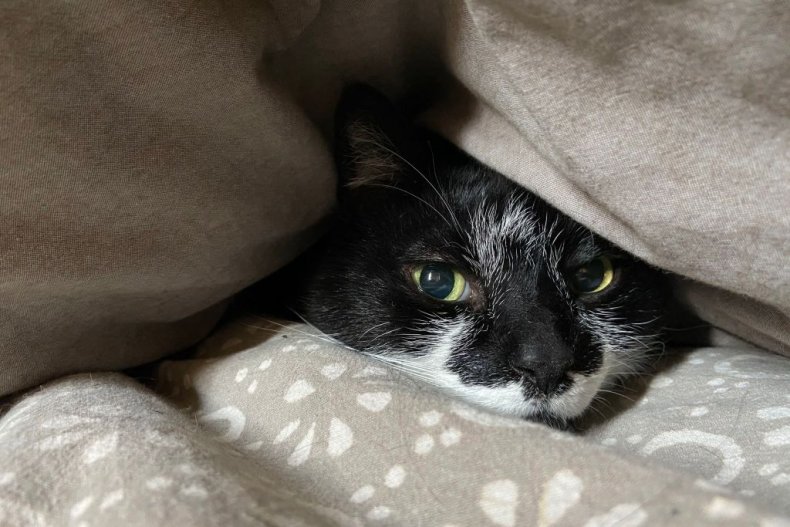 According to the Animal Protection Index, which ranks 50 countries according to their animal welfare policy and legislation, France is rated a 'C' out of seven categories -- 'A' being the best and 'G' being the worst.
The Index states that "France does not have an overall legislative act dedicated to animal welfare, rather, animal protection provisions are laid out in the Penal Code, the Rural and Maritime Fishing Code, as well as secondary legislation in the form of Decrees." There is also a "duty of care onto companion animal owners and breeders" outlined in French law.
For the most serious offences relating to animal cruelty or abuse, the penalty is up to two years in prison and/or up to a €30,000 ($35,200) fine.