Over 3,000 Fake Vaccination Cards From China Intercepted in Memphis
Authorities intercepted a sizable shipment of fake vaccination cards arriving from China in Memphis, Tennessee, on Friday. U.S. Customs and Border Protection officers said the 3,000-plus cards were bound for New Orleans, Fox 8 reported.
Officials described the seized cards as being low-quality and riddled with typos, poor Spanish, and unfinished words. There was also evidently little effort put into hiding them, with packs of the cards not stashed away in larger items the way contraband typically is.
"These vaccinations are free and available everywhere," said Michael Neipert, Area Port Director of Memphis, following the seizures. "If you do not wish to receive a vaccine, that is your decision. But don't order a counterfeit, waste my officers' time, break the law, and misrepresent yourself... But just know that when you order a fake vaxx card, you are using my officers' time as they also seize fentanyl and methamphetamines."
The FBI warned in a March statement that use of the cards, due to their fraudulent use of U.S. government logos and seals, is "punishable under Title 18 United States Code, Section 1017, and other applicable laws."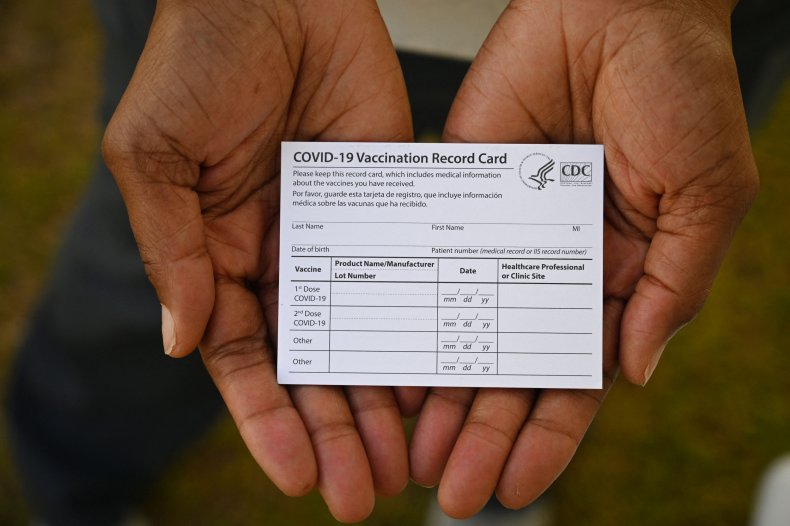 "If you did not receive the vaccine, do not buy fake vaccine cards, do not make your own vaccine cards, and do not fill-in blank vaccination record cards with false information," the FBI's statement reads. "By misrepresenting yourself as vaccinated when entering schools, mass transit, workplaces, gyms, or places of worship, you put yourself and others around you at risk of contracting COVID-19."
As the Delta variant continues to ravage much of the U.S. and many residents remain hesitant about getting vaccinated, officials have become increasingly worried about the proliferation of easily acquirable counterfeit vaccination cards. Recent reports on college students buying them up revealed some venues online selling fake cards for as little as $25.
One seller, using the instant messaging app Telegram, offered cards for up to $200 and called them a defense against the "poisonous" vaccines on offer. Major public health organizations across the globe have overwhelmingly found the current crop of vaccines to be safe and effective, despite the widespread hesitancy to them.
Recently, a father and son were arrested in Honolulu after it was found that they had used counterfeit vaccine cards to travel to Hawaii from the U.S. mainland. Norbert and Trevor Chung were detained at Daniel K. Inouye International Airport after authorities received a community tip about their fraudulent actions.
"Attorney General investigators are committed to ensuring all such leads are investigated and thank the community for their assistance and support," the Hawaii Attorney General's office said in a statement sent to Newsweek on Thursday. "Along those lines, the Department of the Attorney General will investigate and prosecute those who cheat the Safe Travels program, which was established to keep our islands safe."