Over 35 Democrats Ask Biden to Grant Clemency to All Death Row Inmates After Recent Executions
Democrats in Congress are pushing President Joe Biden to take action on his opposition to the death penalty and commute the sentences of everyone who is on federal death row.
President Donald Trump broke a 130-year-old tradition of pausing executions during a presidential transition, and six people have been executed since the election. A contrast to his predecessor, Biden campaigned on abolishing the death penalty at the federal level and halting executions.
Appreciative of Biden's opposition to the death penalty, more than 35 Democrats in Congress are asking him to build on President Barack Obama's stance by taking a step further. As president, Obama halted federal executions and commuted sentences of two federal prisoners on death row, but not commuting all sentences allowed the Trump administration to "pursue a horrifying killing spree," Democrats wrote in a letter to Biden
"Commuting the death sentences of those on death row and ensuring that each person is provided with an adequate and unique re-sentencing process is a crucial first step in remedying this grave injustice," the letter said.
Newsweek reached out to the White House for comment but did not receive a response in time for publication.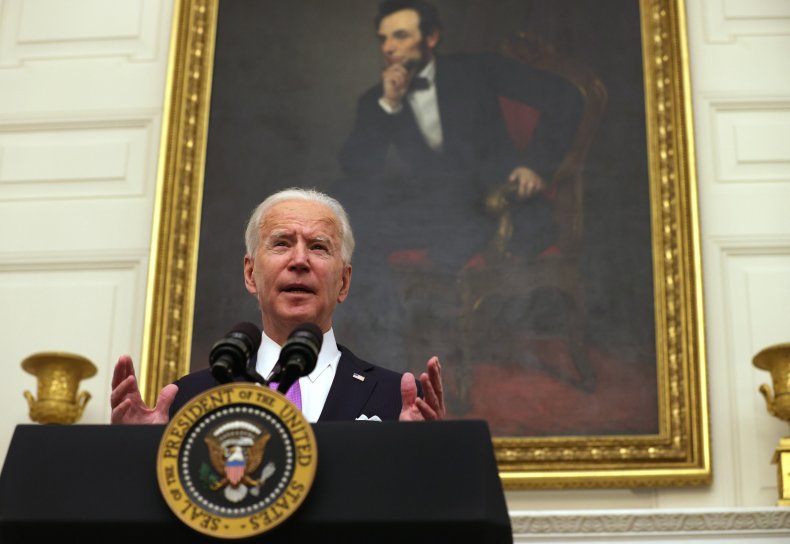 Trump's administration resumed federal executions after a 17-year hiatus and in total, 13 people on federal death row were executed during Trump's time in office. The most recent execution was Dustin Higgs, who was convicted in 1996 for ordering the killings of three women. Another man, who received a life sentence, shot the three women and before his death, Diggs said he was an "innocent man" and "not responsible for the deaths."
"[Higgs' family] are now going to go through the pain we experienced," a sister of Tanji Jackson, one of the women who was murdered, said in a statement. "When the day is over, your death will not bring my sister and the other victims back. This is not closure."
Moving the country toward accountability and healing—a theme of Biden's inaugural address—requires acknowledging the "moral depravity" of executions. Death sentences, the members of Congress said, aren't about "justice" but instead are rooted in "who has institutional power and who doesn't."
"Like slavery and lynching did before it, the death penalty perpetuates cycles of trauma, violence and state-sanctioned murder in Black and brown communities," Democrats said. "With the stroke of the pen, you can end the death penalty and establish a clear commitment to justice and equity."
The Constitution gives the president the power to grant clemency at the federal level and a commutation reduces a sentence. So, a commutation from Biden could halt a person's execution but may not necessarily mean they'll be released from prison.
Along with issuing mass commutations for the 50 people on federal death row, the Democratic members of Congress pushed Biden to take a "series of meaningful actions" to ensure no future president can continue federal executions. Those measures include dismantling death row at Terre Haute, a federal correctional complex in Indiana and calling on Congress to pass the Federal Death Penalty Prohibition Act to "end the death penalty once and for all."
"By exercising your clemency power, you can ensure that there would be no one left on death row to kill. Given the historic nature of your administration, this would be an unprecedented—but necessary—action to reverse systemic injustices and restore America's moral standing," the letter said.