Over 35 percent of hospitals in eight states are expecting staff shortages this week, as cases of the coronavirus continue to surge, according to a new report.
The report, published by The Atlantic, provides data from the U.S. Department of Health and Human Services (HHS). It shows that more than one-third of hospitals in Arkansas, Missouri, North Dakota, New Mexico, Oklahoma, South Carolina, Virginia and Wisconsin are anticipating shortages of staff.
Additionally, the report notes that, after The Atlantic made a request, HHS provided data on the number of hospitals currently facing staff shortages. From November 4 to 11, 19 percent of hospitals across the country were in this situation. According to the report, 22 percent of 1,109 hospitals across the U.S. reported this week that they are expecting such shortages.
As The Atlantic notes, an increase in virus cases places a strain on hospitals in two different ways. When staff members become infected with the virus, they must stay home, reducing the number of staff. Secondly, more cases mean more hospitalizations, increasing demand at hospitals across the country.
The Atlantic report comes as coronavirus numbers are setting new records across the U.S. as Americans prepare for Thanksgiving next week. According to the COVID Tracking Project, there are over 11.2 million virus cases in the U.S. and at least 239,784 people have died.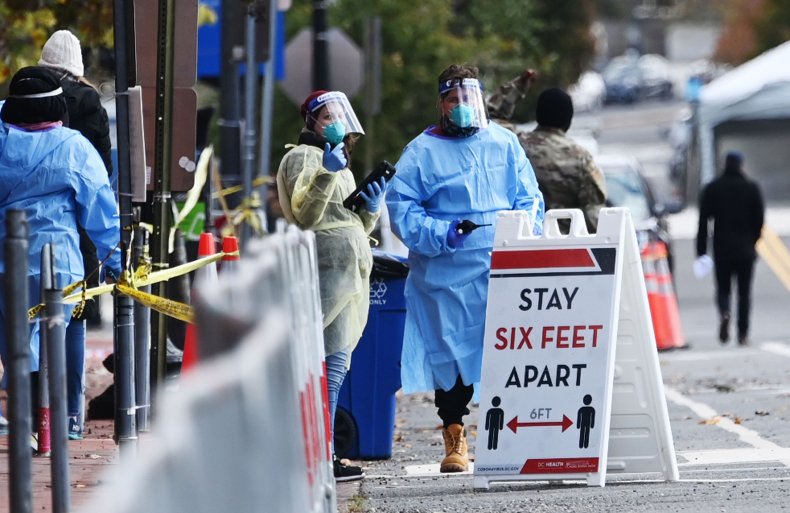 The COVID Tracking Project also shows that 76,830 Americans are hospitalized with COVID-19, the disease caused by the virus. Among the eight states where 35 percent of hospitals are expecting staff shortages, the COVID Tracking project shows 902 hospitalizations in Arkansas, 2,454 in Missouri, 399 in North Dakota, 738 in New Mexico, 1,381 in Oklahoma, 800 in South Carolina, 1,392 in Virginia and 2,278 in Wisconsin.
The Atlantic report also noted that on Monday HHS released new data showing the number of new people hospitalized with COVID-19 daily, dating back to mid-July. During the peak of the summer surge in cases, the seven-day average of daily hospitalizations topped 5,000, according to the data. But on Monday the same measure showed that average surpassing 10,000.
While speaking to CNBC's Squawk on the Street last week, University of Wisconsin Health CEO Alan Kaplan said that hospitals across the university's health system "are short of staff all times, either because they have COVID or they have some other illness and we need to rule out COVID before we bring them back to work."
Newsweek reached out to HHS for comment but did not receive a response in time for publication.