Over 38,000 Pounds of Beef Recalled by USDA After Not Being Inspected in U.S.
JBS Food Canada is recalling over 38,000 pounds of boneless beef head meat that was not presented for import re-inspection, which has been deemed a "high risk" recall.
According to an announcement made the U.S. Department of Agriculture's Food Safety and Inspection Service (FSIS) on Thursday, the raw, frozen, boneless beef items were imported on July 13, 2020. Following this, the products were processed by another company into ground beef but not resubmitted for inspection.
The following is subject for recall:
80 lb. boxes containing eight, 10 lb. chubs of "Balter Meat Company 73/27 Ground Beef," with "Use By/Freeze By" dates of August 9, 2020, or August 10, 2020. Pack dates of 072020, 072120 or 072220 and lot codes of 2020A or 2030A represented on the label.
The products subject to recall bear establishment number "EST. 11126" inside the USDA mark of inspection, according to the announcement. These items were shipped to distribution centers in Florida, Georgia, North Carolina and South Carolina for further distribution to retail locations.
JBS Canada, part of JBS USA, is a leading processor of beef and pork in the U.S. and a leading processor of beef in Canada. It is also a majority shareholder of Pilgrim's Pride Corporation and has its headquarters in Greeley, Colorado.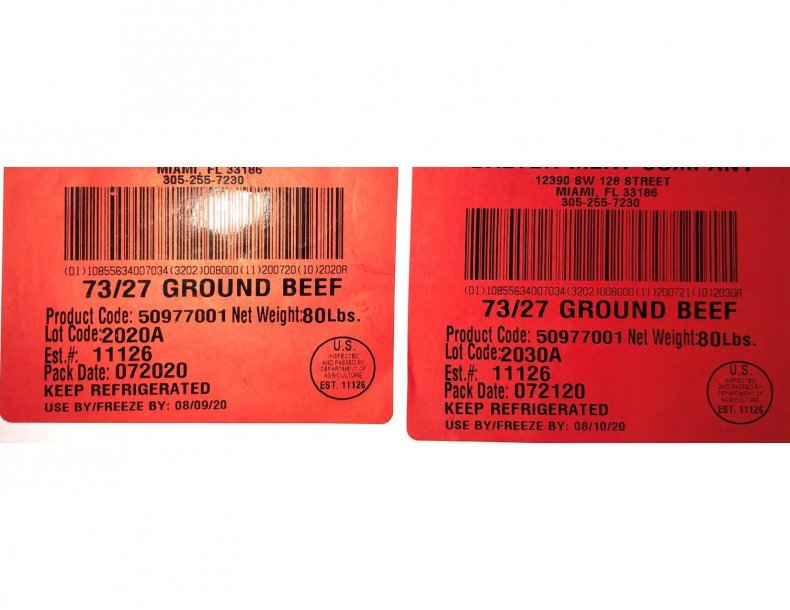 The FSIS has confirmed that the problem was discovered when it determined through routine surveillance that the product had by-passed its import reinspection. It has determined that this is a "Class I" recall and is high risk. This means that the products in question could cause a health hazard situation where there is a reasonable probability that the use of the product will cause serious, adverse health consequences or death.
"There have been no confirmed reports of adverse reactions due to consumption of these products," says the announcement. "Anyone concerned about a reaction should contact a healthcare provider.
"FSIS is concerned that some product may be in consumers' refrigerators or freezers," the announcement continues. "Consumers who have purchased these products are urged not to consume them. These products should be thrown away or returned to the place of purchase."
Newsweek has contacted JBS Canada for comment.
For any consumers who have questions or concerns about the recall, they can contact the JBS USA consumer hotline at 800-727-2333. If anyone has food safety questions, they can also call the toll-free USDA meat and poultry hotline at 1-888-674-6854 or live chat via Ask USDA from 10 a.m. to 6 p.m. ET Monday through Friday.
What should you do if you're concerned about a meat product?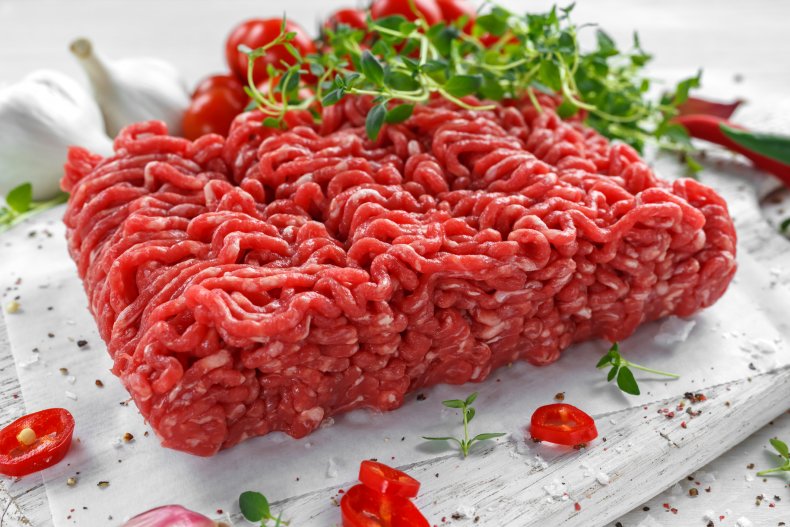 Consumers can get in contact with the USDA so it can investigate a problem with a meat product. To do this, you must have:
The original container or packaging
Any foreign object that you might have discovered in the product
Any uneaten portion of the food (refrigerate or freeze it)
You will need to provide the following information on the hotline:
Name, address and phone number;
Brand name, product name and manufacturer of the product
The size and package type
Can or package codes (not UPC bar codes) and dates
Establishment number (EST) usually found in the circle or shield near the "USDA passed and inspected" phrase;
Name and location of the store, as well as the date that you purchased the product.
If you do not wish to make a formal complaint to the USDA, you can complain to the store or the product manufacturer.
According to the USDA, if an injury or illness allegedly resulted from the use of a meat or poultry product, you will also need to tell the Hotline staff about the type, symptoms, time of occurrence and name of attending health professional (if applicable).