Over 40 States Are Seeing Coronavirus Spikes With Days to the Election
Over 40 states are seeing a spike in coronavirus cases, as the U.S. undergoes its third nationwide surge with just days until the election.
So far, 44 states have seen a 10 percent increase in new coronavirus cases in the past week compared to the previous week. This comes as nearly 90,000 new coronavirus cases were reported across the country as of Thursday night, according to COVID-19 data from Johns Hopkins University.
Thursday's total sets a grim new record for the U.S., with the most reported new coronavirus cases since the pandemic began. The previous record high was hit last week, with over 83,000 new cases. The total number of infections in the U.S. has now reached more than 9 million.
Rural cities and small metro areas have seen the most growth in cases in the past few weeks, with massive spikes in the Midwest and West, which have reported the highest rates of new infections. Earlier this month, Wisconsin—home to eight of the 15 counties with the highest rates of recent cases in the country—opened a field hospital to accommodate the large increase in new cases.
Meanwhile, North Dakota hospitals were turning people away due to lack of space. The overwhelming number of cases in North Dakota also caused the state to halt its contact tracing program last week, with the state's department of health asking residents to do their own tracing.
Record levels of new cases have impacted more than 20 states, including Tennessee, New Mexico, Illinois, Nebraska and Utah. Over the past week, South Dakota—a state that had a relatively low number of cases since the beginning of the pandemic—has seen a 53 percent increase in coronavirus cases from the average of two weeks prior, according to The New York Times.
Coronavirus cases have also been spiking in fiercely contested battleground states as early voting continues to set turnout records. Among these swing states is Wisconsin, which has seen one of the largest surges of cases in the country and a 47 percent increase in deaths, according to data from the Centers for Disease Control and Prevention (CDC). Michigan and North Carolina, also prominent swing states, are experiencing an upswing in outbreaks in the past month.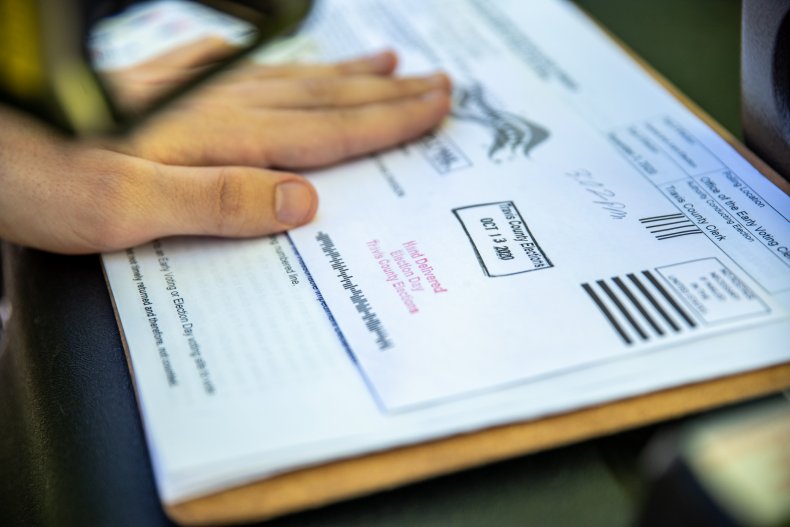 The pandemic is one of the key issues surrounding the upcoming election. President Donald Trump, who tested positive for the virus earlier this month, has consistently downplayed the virus, attributing the increase in cases to an increase in testing. While cases continue to rise, the president has held numerous rallies, packing thousands of people together.
According to FiveThirtyEight, Americans' approval of Trump's handling of the coronavirus varied widely by party. As of Friday, nearly 83 percent of Republicans approved of how the president handled the pandemic, while only 6 percent of Democrats said they approve.
As of Wednesday, more than a third of registered voters—more than 75 million Americans—have already voted, according to the U.S. Elections Project.
On Thursday night, Donald Trump Jr., the eldest son of the president, told Fox News host Laura Ingraham that coronavirus deaths have dropped to "almost nothing," as the U.S. reported more than 1,000 new coronavirus-related deaths that day.
"I went through the CDC data, because I kept hearing about new infections, but I was like, 'Why aren't they talking about deaths?'" Trump Jr. said. "Oh, because the number is almost nothing. Because we've gotten control of this thing, we understand how it works. They have the therapeutics to be able to deal with this."
The U.S. has also seen an alarming rate of hospitalizations due to the virus. Hospitalizations have experienced an estimated 46 percent increase from a month ago, raising concerns about hospital and health care facility capacity with an overwhelming number of incoming patients.
Frontline workers in states like Idaho, Missouri, New Mexico and Utah are feeling the impact of the increase in hospitalizations. This week, Idaho Governor Brad Little detailed new restrictions for gatherings and businesses as hospitalizations went up, moving the state back to Phase 3 of his Idaho Rebounds plan.
"Hospitals throughout the state are quickly filling up or are already full with COVID-19 patients and other patients, and way too many health care workers are out sick with COVID-19," said Little in a news release on Monday.
In Montana, where residents are resisting a statewide mask mandate, hospitalizations have seen a nearly 100 percent increase between October 3 and October 28, according to the COVID Tracking Project.