Over 400 Migrant Kids Were Sent to Shelters in One Day, Far Higher Than Peak Average Under Trump
More than 400 migrant children were reportedly referred to Department of Health and Human Services (HHS) shelters in one day this week—a number significantly higher than the peak 30-day average in 2019 under former President Donald Trump.
President Joe Biden's administration is receiving criticism and backlash from some progressive lawmakers and activists as immigrant children are being transferred to detention centers that many condemned while Trump was in office. The administration has pushed back against these criticisms, saying that there is a growing number of unaccompanied minors crossing the border and that the shelters are being used to ensure the children are socially distanced amid the pandemic.
Axios reported on Wednesday evening that over 400 migrant children had been referred to shelters on Tuesday alone. The peak 30-day referral average under Trump came in June 2019, according to public HHS data, with an average of 294 referred to shelters. The highest 30-day average in 2018 was 198 in May of that year.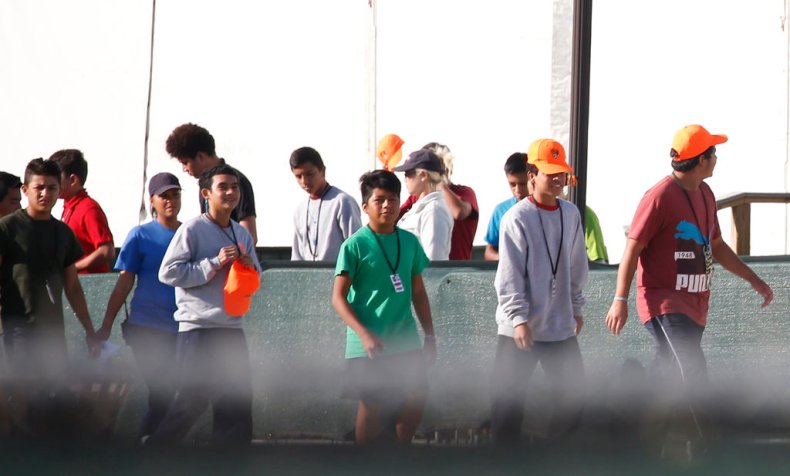 Newsweek reached out to HHS for additional comment but did not immediately receive a response.
On Tuesday, the White House received criticism and questions from reporters about the administration's decision to use a Texas detainment center for children that had been opened for one month under the Trump administration. White House press secretary Jen Psaki said this was a temporary action to address the growing number of unaccompanied children crossing the border as the COVID-19 pandemic creates additional concerns for health. She noted that the kids would quickly be placed with families and sponsors.
"To ensure the health and safety of these kids, [HHS] took steps to open an emergency facility to add capacity where these kids can be provided the care they need before they are safely placed with families and sponsors," Psaki said.
Psaki pushed back against comparing the Biden administration's actions to those of the Trump administration, which was internationally condemned for separating migrant children from their parents or guardians. She stressed that these are unaccompanied minors.
"We are in a circumstance where we are not going to expel unaccompanied minors at the border. That would be inhumane. That is not what we're going to do here as an administration. We need to find places that are safe under COVID protocols for kids to be, where they can have access to education, health and mental services, consistent with their best interest," she said.
But some progressive Democrats have raised serious concerns and criticism.
"This is not okay, never has been okay, never will be okay — no matter the administration or party," Representative Alexandria Ocasio-Cortez, a New York Democrat, tweeted this week, sharing a link to the news of the Texas border facility reopening.
However, she suggested that the Biden administration could not change the situation immediately.
"It's only 2 mos into this admin & our fraught, unjust immigration system will not transform in that time. That's why bold reimagination is so impt," the congresswoman added. "DHS shouldn't exist, agencies should be reorganized, ICE gotta go, ban for-profit detention, create climate refugee status & more."