Over 4,000 Babies Born, Couples Married In Ukraine Since Invasion Began
Amid the rising number of casualties in Ukraine, the country's ministry of justice emphasized the spirit of the Ukrainian people on Sunday, celebrating the lives and milestones that have taken place since Russia began its full-scale invasion.
In the first 10 days since the attacks began, 4,311 babies have been born in Ukraine and 3,973 couples have tied the knot, according to the government.
"No matter how the enemy wants to destroy and break us, but life goes on.. And a new is born, despite the war. Since the beginning of the war with Russia in different corners of Ukraine was born 🤱 4311 babies," the ministry wrote in a Facebook post. "Also during this time Ukrainians created almost 4 thousand new families. 3973 couples decided to officially strengthen their union in terms of war 💙💛."
"Despite Russia's armed aggression, Ukrainians do not lose their spirit and strength of faith. The enemy will be destroyed! We will win !" it added.
The births and marriages come as the war continued for a 13th day on Tuesday with little progress on peace talks between Russia and Ukraine.
According to the United Nations, at least 406 Ukrainians have been killed since Russia invaded Ukraine nearly two weeks ago. The exact toll is expected to be "considerably higher," especially in areas controlled by the Ukrainian government.
U.S. intelligence estimates the total casualties is closer to 2,000.
Most of the civilian casualties reported have been caused by "explosive weapons with a wide impact area."
But the escalating situation in Europe has not deterred Ukrainians from putting life celebrations on hold.
Couples like Lesya Filimonova and Valeriy Filimonov, who have joined the Territorial Defense Forces as citizen volunteers for the Ukrainian military wed on the front lines of Kyiv on Sunday, according to the Washington Post.
Kyiv Mayor Vitali Klitschko, who reportedly attended the wedding in a bulletproof vest, said at the couple's marriage was a sign that "life continues and the people live and their love helps the war."
The wedding was the first time the couple had seen one another since the war began.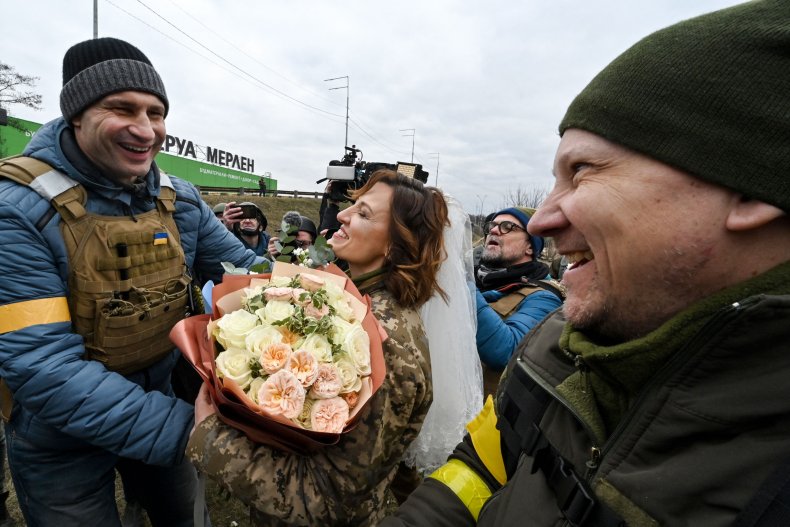 Hundreds of families have been separated since late last month as Ukrainians rushed to flee their homes.
Since men aged 18 to 60 have been banned from leaving the country to help defend Ukraine under martial law, many have been forced to say goodbye to their children and wives with no knowledge of when they could be reunited.
Some women have also stayed behind to join the defense alongside their partners and fight Russia.
On Tuesday, which marked International Women's Day, people from around the world honored the Ukrainian women in the fight for their bravery.
Ukraine's Ministry of Foreign Affairs noted on Twitter that more than 15 percent of its regular force are women.
The Council of Europe, which was founded in the wake of World War II, called on its 47 member states to do their "utmost to bring about peace" and to "hear and heed Ukrainian women and girls' resolute calls for action to protect peace and human dignity."
"Ahead of International Women's Day, my sympathy and profound solidarity go to Ukrainian women and girls who are caught up in a war waged with total disregard for human life and dignity," Dunja Mijatović, the organization's commissioner of human rights, said in a statement last week. "I pay my deepest respects to those of them who have been killed, and my thoughts are with those who have been injured."
Ukrainian member of parliament Kira Rudik, also shared a video on Twitter early Tuesday, celebrating those, who like her, who stayed behind to fight.
"It's officially International Women's Day," she said in the video. "Usually, these days kids give their mums cards, flowers to say how special they are. This year, our kids have been robbed of this holiday. They are either in refugee camps or very far away from us."
"This year, Ukrainian women are not only holding flowers but also guns to protect our country along with our men from Putin. I want to congratulate all Ukrainian women for standing up and fighting," she added. "You are incredible."