Over 40,000 Disabled Americans Getting Their Student Debt Canceled
The U.S Education Department announced a revision to a loan forgiveness plan that is expected to cancel the student debt of more than 40,000 Americans who have disabilities.
Strict rules surrounding the loan forgiveness policy have led to many Americans' debt being reinstated despite their eligibility for the program. Borrowers must file earnings documentation for three years if they want to receive the forgiveness. If their earnings exceed a threshold or if the paperwork is not submitted, they are responsible for their debt once again.
NPR found in 2019 that 28 percent of those eligible for the program between 2016 and 2019 actually received the forgiveness they were due.
According to the Federal Student Aid website, the Total and Permanent Disability Discharge is a program provided by the Department of Education that forgives student loan debt for those who are permanently unable to work due to a disability. It applies to federal student loans including the William D. Ford Federal Direct Loan, the Federal Family Education Loan and the Federal Perkins Loan.
"Borrowers with total and permanent disabilities should focus on their well-being, not put their health on the line to submit earnings information during the COVID-19 emergency," said Education Secretary Miguel Cardona in Monday's press release.
The revision to the program will ensure that 41,000 people who previously had their debt reinstated due to issues with filing the appropriate paperwork will once again receive loan forgiveness, equaling $1.3 billion in owed forgiveness. About 190,000 borrowers who are in the three-year period during which they have to submit documents will not be required to do so as long as the federally declared COVID-19 emergency remains in effect.
"Waiving these requirements will ensure no borrower who is totally and permanently disabled risks having to repay their loans simply because they could not submit paperwork," Cardona said. The press release also said that the Education Department will consider further changes in the future regarding how they monitor eligibility for loan forgiveness.
Advocacy groups say that the changes do not go far enough. Alex Elson, senior counsel of the Student Defense legal group in Washington, D.C., said in a statement, "Let's be clear: today's announcement is not a victory for students."
Elson continued, "There are roughly 400,000 borrowers with disabilities who the Social Security Administration has already determined are legally owed debt relief. The Department of Education knows exactly who they are but is choosing to do nothing for them."
Student Defense argued that President Biden should forgive loans for all eligible borrowers regardless of whether they have filed the appropriate paperwork.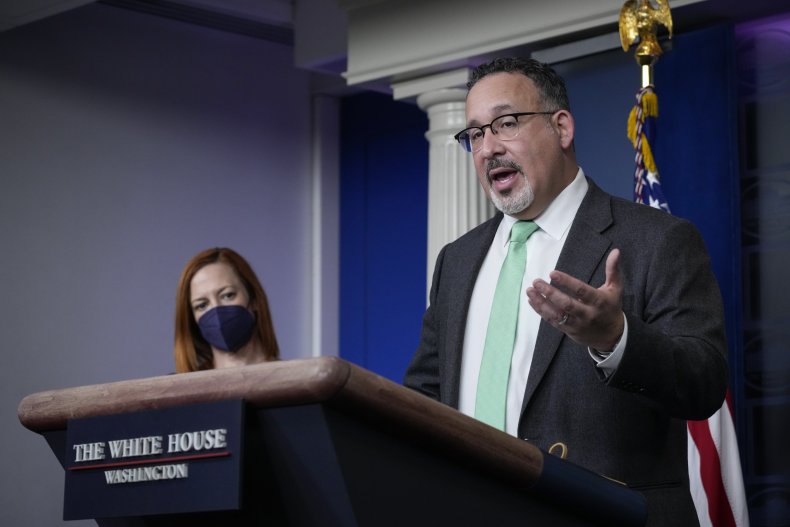 For more reporting from the Associated Press, see below:
A senior department official briefing reporters said the agency is exploring permanent changes to the program, but that they would have to go through a federal rule-making process that requires months of negotiation.
The program was created to help people who are "totally and permanently disabled" and unable to generate significant income.
Borrowers are eligible if they can submit documentation of a mental or physical disability that has continued at least five years or is expected to last for that long. During the monitoring period, their incomes must not exceed the poverty level for a family of two in their state.
The program came under scrutiny in 2016 after a federal watchdog found that the income reporting rules were a major hurdle for borrowers. The U.S. Government Accountability Office found that in 98 percent of cases in which loans were restored, it was because borrowers did not submit the right paperwork, and not because they were earning too much.
In 2019, the Trump administration moved to provide automatic loan discharges to military veterans who become eligible for the program. Those who have not served in the military, though, must apply for relief. Advocates estimate that nearly 70 percent of eligible borrowers have not received loan forgiveness and hold an estimated $14 billion in student debt.