Over $47K Raised For Family of Pennsylvania Mom Julie Eberly Shot and Killed in Road Rage Incident
A GoFundMe fundraiser that launched last week in memory of a woman whom police say was fatally shot during a road rage incident raised more than $47,000 in its first three days.
Police identified the shooting victim as Julie Eberly, a mother of six who was traveling southbound along Interstate 95 in North Carolina with her husband shortly before noon on March 25. Police were called to the scene of a shooting at about 11:40 a.m. local time, where they found that the 47-year-old Eberly had been shot while sitting in the passenger seat, according to the Robeson County Sheriff's Office. Eberly's husband was not harmed in the shooting, the sheriff's office added.
Eberly died after she was taken to UNC Southeastern for treatment of her injuries, officials said.
The individual responsible for the shooting has not yet been publicly identified. On March 26, police announced a $10,000 reward for information into the shooting, which authorities termed as a "road rage incident." The reward was offered by an anonymous Robeson County resident, Robeson County Sheriff Burnis Wilkins said.
"I need your help," Wilkins wrote in a Facebook post over the weekend. "Let's show others that we won't tolerate this. This murderous coward must be caught."
Eberly and her husband were traveling south from their Manheim, Pennsylvania home to take a beach vacation at the time of the shooting, Wilkins said in a March 25 news release. The couple's six children were left behind with their grandparents so that Eberly and her husband could take the trip, Wilkins added.
"This was an innocent family from Pennsylvania headed to the beach for a vacation," Wilkins said in a post. "Thankfully they had left their six children at home with grandparents but now these kids have to live with the thought of their mother being murdered on in such a cowardly and senseless way."
In his weekend update on the status of the investigation, Wilkins wrote that the Eberly family initially discouraged the idea of a fundraiser. The sheriff said he encouraged them to reconsider and said they were "appreciative" of the offers of support.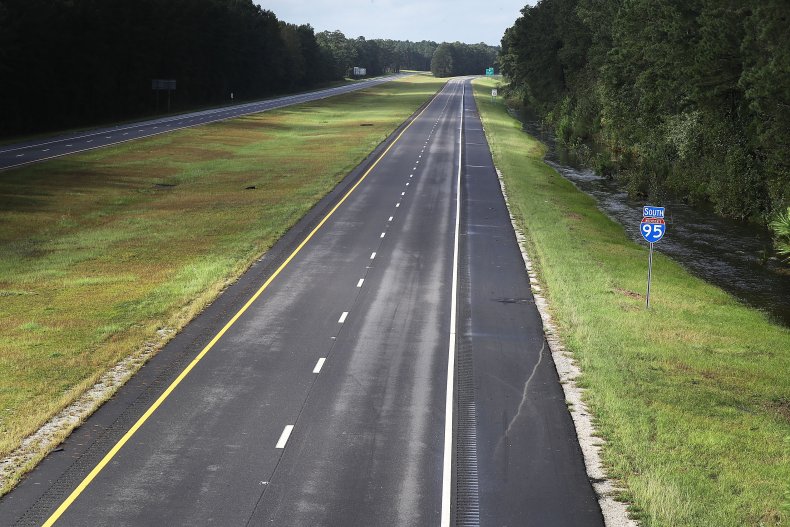 The Robeson County Sheriff's Office shared a link to a GoFundMe page created by one of Eberly's family members on Friday.
"Our dear Julie was taken too soon in a senseless shooting incident in Lumberton, NC on her way to vacation," the fundraiser description says. "We want to raise funds to honor Julie and her life. Julie was a beautiful, loving, generous, and giving person. We will be using the funds to help others and to give to the organizations that were close to her heart."
The fundraiser description concludes with a message of thanks to those who have offered their support.
Nearly 1,000 donations were made to the Julie Michelle Eberly Memorial Foundation by midday Monday.
On Monday, the Robeson County Sheriff's Office told Newsweek that homicide detectives met earlier in the day to discuss the status of the investigation, which is ongoing.
"They are out today gathering more video footage in hopes of releasing a video or picture later today of the suspect vehicle as it traveled off of I95 at Exit 22 in Lumberton," authorities said.
The Robeson County Sheriff's Office said it anticipated that additional information might be released later Monday afternoon.
Anyone with information about the shooting has been encouraged to call the Robeson County Sheriff's Office at 910-671-3170 or email sheriff@robesoncoso.org.